A Prayer for When You Feel Lonely - Your Daily Prayer - August 15
A Prayer for When You Feel Lonely
By: Emily Rose Massey
"A father of the fatherless and a judge for the widows,
Is God in His holy habitation.
God makes a home for the lonely;
He leads out the prisoners into prosperity,
Only the rebellious dwell in a parched land" - Psalm 68:5-6, NASB
"I'm moving to California. But don't worry, our friendship will not change. You are so important to me, and I want to be intentional about staying connected even though we are miles apart."
I wanted to believe my (at the time) best friend, but I had been through this repeatedly, and I knew it was just the matter of time before I lost another good friend. It seemed that the moment I became close with a girlfriend, she either moved away or we drifted apart because of different life choices I couldn't support. In the case of this friend, it was both situations. It broke my heart to watch our friendship fall apart; communication between us completely stopped within a year.
I would be lying if I didn't mourn the loss of my friendships with other women, longing for a close girlfriend whom I could make lasting memories with and build a history together. A piece of my heart remains guarded when I meet a new potential girlfriend because I struggle with wanting to invest too much too soon, but also struggling with the fear of being hurt once again.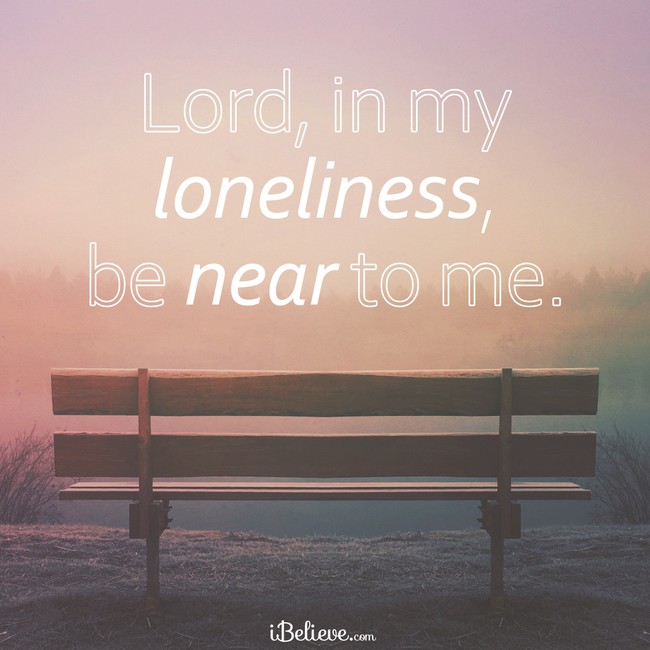 As a stay-at-home mom who wrestles with the pain of rejection in many areas, the loneliness often overwhelms my heart. Yet, I know that I can come to the Lord with my burdens. One night as my heart was particularly heavy and lonely, I was reminded of a comforting verse in the book of Psalms:
"A father of the fatherless and a judge [a]for the widows,
Is God in His holy habitation.
God [b]makes a home for the lonely;
He leads out the prisoners into prosperity,
Only the rebellious dwell in a parched land" (Psalm 68:5-6, NASB).
As a daughter who has lost a father and stepfather in her life and who also has a difficult relationship with her mother, this reminder in Psalm 68 of my faithful Heavenly Father was a healing balm to my soul. Verse six is promise that as children of God, the Lord is faithful to give us a family.
Although the family of God is bigger than a building, I do think it is so important for believers to find a Biblical church home and faithfully serve there. When we are struggling with loneliness or even depression, the enemy often tempts us to isolate ourselves, but that is when we need to reach out to others even more.
Believers are not meant to walk this journey alone, and the local church should be a safe and loving place for us all. If you are believer and do not currently have a church home, pray that the Lord would help you find one.
Loneliness is a part of life, but God promises us that He is always with us and that He places the lonely in a family. Look to the Lord when you are lonely. May He bring comfort to your heart to remind you that you are never alone, and you belong in His family.
Father,
My heart is heavy. Loneliness seems to be lingering in my life, especially after this last year that we have faced because of the pandemic. Help me remember that even when I feel lonely, I am never alone. You are a father to the fatherless and You bring hope to the hopeless. I long to find my place in Your family. Help me remember the importance of being involved in the Body of Christ, in the family of God. I trust that You have placed me exactly where You need me and will always direct my steps to the home that You have prepared for me here on earth.
In Jesus' name, Amen.
---
Emily Massey began writing short stories and poetry as a little girl, entered the blogging world in her early 20s, and published her first book in 2015. She enjoys being a stay-at-home momma while still being able to pursue her passion as a writer. Believing she has been forgiven much, she loves much, and desires to point others to Christ and His redemptive and transforming power, especially by sharing truth found in God's written word. If you would like to connect with Emily, you can visit www.emilyrosemassey.com.
Teach Us to Pray is a FREE prayer podcast hosted by iBelieve writer Christina Patterson. Each week, she gives you practical, real-life tips on how to grow your faith and relationship with God through the power of prayer. To listen to her episode on What to Pray in the Morning for a Worry-Free Day, click below!


Now that you've prayed, are you in need of someone to pray for YOU? Click the button below!
Visit iBelieve.com for more inspiring prayer content.