A Prayer for When You Need God's Comfort and Encouragement - Your Daily Prayer - December 6
A Prayer for When You Need God's Comfort and Encouragement
By Betsy de Cruz
"Blessed be the God and Father of our Lord Jesus Christ, the Father of mercies and God of all comfort, who comforts us in all our affliction, so that we may be able to comfort those who are in any affliction, with the comfort with which we ourselves are comforted by God." – 2 Corinthians 1:3-5, ESV
"Your test result is abnormal," read the text, and what began as a routine health screening took a scary turn. Trying not to let my mind go towards worst-case scenarios, I took deep breaths as I made phone calls to schedule more testing.
"I can trust God with this," I thought, but my confidence broke down when I got another text from my daughter the same day: "The doctor thinks I might have cancer, so they're doing some tests," it read. I could barely believe it, and that night sleep eluded me until I got up to read my Bible.
"Blessed be the God and Father of our Lord Jesus Christ, the Father of mercies and God of all comfort" (2 Corinthians 1:3). As I said the words and made them into my own personal prayer of praise, I felt the comfort of the Holy Spirit strengthening my heart.
Friend, I imagine you have also lived through those "one-thing-after-another" seasons when you felt your faith breaking down. Losing your health, your job, or a loved one can bring on deep discouragement where you don't know what to do next, much less how to make it through the day.
If you are in a discouraging season or have lost your way and can't make sense of life, maybe your first step is to simply turn your heart to the Father of mercies and God of all comfort. His Word brings encouragement, and His Holy Spirit works as a healing balm in our hearts.
Maybe you don't know how to pray for your situation, or you're not even sure you have faith to believe God will answer you. He knows your innermost thoughts and loves you anyway.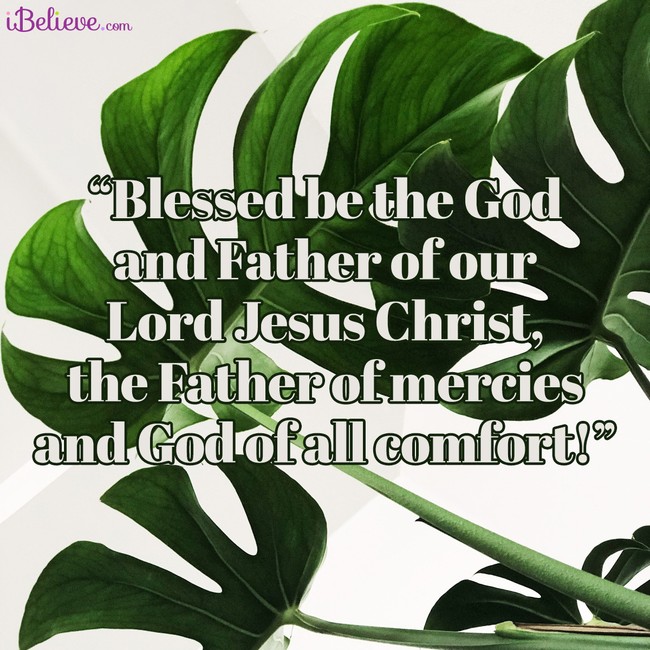 What if you take a few minutes to sit before God, read a favorite Bible verse and invite the presence of the Holy Spirit into your heart? Sing a simple song of praise or just sit quietly and let God's Spirit touch you. Let Him comfort you as only He can. Open the doors of your heart today and invite God to come in.
Pray with me:
Father of mercies, comfort and strengthen my heart today. You know my affliction. Thank you for the peace that comes from knowing you are intimately acquainted with my deepest struggles and doubts. Thank you for your healing presence.
You are the God of all comfort. Help me keep my heart open to your Holy Spirit today. Bring your peace and love into my life. Remind me of the joy of my salvation and give me the strength to keep trusting you. Even in my difficult circumstances, you are in control, and you are working for my good. Comfort me today.
Lord, thank you for the comfort I find in the knowledge that you know all my troubles. Make me aware of the affliction and trouble of those around me, that I might serve to bring encouragement to them today.
In Jesus' name, Amen.
---
Betsy de Cruz helps overwhelmed women take small steps to invite more of God's presence and power into their lives. Connect with Betsy to get your free Quiet Time Renewal Guide and other resources at FaithSpillingOver.com. Her book More of God is a distracted woman's guide to more meaningful quiet times. After living in the Middle East for 16 years with her husband and two children, Betsy landed in Texas, where she still enjoys drinking chai with friends.
Teach Us to Pray is a FREE prayer podcast hosted by iBelieve writer Christina Patterson. Each week, she gives you practical, real-life tips on how to grow your faith and relationship with God through the power of prayer. To listen to her episode on What to Pray in the Morning for a Worry-Free Day, click below!


Now that you've prayed, are you in need of someone to pray for YOU? Click the button below!
Visit iBelieve.com for more inspiring prayer content.