A Prayer to Be Known as a Jesus Follower - Your Daily Prayer - October 28
A Prayer to Be Known as a Jesus Follower
By: Maggie Meadows Cooper
Lately, my heart has been hurting for so many people. The state of our country is overwhelming. It leaves many of us wondering what to say, what to do, and how to be helpers. The specifics of those things, I can't answer. But I do know one thing.
In Acts 4, Peter and John were arrested for healing a crippled man and then preaching about Jesus. But when they were brought before the council, they never backed down. They stood strong for Jesus and here's what happened:
"The members of the council were amazed when they saw the boldness of Peter and John, for they could see that they were ordinary men with no special training in the Scriptures. They also recognized them as men who had been with Jesus." - Acts.4:13 (italics mine)
I'm as ordinary as they come. I have no special training in the Word, just a longing to share the Lord with others. But it's hard. It doesn't come naturally. I care what people think, too much sometimes. I don't want to be the weird one. There are times I push through and put it out there. But, there are more times I know exactly what I should say and back down because of fear.
My prayer is that even when I fail at being bold. Even when I don't share like I should. That those around me can still tell that I have been with Jesus.
For any of you who struggle with voicing your beliefs and sharing the Word out loud, like I do at times, you may wonder, well how will they know I've been with Jesus if I don't say it?
Many times believers don't share the gospel in words. They share it with bold actions that resonate louder than many words ever could.
Here are a few areas to focus on:
1. The way you love people.
Not just the ones who you're supposed to love. Not just the ones who love you. I'm talking about the ones who you don't know. The ones who look different than you. The ones who might be stinky or awkward or might make you uncomfortable. Love 'em. Show it with a smile or a hand squeeze or a hug or food or service. Stand up for those who need you. Do something sacrificial, no matter how small, to give someone hope that they are worthy of love.
Love people well. And pray they see Jesus instead of you.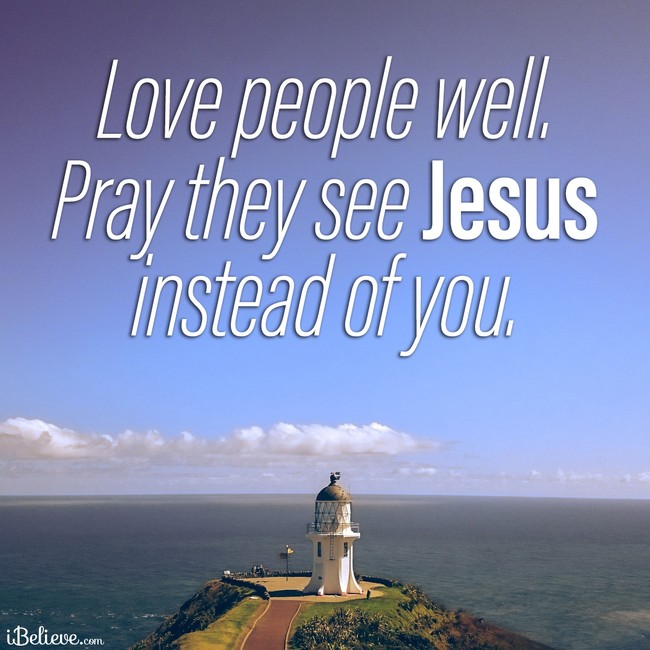 "We know what real love is because Jesus gave up his life for us. So we also ought to give up our lives for our brothers and sisters." 1 John 3:16
2. Show grace (giving someone what they don't deserve) and mercy (not giving someone what they do deserve).
People make mistakes every day. They mess up your order in the drive-thru line. They snap at you for no reason. They forget to turn their blinkers on when they are turning. It would be easy to call the manager and let them have it, post nasty things on social media to let everyone know how horrible they are, or honk your horn repeatedly in these situations. But let me encourage you not to.
I was at a fast food drive-thru not too long ago and as the young girl handed me the bag of food, she let go before I quite had it. The bag fell on the ground and fries went everywhere. Bless her heart, she looked terrified. I quickly smiled at her, told her it was my fault, and that I should have had a better hold on it, and it was fine. She looked shocked at my response. I grabbed the bag and what was left inside and told her thank you and to have a great day. Relief flooded her face, and it blessed my heart.
That was Jesus. I wanted my fries... and so did my whining kids. But in that moment, grace was needed. And He helped me give it.
"For it is by grace you have been saved, through faith—and this is not from yourselves, it is the gift of God— not by works, so that no one can boast." - Ephesians 2:8-9
3. Forgive, forgive, forgive.
Many times you are not in the wrong. Forgive anyway. Many times, the other party doesn't deserve it. Forgive anyway. Many times, you will not get a kind response in return. Forgive anyway. And feel a peace in your soul that is free of the burden of grudges and a huge list of wrongs that will weigh your mind, body, and spirit down. Do it because Jesus would, and He will help you.
"Then Peter came to Jesus and asked, "Lord, how many times shall I forgive my brother who sins against me? Up to seven times?" Jesus answered, "I tell you,not just seven times, but seventy-seven times!" Matthew 18:22
Let's Pray –
Dear Jesus,
I may not have the perfect words. I may not know exactly what to do to help. But in all situations, help me to love people well, give grace and mercy abundantly, and forgive without reservation. Use my life to help plant seeds that You can use for Your glory. Let me be known as a Jesus follower.
In everything I do, help me remember Whose I am and Who I represent. More than anything, I want to be known as someone who has been with You.
In Your Mighty Name,
Amen.
---
Maggie Meadows Cooper is a wife, mom, educator, author, and blogger with a longing for women to grow a heart for Jesus and others. She is the author of the children's book "Bumper" and blogs at The Little Moments about what the Lord is teaching her through her children and everyday life. She contributes to Blogs by Christian Women, Devotional Diva, She Disciples, and Connecting Ministries. An educator with a M.Ed. in Early Childhood Education from Auburn University (War Eagle!), she has twenty years experience working with young children. She loves all things chocolate, real Coca-Cola, and lives with her husband, three children, and two rambunctious dogs in Opelika, Alabama.
Teach Us to Pray is a FREE prayer podcast hosted by iBelieve writer Christina Patterson. Each week, she gives you practical, real-life tips on how to grow your faith and relationship with God through the power of prayer. To listen to her episode on What to Pray in the Morning for a Worry-Free Day, click below!


Now that you've prayed, are you in need of someone to pray for YOU? Click the button below!
Visit iBelieve.com for more inspiring prayer content.