A Prayer to Give the Burdens of Others to God - Your Daily Prayer - March 11
A Prayer to Give the Burdens of Others to God
By: Chelsey DeMatteis
I recently was sitting down at my computer to do some research and thought about some of the heartbreaking issues at hand in our society. My mind was quickly carried off to a state of worry. For a moment my mind was floating in the fear of the world and away from the fear of the Lord. I quickly realized that in these moments, I'm called to stand firm in the truth and hand over my thoughts to our Heavenly Father.
It seems that most situations these days cause us to go to the worst outcome in our minds. They have us living in a state of fear, too worried to stand firm in our faith. It's difficult, isn't it? Our emotions are in constant upheaval. And oftentimes, I find myself taking on the problems, emotions and fears of others as well. As if they somehow became my own. I'm sure you can relate.
Somehow, the enemy has had me thinking the issues of people I barely know are my own issues, too. The struggles of others have now become my own struggles. This is how he works. He plays off others' hurts, stories, and tragedies in order to cause us to stumble in fear.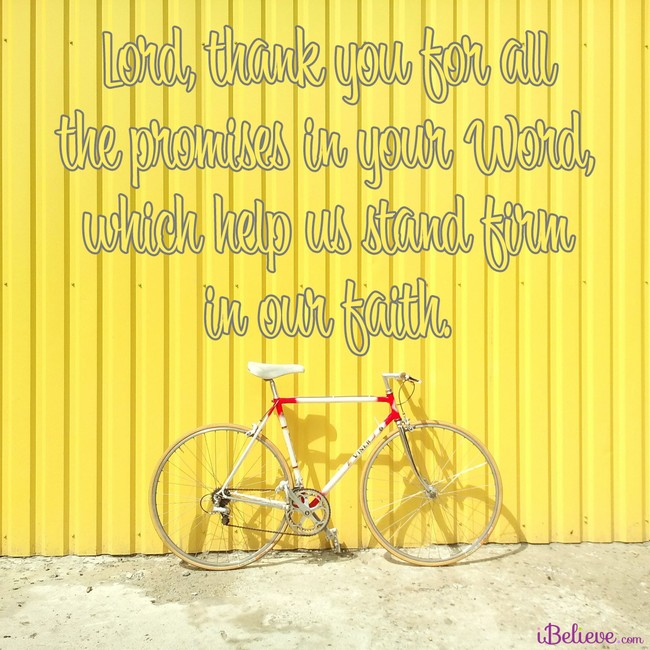 Can I tell you something I need to be reminded of often? God doesn't desire this way of living for us. While He doesn't want His believers oblivious to the world around them and living as if nothing bad is taking place, He also does not intend for us to take on all the hurts and fears in the world. And for the hard things he does call us to step into, He does want us to take every circumstance and tragedy to Him. He wants us to lay them at the foot of the cross instead of carrying them around as if they are our own.
God calls us in 2 Chronicles 20:17 "…Take up our positions; stand firm and see the deliverance the Lord will give us." It's one of the most basic commands God gives us; stand firm. Stand firm in His truth. Stand firm where He positions us. Stand firm when the enemy comes calling for us to fear. As we grow in our relationship with The Lord and in the knowledge of what His word says, I think we'll begin to see the fertile ground for the enemy becomes solid ground for The Lord.
When we begin seeking God first, fully, and firmly we'll be quick to recall that others' stories, emotions, and tragedies are not our own. We will see that we need to take the thoughts captive, turn immediately to prayer, and surrender our feelings at the foot of the cross.
Pray with me…
Lord, thank you for your Holy Word. We rejoice that in it we see promise after promise. We are filled with hope because of your son, Jesus Christ. We pray for those facing tragedies, hardships, and painful seasons. Lord, as we hand these prayers over to you, may we not take them on as our own. May we stand firmly in your truth that You are in charge of our story and You are using us for Your glory. In Jesus' name, Amen.
---
Chelsey DeMatteis is a wife, SAHM, devotional writer, and the host Living With Less podcast - birthed from John 3:30, You can find more about Chelsey at her website - www.ChelseyDeMatteis.com.
We want to experience God through the Bible… we really do!
But our good intentions fall flat when reading the Bible just doesn't seem to help us experience God in a real way. What should feel alive often feels confusing and boring and irrelevant. But it doesn't have to.
In the How to Study the Bible podcast, pastor and Bible teacher Nicole Unice brings life back to reading the Bible by walking listeners through her Alive Method of Bible study, helping us personally encounter God through his Word by giving us a practical, clear road map for understanding, interpreting and applying Scripture to our lives. Just click below to start listening now!