A Prayer to Proclaim the Name of Jesus - Your Daily Prayer - July 2
A Prayer to Proclaim the Name of Jesus
By Meg Bucher
"And whatever you do, whether in word or deed, do it all in the name of the Lord Jesus, giving thanks to God the Father through him." Colossians 3:17 NIV
Parenting a middle-schooler is like navigating a minefield. One day, in my desperation to keep God's Word on my daughter's heart throughout the day, I began putting Scripture cards in her lunch. Soon, I started sticking them everywhere- in her laptop, computer bag, supply bag, book bag …literally everywhere. She started giving away some of the surplus "Jesus cards" she had accumulated, and it they eventually ended up all over the middle school. A teacher sent me a text of a few Jesus cards clipped onto her plastic partitioner. My daughter's friends began to ask me if I had any on me at games and school functions, and I began stocking up so there were always plenty to go around.
There is power in the name of Jesus. Scripture tells us God gave Him the name above all names. Christ taught us to pray for the Father's will, not our own. To pray in Jesus' name is to acknowledge God's will for our lives through Christ.
No matter where those cards end up, the name of Jesus is being spoken in the hallways of their school, and amongst their friends. We've upgraded to add "Jesus stickers," now, which adorn laptops, water-bottles and folders. They will never truly know the impact those words of truth have on their own lives, and the lives of those around them. But I do.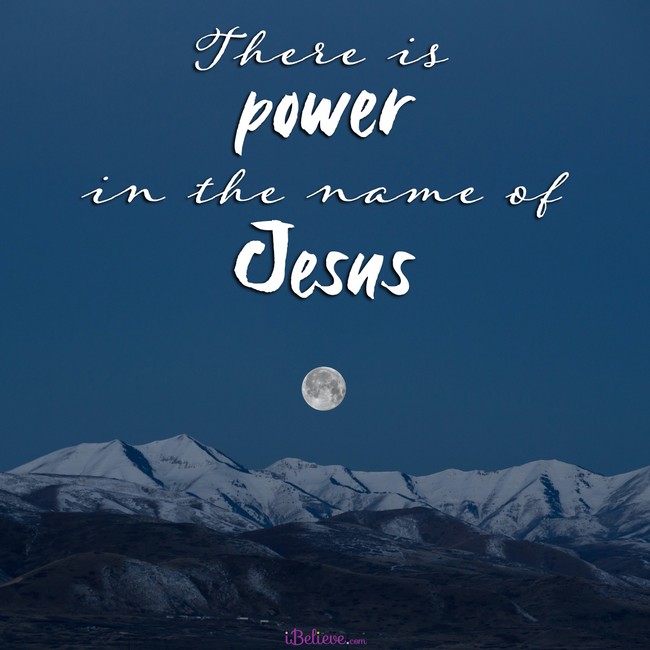 My age allows me the advantage of being able to see simple seeds watered into lives full of bold faith in Jesus. I have seen the work of a Jesus card I received at a Youth Renewal weekend when I was fourteen speak truth into my life at age 41.
Paul wrote to the Colossians, "And whatever you do, whether in word or deed, do it all in the name of the Lord Jesus, giving thanks to God the Father through him." God isn't calling us to live complicated lives that require in-depth Biblical educations in order to interpret what He's speaking into our lives. (However, the more time we spend in God's Word the more it ignites our desire to know more!) He simply requires us to follow Him wherever, and speak to Him about whatever. In all we do, if we meet with Him daily, He is faithful to lead us in a way that will glorify God with the life we live.
Consider how time we spend with God daily accumulates over the course of our lives. One hour a day becomes 365 hours a year. In twenty years of we accumulate 7,300 hours of time with God. The wisdom and peace we invest in our lives and sow into our souls overflows into the lives of those God places in ours. One day at a time, one hour at a time, let our lives sing praise to God as we seek Him in whatever we do. There is power in the name of Jesus.
Father,
Thank You for using our lives, Lord. All the glory is Yours. We delight in the ways You make Your name known. Let us all seek to honor You in whatever we do, knowing there is power in the name of Jesus, and the work we do with Him and to bring glory and honor to You.
Remind us of the power and strength we have through the Holy Spirit. Father, we are in need of the filling feeling of Your peace and love. As we crawl out of a weary season, let Your light shine into all of our cracks. Protect us. Shield us. Heal us. Teach us.
Let us see others through Your eyes.
Through Love.
Through Jesus.
In Jesus' Name,
Amen.
---
Meg Bucher, freelance writer and blogger at Sunny&80, is the author of "Friends with Everyone, Friendship within the Love of Christ," and "Surface, Unlocking the Gift of Sensitivity," She writes about everyday life within the love of Christ. Meg earned a Marketing/PR degree from Ashland University, but stepped out of the business world to stay at home and raise her two daughters, which led her to pursue her passion to write. She has led a Bible Study for Women and serves as a Youth Ministry leader in her community. Meg, a Cleveland native and lifelong Browns fan, lives by the shore of Lake Erie in Northern Ohio with her husband, two daughters and golden doodle.
Teach Us to Pray is a FREE prayer podcast hosted by iBelieve writer Christina Patterson. Each week, she gives you practical, real-life tips on how to grow your faith and relationship with God through the power of prayer. To listen to her episode on What to Pray in the Morning for a Worry-Free Day, click below!


Now that you've prayed, are you in need of someone to pray for YOU? Click the button below!
Visit iBelieve.com for more inspiring prayer content.