A Prayer to Release Today's Battle to God - Your Daily Prayer - November 26
A Prayer to Release Today's Battle to God
By: Alisha Headley
"…This is what the LORD says to you: 'Do not be afraid or discouraged because of this vast army. For the battle is not yours, but God's." (2 Chronicles 20:15b)
We all face battles in this life. Some battles are on a smaller scale, such as facing small battles with your spouse, or getting your kids rushed out the door for school. Some of us battle larger wars, like cancer, job loss, wayward children, and broken families. Many of us face daily battles within our mind for worth and value.
The truth is, we all face battles in this life. Jesus himself tells us this in John 16:33 saying, "…in this world you will have trouble, but take heart, I have overcome the world."
We can't take away the battles. But what we can do is learn to abide in today's Scripture and realize that the battles we face are the Lord's to handle, not ours. And it's a glorious thing to have the greatest Warrior of all time fighting on behalf of us.
So, what if we began to step out of the way when it comes to fighting our battles, and instead let God step in and fight the battle through His strength? Today's scripture reminds us that we can hand over every battle to Him. We have an Almighty God who already holds the victory. We don't need to put our hands in the battle, rather we can step aside and let Him take full control.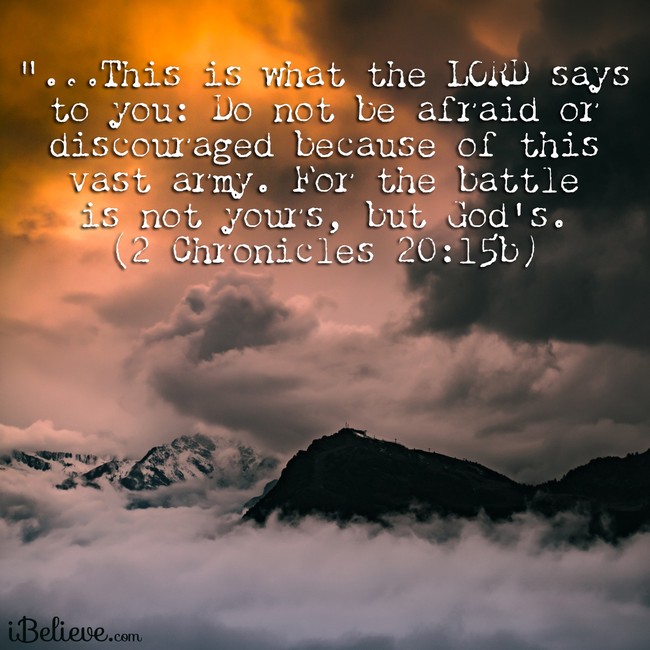 The battle is not yours, but God's. Let's put on our armor, pick up our sword, and stand firm behind the One who holds the victory. He is the greatest defender, the greatest leader, the greatest victor, and we need to only stand beside Him and watch Him lead the fight.
Let us pray.
Dear Lord,
Oh, how we thank you for choosing us to be a part of your vast army. We thank you that you sent your very own Son to die on the cross, so that we can become victors in the battles we face. Lord, we lift up the battles we are facing today. You know all of them, the big ones, and the quiet ones we are facing in our own minds. We surrender them to you.
Forgive us for fighting it by ourselves and not putting our full faith and trust in You. Prompt us in these moments where we want to fight the battles with our own hands, to step out of the way so we don't get in your way. We release the battles to you, Lord. We surrender it all to you. Instead of clinching so tightly to the battle with our own power and our own hands, we open them up to you Lord, and lay the battles down at your feet. We place everything on your throne, and we thank you so much that we don't have to face our battles here on earth alone. It's all in your hands and we trust your provision.
In your name we pray,
Amen
---
Alisha Headley is a writer and speaker who has a desire to meet the everyday woman in her everyday life with biblical truth. Healing from a chapter of life consumed with lies she once believed about herself, she is inspired to point women to Christ to experience the freedom and power to overcome those lies with the truth written in God's Word. You can follow her blog by visiting her website or connect with her on facebook + instagram.
Teach Us to Pray is a FREE prayer podcast hosted by iBelieve writer Christina Patterson. Each week, she gives you practical, real-life tips on how to grow your faith and relationship with God through the power of prayer. To listen to her episode on What to Pray in the Morning for a Worry-Free Day, click below!


Now that you've prayed, are you in need of someone to pray for YOU? Click the button below!
Visit iBelieve.com for more inspiring prayer content.