A Prayer to Remain Steadfast Under Trials - Your Daily Prayer - December 20
A Prayer to Remain Steadfast Under Trials
By Tiffany Thibaullt
Blessed is the man who remains steadfast under trial, for when he has stood the test he will receive the crown of life, which God has promised to those who love him. - James 1:12
Little girls love to dress up. They are drawn to sparkly jewelry, and if they are blessed with a pretty tiara (though it might be just plastic) will excitedly wear it as they go grocery shopping with one of their parents. They wear their crown proudly, carrying their head high as they expect everyone around to notice their regality, their beauty, and their presence.
James 1:12 gives us the promise of something that only royalty can get. A crown. We, with not even one drop of royal blood in our veins, are promised a crown! And not just any old crown found in a costume box; definitely not the plastic one from the toy section. Oh no, not those. God has promised us that we will most definitely receive a crown to sit upon our head. We will be crowned with a crown of life by the King of Kings himself!
My little girls received a crown to match their princess dresses because I loved them, and I loved seeing them dress up and have tea parties. The way they walked, acted, danced and entertained themselves while wearing their tiaras brought me great joy. It blessed me.
Our Heavenly Father also dearly loves us. He promises to give us the crown of life, but James 1:12 says we must first do something. We must persevere under our trials. We must successfully walk through the tests that come our way. We must accept the word that God calls us when those trials come our way - BLESSED.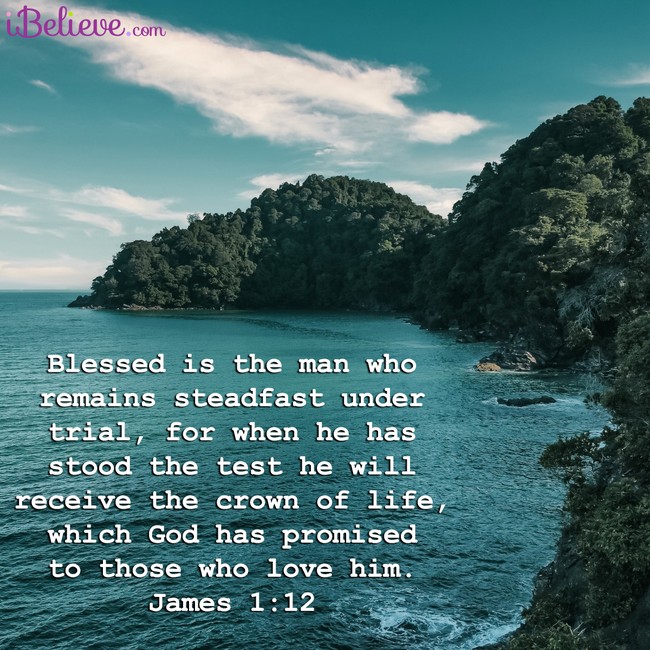 What?!? How can trouble, how can something hard and painful, how can that thing that we are facing, how could it be considered a blessing?
It is a blessing if we view it as such. You see, as the troubles come and we cling to the Lord, our faith grows. Our determination to stay holding onto the Lord despite the struggles we find ourselves in, strengthens our faith. Stronger faith is a blessing!
God is rooting for us when we remain steadfast under our trials. He is thrilled when we stand against the tests that come our way. Steadfastness is a blessing!
As the troubles continue and we grow in our faith and steadfastness, we will pass this test. That is a blessing!
God is proud to put that crown of life upon our heads, because we love Him and He loves us. Let's go through our struggles and our tests with a new perspective. God is with us and He will help us to walk through them. He will help us as we grow our faith. Let's believe Him in this. Let's walk through the next trouble with our head held high, anticipating that sparkly, beautiful, priceless crown of life perched perfectly upon that lovely head of ours. Let's walk through the next trouble that comes our way and face it regally. We have the King of Kings on our side. We are indeed blessed.
Dear Lord,
I love you. Thank you that you are with me as I journey through this life with all its troubles. Please increase my faith as I cling to the promises you give me during my struggles. Be with me, help me, guide me, draw me closer to you. Thank you for the promise that if I stand firm in my faith during the test, that you will reward me with the crown of life. Help me remember each day that you love me, that you are with me, and that I am your beloved child.
In your name, I pray,
Amen.
---
Tiffany Thibault enjoys living life with her husband, two teenage daughters and one very large dog. She is a homeschool mom, an author, a Bible study leader and loves to share God's word with women.
Teach Us to Pray is a FREE prayer podcast hosted by iBelieve writer Christina Patterson. Each week, she gives you practical, real-life tips on how to grow your faith and relationship with God through the power of prayer. To listen to her episode on What to Pray in the Morning for a Worry-Free Day, click below!


Now that you've prayed, are you in need of someone to pray for YOU? Click the button below!
Visit iBelieve.com for more inspiring prayer content.