A Prayer to Seek Shelter in God - Your Daily Prayer - September 30
A Prayer to Seek Shelter in God
By: Kristine Brown
"For in the day of trouble he will keep me safe in his dwelling; he will hide me in the shelter of his sacred tent and set me high upon a rock." (Psalm 27:5 NIV)
When life is in turmoil, we long for a safe place to be. A space where we're protected from the outside world, where we can find the peace we so desperately need.
God gives us strength and wisdom to face the challenges surrounding us. From our hardest circumstances can come our greatest testimonies of God's power. However, he also offers to be our safe shelter. God protects us during the battle and tells us we are never alone when we seek him.
David's 27th Psalm begins with a bold proclamation in the first verse, "The Lord is my light and my salvation—whom shall I fear?" David called on the Lord for strength and confidence when enemies surrounded him. He knew with God, he didn't have to be afraid. Yet David also recognized an important truth that we often forget. When facing trouble, God gives us a safe place to dwell.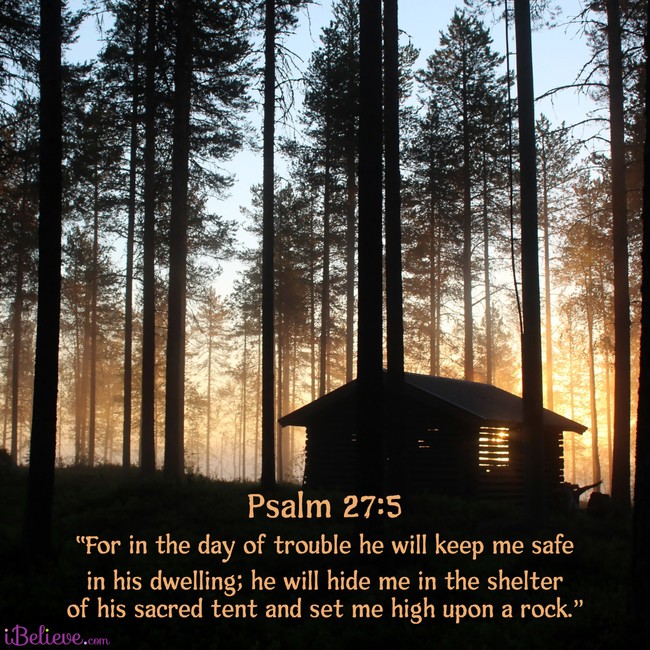 How comforting it is to remember God is our safe shelter! Proverbs 18:10 says, "The name of the Lord is a fortified tower; the righteous run to it and are safe." May we rest in knowing that when we run to God, he will be our safe place. Let's pray this prayer to seek shelter in our Almighty God.
Dear Heavenly Father,
Thank you for being my Shelter in times of trouble. I run to you today to find safety in your loving presence.
When I'm surrounded by challenges, I can get caught up in trying to fight in my own strength. Forgive me for facing life's struggles on my own. Your Word says you will "hide me in your sacred tent." So, I know that even in the most difficult circumstances, I am safe with you. You are my Protector, my Deliverer, and my Strong Tower.
Lord, in all things I will seek you. Your Word promises in Jeremiah 29:13 that I will find you when I "seek you with my whole heart." Surround me with the comfort and peace I find in your presence. Thank you for being my safe place, whatever challenges I face.
In Jesus' name, Amen.
---
For more spiritual growth resources, check out this free email study from Kristine Brown, Walking with Rahab: A 5-Day Challenge to Better Decision Making. You'll find weekly encouragement to help you "become more than yourself through God's Word" at her website, kristinebrown.net. Kristine is the author of the book, Over It. Conquering Comparison to Live Out God's Plan.
Teach Us to Pray is a FREE prayer podcast hosted by iBelieve writer Christina Patterson. Each week, she gives you practical, real-life tips on how to grow your faith and relationship with God through the power of prayer. To listen to her episode on What to Pray in the Morning for a Worry-Free Day, click below!


Now that you've prayed, are you in need of someone to pray for YOU? Click the button below!
Visit iBelieve.com for more inspiring prayer content.