A Prayer to Seek the Lord - Your Daily Prayer - January 16
A Prayer to Seek the Lord
By Tiffany Thibault
Worship and serve Him with your whole heart and a willing mind. For the Lord sees every heart and knows every plan and thought. If you seek Him, you will find Him. But if you forsake Him, He will reject you forever. - 1 Chronicles 28:9b
"If you seek Him, you will find Him." What an amazing promise! There are so many times in life when struggles become trials, when expectations, demands, and pressures build. It sometimes seems that God is absent from the hard places in our lives. This verse points out that the opposite is true. God is absolutely there, in every part of our lives. This verse tells us that the Lord sees every heart, knows every plan and most definitely knows every single one of our thoughts.
This is the key to our journey through the ups and downs of our days – remembering he is with us. We must make worshipping the Lord a priority in our life. We must choose to worship Him with our whole hearts. Not just on Sundays during the church service, but we must worship Him in every moment of all the rest of the days of the week. We worship Him as we pray, as we read the Word, and as we meditate on the Scriptures. We absolutely worship as we seek to honor Him through every one of our attitudes and actions.
As we worship Him, we fall more in love with Him, and out of that love comes a deep desire to serve Him. Not only are we to serve Him with our whole heart - which equates with serving Him with our lives - but we must also do it with a willing mind. This means that we must allow our minds to be teachable and directed by the Lord. We do this as we set aside our expectations and our understanding of how we think things should go, and tell our mind that God is doing things His way, and His way is always the best.
Things happen, people are difficult, yet as we worship and serve Him with all our heart and seek Him in every situation, we can have joy, knowing that as we seek Him, we WILL find Him. What an amazing promise.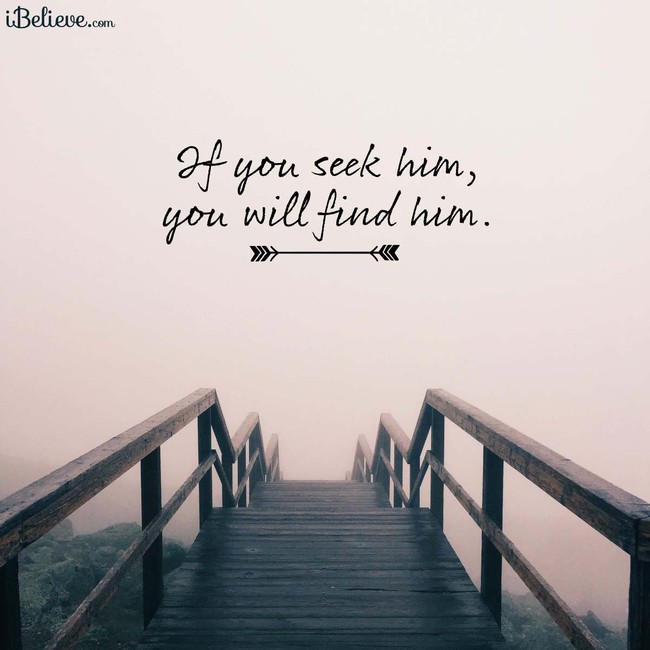 This verse is also very clear about something else. If we forsake, abandon, or turn away from God, He will do the same towards us. How horrible to go through the rest of our lives without having the Lord to guide, protect and love us! Today, make an effort to turn to the Lord and worship and serve Him with all your heart and with a ready and willing mind. Determine to seek Him every moment for every single day for the rest of your life. Make this choice and see God do amazing things as you worship and serve Him!
Dear Lord,
Thank you that you see my heart and that you know every plan and thought that I have. Thank you for your powerful promise: that if I seek you, I will find you. Give me a deep hunger for you. Fill me with your Spirit, that I would seek you more, that I would love you more, and that my mind would be filled with more of you. Help me as I go through this day, that I would see each challenge as an opportunity to worship and serve you. May you be glorified with how I live this day.
In your name I pray,
Amen
---
Tiffany Thibault enjoys living life with her husband, two teenage daughters and one very large dog. She is a homeschool mom, an author, a Bible study leader and loves to share God's word with women.
Teach Us to Pray is a FREE prayer podcast hosted by iBelieve writer Christina Patterson. Each week, she gives you practical, real-life tips on how to grow your faith and relationship with God through the power of prayer. To listen to her episode on What to Pray in the Morning for a Worry-Free Day, click below!


Now that you've prayed, are you in need of someone to pray for YOU? Click the button below!
Visit iBelieve.com for more inspiring prayer content.