A Prayer to Show God's Mercy to Others
By Betsy de Cruz
"…Because of the tender mercy of our God, whereby the sunrise shall visit us from on high to give light to those who sit in darkness and in the shadow of death, to guide our feet into the way of peace." – Luke 1:78-79
Mercy is not often my first response when someone offends me or does something that irritates me. I know Jesus said, "Blessed are the merciful," but sometimes I want to get back at people, or at least make them understand why they're driving me crazy.
I forget the mercy God has shown me.
His mercy is what made God send His only Son into the world to redeem sinners. Mercy is what made Jesus Christ, the light of the world, come down to earth to give light to those in darkness. Mercy for sinners is what led Jesus to die on the cross to pay for our sin.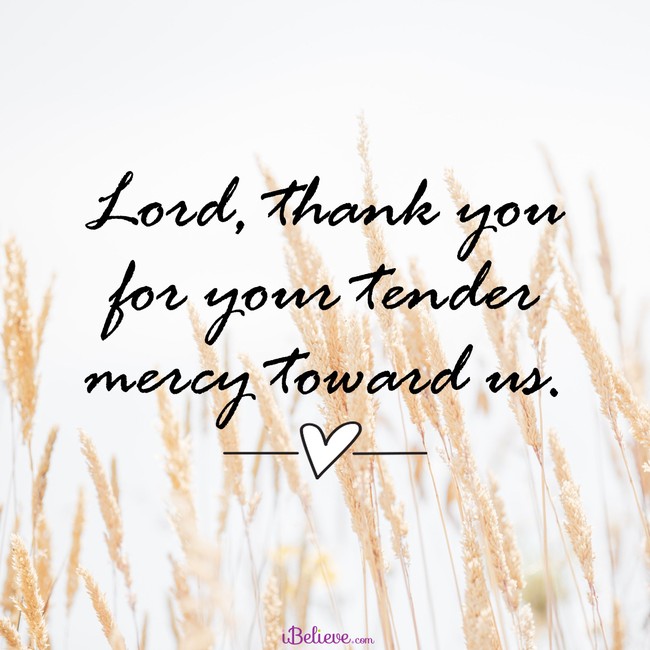 I wish I could have been there when Zechariah prophesied at the birth of his son, John the Baptist. Moved by God's Spirit, Zechariah knew John would go before the Lord, who would visit His people to redeem them. He foresaw that John would proclaim repentance and the forgiveness of sins. All "because of the tender mercy of our God" (Luke 1:78).
So often we come to God asking for our needs and praying He will show mercy and grant our requests. We forget to thank God for the mercy He has already shown us. We know from Scripture that our Heavenly Father invites us to bring our needs before Him, yet He also desires thanks and praise for what He has already done.
As we approach the Lord today, let's remember the tender mercy He has shown to us in the person of Jesus Christ. Let's thank Him for countless prayers already answered, countless blessings already given, and the grace Jesus extended to us by giving His life for us while we were still His enemies.
What if we also ask God to make us aware of people in our lives to whom we need to extend mercy and grace? Whether we need to have patience with that person who cuts in front of us at the grocery store checkout or forgive someone who hurt us deeply, God will give us the grace we need. Luke 6:36 calls us to "Be merciful, just as your Father is merciful."
Let's pray together:
Heavenly Father,
I praise you for your great mercy. Thank you for sending your Son Jesus to die on the cross for my sins. Thank you for shining your light into my heart and giving me the gift of eternal life. I praise you for your steadfast love and faithfulness to me.
Lord, forgive me for the many times I come to you in prayer, forgetting the mercy you have already shown me. Renew in my heart a deep sense of gratitude for the forgiveness I have in Christ.
Forgive me for all the times I withhold compassion and forgiveness from others. Would you work in my heart and make me more like you? Lord, give me the grace I need to see the people in my life through your eyes. Pour out your compassion into my heart that I may reflect it to others today. Guide my feet in the way of peace.
In Jesus' name, Amen.
---
---
Betsy de Cruz helps overwhelmed women take small steps to invite more of God's presence and power into their lives. Connect with Betsy to get your free Quiet Time Renewal Guide and other resources at FaithSpillingOver.com. Her book More of God is a distracted woman's guide to more meaningful quiet times. After living in the Middle East for 16 years with her husband and two children, Betsy landed in Texas, where she still enjoys drinking chai with friends.
Want more Your Daily Prayer? We also have a podcast! This podcast is different than the written devotional you just read, but carries the same commitment to a closer look at Scripture each day. You can find out more by clicking the link below!
Now that you've prayed, are you in need of someone to pray for YOU? Click the button below!
Visit iBelieve.com for more inspiring prayer content.