A Prayer While You're Still Waiting for God to Answer - Your Daily Prayer - March 4
A Prayer While You're Still Waiting for God to Answer
By Betsy de Cruz
"O Lord God of heaven, the great and awesome God who keeps covenant and steadfast love with those who love him and keep his commandments, let your ear be attentive and your eyes open, to hear the prayer of your servant…" – Nehemiah 1:5,6a
When you pray for something forever and still don't see an answer, you might start to wonder if God really hears or cares. How to keep on praying when you're not even sure if it makes a difference?
Although most of us have heard prayer develops our relationship with God, if you're like me, you pray most when you're desperate for God to do something. We want Him to heal our loved one, help our child, provide for our needs, or show us the way forward. Of course, God wants us to tell him about our needs. However, if we make prayer about coming to God to get what we want, we might be setting ourselves up for disappointment when He doesn't come through in the exact way we hope.
What if we have it all wrong about prayer? Maybe we are missing the point, and our mistaken expectations set us up for disappointment.
Nehemiah shows us how to pray in the midst of a difficult situation. He is grieved over bad news; Scripture tells us he even sat down and wept (Nehemiah 1:4), yet rather than focus on the problem, he starts his prayer by focusing on God. Nehemiah calls God's greatness to mind. He praises God for His faithful love and asks God to hear Him.
If you look at the rest of the prayer in Nehemiah 1, you will see he also confesses sin, remembers God's promises, and asks that God would show mercy and give him success, but today we will focus on how he begins the prayer.
As we pray today, let's turn our attention to the awesome and majestic God who loves us. Let's center our prayer around our Heavenly Father and His character, not around ourselves and our needs. The God of the universe hears us, and we can take joy in the privilege of prayer.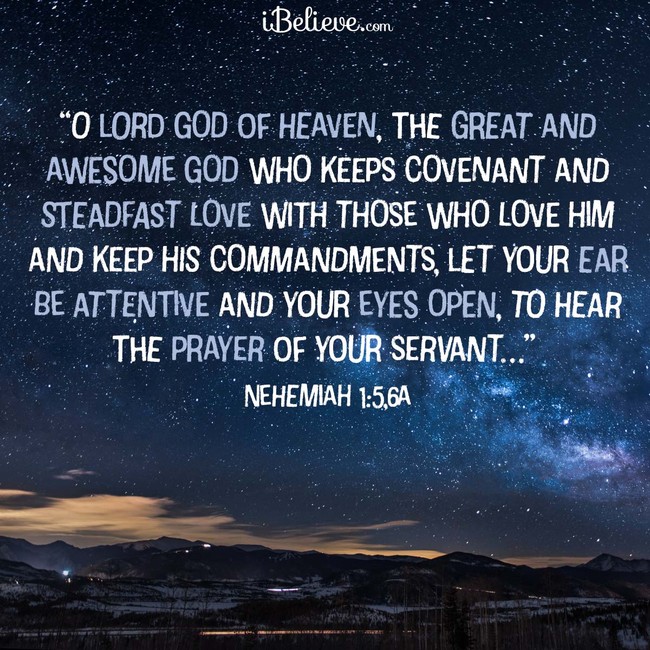 As we invite God to act on our behalf, let's also remember He wants to walk with us through our situation. Obstacles give us the opportunity to see God in a new light, to grow our faith muscles by learning to trust in His lovingkindness. We learn to surrender as we choose to believe God will fulfill His good purpose in us.
Let's turn our hearts towards God and invite Him into our situation:
Lord, I want to stop where I am right now and turn my eyes and heart toward you. I praise you for your great power and eternal, unchanging goodness. You reign over all creation, and I can rest in knowing you care for me and my loved ones. Father, thank you for your faithfulness to the covenant you made with your people. Thank you for the forgiveness we have in Jesus. Thank you for the love you expressed to us through the death of your son and the continued presence of the Holy Spirit.
Lord, I believe you hear me. Thank you for listening to my prayer. I invite you into my situation, and I pray you will act. Show your mercy, Lord; hold me close and work all things for good. You and you alone are able to bless me through my challenges. Give me a faith that believes you and praises your goodness in all situations.
In Jesus' name, Amen.
---
Betsy de Cruz helps overwhelmed women take small steps to invite more of God's presence and power into their lives. Connect with Betsy to get your free Quiet Time Renewal Guide and other resources at FaithSpillingOver.com. Her book More of God is a distracted woman's guide to more meaningful quiet times. After living in the Middle East for 16 years with her husband and two children, Betsy landed in Texas, where she still enjoys drinking chai with friends.
Teach Us to Pray is a FREE prayer podcast hosted by iBelieve writer Christina Patterson. Each week, she gives you practical, real-life tips on how to grow your faith and relationship with God through the power of prayer. To listen to her episode on What to Pray in the Morning for a Worry-Free Day, click below!


Now that you've prayed, are you in need of someone to pray for YOU? Click the button below!
Visit iBelieve.com for more inspiring prayer content.