A Prayer for Those Longing for Home - Your Daily Prayer - December 16
A Prayer for Those Longing for Home
By: Maggie Meadows Cooper
"Those who live in the shelter of the Most High, will find rest in the shadow of the Almighty." - Psalm 91:1
I was that kid. The one who called home at every spend-the-night party, somewhere around 10:00, asking my parents to come get me. The one who got picked up from Summer Camp after two days because I was homesick... the summer before 6th grade. And the one who cried my eyes out many times during my college internship in a new city because I just. missed. home.
When I was little, I missed laying on my daddy's arm before bed and my mom saying my prayers with me. I missed my room and stuffed animals. I even missed my annoying little brother and sister. As I got older, I realized it was silly to be homesick and tried so hard not to be...but most times I spent the night away, there was something off that I just couldn't put my finger on. And as soon as I walked through that back door at home, all was right with the world again.
What I couldn't put into words then, that I know now, is that I missed the comfort, the familiarity, the known.
Home is "the place where one lives permanently, especially as a member of a family" or as "the abiding place of the affections." Home has been called the place where your heart is, and I believe that's true. It's not necessarily a building, but a gathering place. A location that may not have a street address, but once you've arrived, you know you're there because you are known to those around you and loved in spite of your imperfections.
And y'all, though I still visit my parents' home and have my own home with my husband and children, there are still days I long for the home that imperfect people can't give. For that home that only One can be:
"Lord, through all the generations you have been our home!" - Psalm 90:1 NLT (emphasis mine)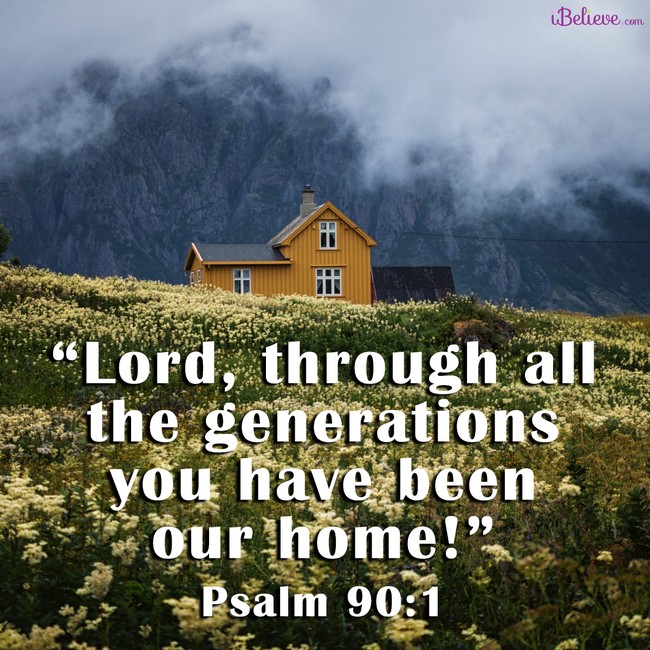 I long for Jesus! He is the home we can all rest in and run to when we are struggling. He is comfort and peace and love and forgiveness and grace and mercy and in His presence, we are known. There is no need to fear, no room for doubt, and no reason to question intentions. When our eyes and heart are focused on Him, we can be reminded of how very brief this life is and the refuge that awaits in Him.
This world is full of uncertainty, fear, and so many unknowns. But because we know Jesus, we can feel at home in a matter of moments, no matter our location, as we seek His presence, sweet friends.
Dear Jesus,
There are so many reasons to fear right now. So many circumstances leave me longing for the comfort of home. Help me to run to You when those hard times come. Help me to remember that you know me and love me, in spite of all of my shortcomings. Draw me to Your side where I can rest in absolute peace and assurance of your goodness. And most of all, help me remember that home is where you are.
In Your Mighty Name,
Amen.
---
Maggie Meadows Cooper is a wife, mom, educator, author, and blogger with a longing for women to grow a heart for Jesus and others. She is the author of the children's book "Bumper" and blogs at The Little Moments about what the Lord is teaching her through her children and everyday life. She contributes to Blogs by Christian Women, Devotional Diva, She Disciples, and Connecting Ministries. An educator with an M.Ed. in Early Childhood Education from Auburn University (War Eagle!), she has twenty years of experience working with young children. She loves all things chocolate, real Coca-Cola, and lives with her husband, three children, and two rambunctious dogs in Opelika, Alabama.
Teach Us to Pray is a FREE prayer podcast hosted by iBelieve writer Christina Patterson. Each week, she gives you practical, real-life tips on how to grow your faith and relationship with God through the power of prayer. To listen to her episode on What to Pray in the Morning for a Worry-Free Day, click below!


Now that you've prayed, are you in need of someone to pray for YOU? Click the button below!
Visit iBelieve.com for more inspiring prayer content.