A Prayer to Embrace and Enjoy Life - Your Daily Prayer - December 21
A Prayer to Embrace and Enjoy Life
By Meg Bucher
"May the LORD bless you from Zion; may you see the prosperity of Jerusalem all the days of your life. May you live to see your children's children- peace be on Israel." - Psalm 128:5-6 NIV
In today's ever-changing status-quo, I began starting my day thanking God for waking me to breathe. Unsure of His purpose and exact plan each day, or why everything in the world we live in seems to be immensely chaotic, I do know if God has awakened me for another day, there is a purpose for it.
How often do we take a moment to embrace and enjoy the gift of another day before diving into our newsreels and social media feeds?
The Expositor's Bible Commentary unpacks Psalm 128. "God's blessing goes with his people everywhere, even when they are not in Jerusalem," the, "For the NT people of God, the blessing of God is on all those who are in-dwelt by his Holy Spirit."
We often get caught up in our culture's way of calculating a successful life in achievements and possessions, forgetting to embrace the literal breath of everyday life!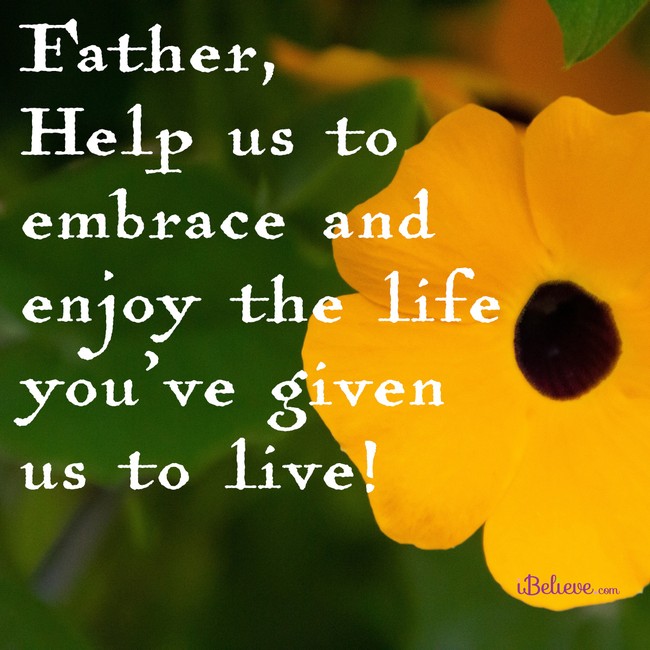 What if we approached every day with a grateful heart for the breath in our lungs? Instead of striving for what we think will make us happy, can we embrace the joy God offers us in Christ to sustain us? Christ died for us to live life to the full, not to live in fear over what each day will bring.
The world has always been turned on its head. Until Christ returns to set it right, rooting our hope in Him allows us to embrace and enjoy life. After all, God promises His plans for us are more than we can ask for or imagine! As anyone who has lived to meet their great-grandchildren would most certainly agree, and we can glean from their notes of wisdom.
Live, blessed… because, we are!
Father,
Help us to embrace and enjoy the life you've given us to live. We are not accidentally here on earth! Each day we awake to breathe, you faithfully meet us with purpose.
We lift our anxiety and worry to you, today, as we seek to embrace your peace and promises. We confess our tendency to condemn, criticize, and compare instead of embracing the peace and blessings you have showered over our lives.
During trying seasons and relatively easy days, help us to see and remember you in all situations. We never know what our world is going to throw at us, but you do. You never change.
Holy Spirit, faithfully nudge and reminds us that we are children of God, freed from the chains of sin by Christ's sacrifice on the cross, and resurrection and assertion to heaven where He is seated by the Father. Bless our minds to remember and embrace the freedom, hope, joy and peace we have in Christ.
In Jesus' Name,
Amen.
---
Meg Bucher writes about everyday life within the love of Christ as an author, freelance writer and blogger at Sunny&80. Her first book, "Friends with Everyone," is available on amazon.com. She earned a Marketing/PR degree from Ashland University, but stepped out of the business world to stay at home and raise her two daughters. Besides writing, she leads a Bible Study for Women and serves as a Youth Ministry leader in her community. She lives in Northern Ohio with her husband, Jim, and two daughters.
Teach Us to Pray is a FREE prayer podcast hosted by iBelieve writer Christina Patterson. Each week, she gives you practical, real-life tips on how to grow your faith and relationship with God through the power of prayer. To listen to her episode on What to Pray in the Morning for a Worry-Free Day, click below!


Now that you've prayed, are you in need of someone to pray for YOU? Click the button below!
Visit iBelieve.com for more inspiring prayer content.