A Prayer to Prepare - Your Daily Prayer - December 22
A Prayer to Prepare
By Meg Bucher
"For the Son of Man came to seek and to save the lost." - Luke 19:10
Jesus came to earth to live, die, and be resurrected to defeat death and cancel the debt of sin. He comes to us daily, as we embrace our salvation in Him and the indwelling of the Holy Spirit. But we also look forward to His second coming. Christ Jesus will return again! Only the Father knows the time, but the promise of His coming is as trustworthy as God's promise to send a Messiah.
Luke recorded Jesus' words to Zacchaeus, a tax collector Jesus chose to visit. Tax collectors had a horrible reputation, and rightly so, for skimming money off the top of their overcharged tax collections. Zacchaeus was a rich man, and one typically unworthy of a visit from the Messiah, Christ. But Zacchaeus was exactly the type of soul Jesus came to speak life into. Jesus told him, "the Son of Man came to seek and save the lost."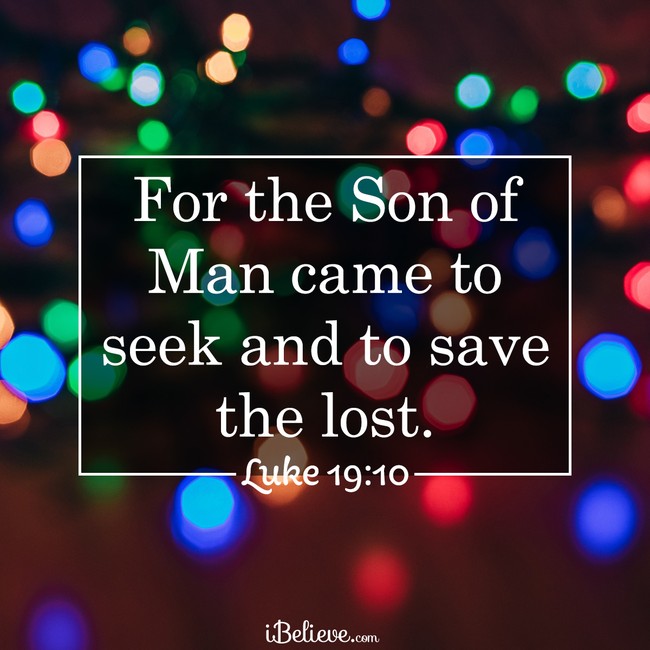 Each Advent, we prepare and refocus our hearts on what matters most. God delights in our efforts to commune with Him, but Jesus didn't leave the comforts of home in heaven to come and seek the "spiritually motivated." He came to seek the lost.
As this year comes to a close and we resolve to improve upon our lives in the next, remember the daily privilege we have as children of God. Follow Him swiftly, listen for Him intently, and seek Him enthusiastically every day we wake to breathe. Our entire lives, our every day, is purposed. We were lost when Jesus found us, and He covered us with His love. May our lives reflect an outpouring of His Light, Living Water, and Love flowing through our hearts.
Father in Heaven,
Abba, Yahweh, who delights in His children. Jesus, Messiah, who calls us friends. Holy Spirit, gift from above and constant companion. Glory be to the One True, Triune, God! You know when we are lost, Lord. You found us, heaped in our own motivations and confused by worldly principles. You rescued us, defeating death on the cross and rising to sit at the right hand of the Father in heaven. Your reach into our everyday lives, our messy circumstances, forever changes us.
Thank You for coming for the lost. Thank You for salvation, forgiveness, mercy, grace, and hope! Thank You for Your compassionate love for us, and particular and purposeful care for our daily lives. We are completely loved and totally filled with peace in Your presence, God. We humbly stand before You today, ready to serve You- not just when we're reminded by the beautiful story of Christmas or the heart-wrenching sacrifice You made on the cross, Jesus, but every day throughout the year.
Not one day of our lives is more or less important. No one person more or less loved. In Your perfect way, You hold the world in balance and our souls in tune. You hear every voice, every prayer, every cry, and every shout of praise, simultaneously and always! Your ways are not our ways, but oh, God… please lead us in Your purpose for our lives.
Let Your glory, Light, and Living Water flow from our lives. May all who know us feel the love You have for all …and the care in which You save the lost.
Jesus, in Your Powerful Name we pray,
Amen.
---
Meg Bucher writes about everyday life within the love of Christ as an author, freelance writer and blogger at Sunny&80. Her first book, "Friends with Everyone," is available on amazon.com. She earned a Marketing/PR degree from Ashland University, but stepped out of the business world to stay at home and raise her two daughters. Besides writing, she has led a Bible Study for Women and serves as a Youth Ministry leader in her community. She lives in Northern Ohio with her husband, Jim, and two daughters.
Teach Us to Pray is a FREE prayer podcast hosted by iBelieve writer Christina Patterson. Each week, she gives you practical, real-life tips on how to grow your faith and relationship with God through the power of prayer. To listen to her episode on What to Pray in the Morning for a Worry-Free Day, click below!


Now that you've prayed, are you in need of someone to pray for YOU? Click the button below!
Visit iBelieve.com for more inspiring prayer content.