A Prayer to Finish 2020 with Wisdom - Your Daily Prayer - December 26
A Prayer to Finish 2020 with Wisdom
By: Alisha Headley
"[T]he foolish plan of God is wiser than the wisest of human plans, and God's weakness is stronger than the greatest of human strength." - 1 Corinthians 1:25
It's fair to say that most of us have questioned (or at least wondered about) God's purpose and plan for the year we have had. A global pandemic that has interrupted our lives and all of our plans for 2020 were disrupted. We could never have predicted what this year would have looked like. But I wonder if wisdom would have prepared us.
Today's Scripture reminds us of God's infinite wisdom and strength in times like we are experiencing. That His wisdom, His plans, His thoughts, His ways, His strength is far great than ours. Far greater than we can even begin to comprehend.
2020, for most of us, was a year that didn't quite make sense. We still don't understand the purpose behind such a tumultuous year. But friends, we can know one thing for certain: God is ever so wise and ever so strong, and He is always working. Even if we don't see the outcome of all this, He is at work.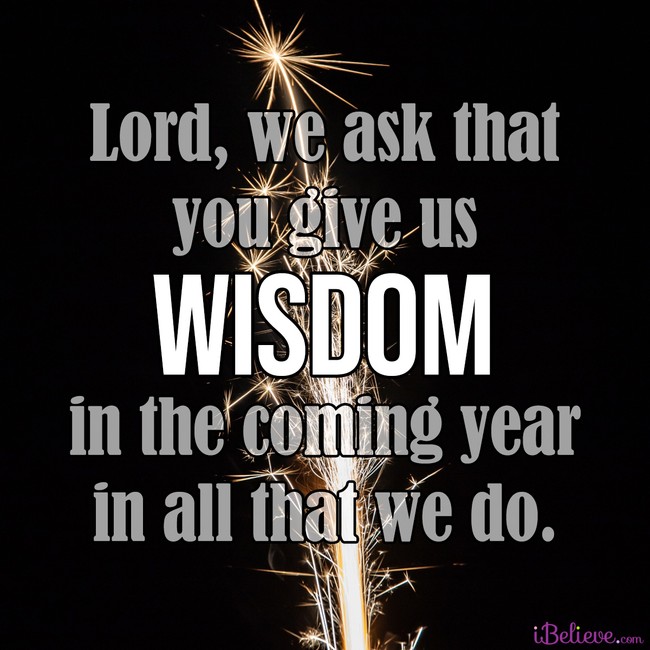 Let's change our perspective and finish this year with wisdom. We can do this by recognizing we aren't wise at all. That it is God who is wise. That it is God who hears us, sees us, and knows exactly what is happening. In all His infinite wisdom, we can finish 2020 wisely, knowing that He is in total control.
Let's pray:
Dear God,
We thank you for being faithful, for giving us the courage to push through another day in 2020. Despite this year, you promise that you will never "leave us nor forsake us" (Deuteronomy 31:8). You are a faithful God. You tell us that "those who put our trust and faith in you cannot be shaken" (Psalm 125:1). Thank you that even when our world was shaken in 2020, we serve an unshakeable God.
We ask that in times of doubt and questioning, you would remind us to "lean not on our own understanding, but trust in you, and you will direct our paths." (Proverbs 3:5-6) We ask that you would remind us to rely on your wisdom, which is far greater than our own.
As James 1:5 says, "if any of you lacks wisdom, ask you and you will graciously give it to us." So, Lord, we ask for wisdom on how to navigate through the rest of 2020. We ask that in all our decisions you would give us wisdom to end 2020 the way you desire us to.
We ask that you give us wisdom in the coming year in all that we do. We trust that you are in control and that even if we don't see the end of this world pandemic in the near future, that you are working and that you know exactly what's to come. Thank you that you have gone before us, that you are with us, and you go behind us. Thank you for being the only source of security in this insecure world we experienced in 2020.
In Jesus' mighty name, we love you and ask these things,
Amen.
---
Alisha Headley is a writer and speaker who has a desire to meet the everyday woman in her everyday life with biblical truth. Healing from a chapter of life consumed with lies she once believed about herself, she is inspired to point women to Christ to experience the freedom and power to overcome those lies with the truth written in God's word. You can follow her blog by visiting her website or connect with her on facebook + instagram.
Want more Your Daily Prayer? We also have a podcast! This podcast is different than the written devotional you just read, but carries the same commitment to a closer look at Scripture each day. You can find out more by clicking the link below!
Now that you've prayed, are you in need of someone to pray for YOU? Click the button below!
Visit iBelieve.com for more inspiring prayer content.