A Prayer for God to Search and Know Me - Your Daily Prayer - January 6
A Prayer for God to Search and Know Me
By Victoria Riollano
Search me, God, and know my heart; test me and know my anxious thoughts. See if there is any offensive way in me and lead me in the way everlasting. -Psalm 139:23-24
Search me, Lord.
I will never forget the first time I stumbled across this passage of scripture. It immediately struck me as one of the most dangerous prayers one could ever pray. Not only does the writer, David, ask the Lord to search his heart, he also asks him to find every offensive way. On the surface, this seemed like an easy thing to ask of the Lord. Yet, the more I prayed the prayer, the more I started to feel discomfort. No matter how holy and blameless I believed I was, the Lord was reminding me there was more work to be done. My offensive ways were many, but God's grace was more plentiful than I could imagine.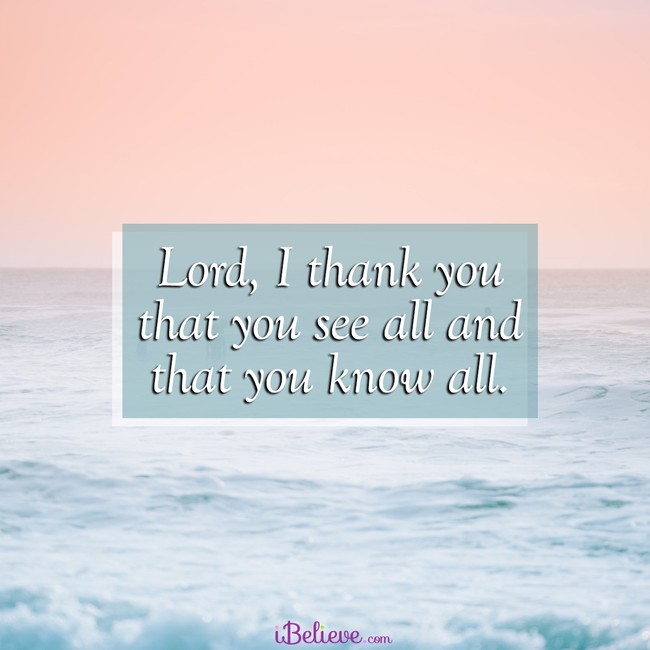 As I researched this psalm, I found it of interest that David would be the writer of this prayer, who implored the Lord to "search him and find every offensive way." David, a murderer, adulterer, and a man with many imperfections, took time to seek the Lord for the truth about himself. In a time where David could have blamed the world around him, he made a choice to take ownership of his faults and ask the Lord to expose them. He recognized that even on his best day his righteousness was like filthy rags (Isaiah 64:6).
In my own life, I've been the opposite of Psalm 139. If I'm honest, my prayers were that God would search them. The issues I encountered were surely a reflection of everyone else's flaws, not my own.
Marriage issues were my husband's fault.
Parenting problems reflected my children's temperament.
Friendship woes were due to their disloyalty or poor behavior.
My prayers to the Lord were directed at them. I needed the Lord to fix them so that my life could be better. I am certain that I am not the only one.
Whether we like it or not, we must come to accept that we are not perfect. We act from our flesh, we dishonor the Lord, we fall prey to idols, and this doesn't even include the secret sins hidden within our heart. As the Apostle Paul declared, "For I do not do the good I want to do, but the evil I do not want to do--this I keep on doing" (Romans 7:19). This generational struggle of flesh versus spirit has been present from the beginning of time and tries to get the best of us. Yet, with the Lord we can overcome these struggles daily.
The key to doing so goes beyond saying a prayer. We must be willing to address our current heart condition and what displeases the Lord. In doing so, we must also be aware that what the world finds offensive and what God sees as offensive may be different. For this reason, we seek the Lord for His guidance on what honors Him and dishonors Him. Not only this, when the Lord shows us an area that needs to be transformed, we must choose to not allow pride or shame to keep us from changing. Instead, our heart cry should reflect wanting to live a life that honors Him in every way, even when it is uncomfortable. May the prayer of our heart today be, "Search me Lord."
Lord,
I thank you that you see all and that you know all. Search me, Lord. I give you access and full reign over every part of my life. I thank you for revealing my offensive ways and giving me wisdom on how to change. I accept my imperfection and embrace your grace in these moments. I need you Lord to do a work in me. Help me never grow tired of your correction.
In Jesus Name,
Amen.
---
Victoria Riollano is an author, blogger, and speaker. As a mother of six, military spouse, Psychology professor and minister's wife, Victoria has learned the art of balancing family and accomplishing God's ultimate purpose for her life. Recently, Victoria released her book, The Victory Walk: A 21 Day Devotional on Living A Victorious Life. Her ultimate desire is to empower women to live a life of victory, hope, and love. She believes that with Christ we can live a life that is ALWAYS winning. You can learn more about her ministry at victoryspeaks.org.
Teach Us to Pray is a FREE prayer podcast hosted by iBelieve writer Christina Patterson. Each week, she gives you practical, real-life tips on how to grow your faith and relationship with God through the power of prayer. To listen to her episode on What to Pray in the Morning for a Worry-Free Day, click below!


Now that you've prayed, are you in need of someone to pray for YOU? Click the button below!
Visit iBelieve.com for more inspiring prayer content.