A Prayer for Those Weary from Spiritual Battle
By: Maggie Meadows Cooper
My heart has been heavy for someone I love in recent months. The prayers have been endless. The constant hamster wheel of ideas turning in my mind of how to be supportive. The weight on my chest has been so heavy that at times it feels hard to breathe. And it is fully evident that this battle is not able to be won with earthly strength alone.
The enemy is a master manipulator. A liar, evil, devious, and relentless in his pursuit of those who are trying to break chains and grow closer to the Lord. He knows where to hit them hardest. And he knows where to hit everyone in their circle hardest. His ploy is to wear us down so that all seems lost. All seems hopeless. And faith can be replaced with anger, bitterness, and resentment over what should have been instead of even more fervent prayers.
My sweet friends, whether you are going to battle for someone you love, or for yourself, here are five things from 2 Chronicles 20 the Lord showed me we must remember when our hearts grow weary:
1. When we don't know what else to do, look to Jesus.
"O our God, won't you stop them? We are powerless against this mighty army that is about to attack us. We do not know what to do, but we are looking to you for help." - 2 Chronicles 20:12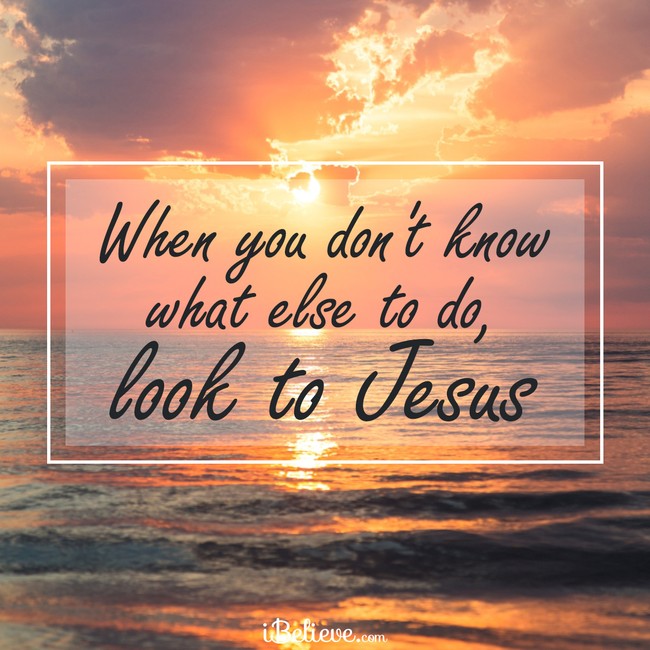 Y'all, there have been so many prayers for open and closed doors, for wisdom and discernment, for the right people to be in place at the right time. And there are times earthly doors have been opened…only to be closed. Steps forward…that quickly became steps backward. And I didn't know what else to do. But Jesus does. No matter what your "mighty army" may be, do not forget that His resources are endless. His plans are good. And His timing is perfect. When you don't know what else to do, cry out to Jesus.
2. The battle is not ours, but God's.
"He (Jahaziel) said, "This is what the Lord says: Do not be afraid! Don't be discouraged by this mighty army, for the battle is not yours, but God's." - 2 Chronicles 20:15
If you are like me, you try to carry all of the burdens in your own life and those of the ones you love, around. You pick them up, pile them on, sling some over your shoulder in a backpack, and trudge along until you can't take one more step. But y'all, we were never meant to go to battle alone. We are God's…and the battles are His. Surrender to Him. Trust Him to do what He says He will do. He is faithful.
3. We are not alone!
"Tomorrow, march out against them…But you will not even need to fight. Take your positions; then stand still and watch the Lord's victory. He is with you."- 2 Chronicles 20:16,17
So many times in my life, I have heard the Lord whisper, "I'm right here." But I'm embarrassed to admit that it hasn't always been a comfort. When my baby refused to sleep through the night, and I was begging God to help her rest as I cried by her crib, I heard him say, "I'm right here." But I quickly snapped back, "Then do something!" Some of you may have been in that same place. But let me encourage you that He is doing something…always working (John 5:17)…even when we can't see it. Lay down your weapons. Stand still. And allow the Lord's presence to be enough for the moment.
4. Worship God with prayers and praise, before the battle is won.
"Then King Jehoshaphat bowed low with his face to the ground. And all the people of Judah and Jerusalem did the same, worshiping the Lord. Then the Levites from the clans of Kohath and Korah stood to praise the Lord, the God of Israel, with a very loud shout." 2 Chronicles 20:18,19
When I am discouraged and weary, worship may be the last thing on my mind. I don't feel like praising the Lord for something that hasn't happened yet. It can become difficult to celebrate small victories when the big one is so very distant. But if we are going to stand firm, we must believe in the Lord's faithfulness and worship Him, not because of what we want Him to do, but because of what He's already done, my sweet friends. Praise Him and sing out to Him as they did that day, "Give thanks to the Lord, His faithful love endures forever!" (2 Chronicles 20:21)
5. Prepare your heart to meet in the Valley of Blessing when the battle is finished.
"On the fourth day they gathered in the Valley of Blessing, which got its name that day because the people praised and thanked the Lord there." 2 Chronicles 20: 26
The people of Judah were victorious that day as they gathered and praised the Lord. I pray our outcomes will be the same, but the truth is that I don't know how our battles will end. Many years ago, I committed to praising the Lord in the good…and in the bad. And the truth is, I've had to do both. One is harder than the other. But no matter the outcome of the battle you are facing, God is still God. And He is still good. So, praying and believing for victory in Jesus' name, I will prepare to meet the Lord in my own Valley of Blessing after each battle I face. And I pray you will too.
Dear Jesus,
The battle I am facing seems impossible to win. Help me to look to you when I don't know what else to do. Help me to remember that the battle is yours, I am never alone, and that there is power in your name. Give me a desire to worship you, even when I don't feel like it. And prepare my heart to stand firm, give thanks, and praise you, no matter the outcome.
In your mighty name,
Amen!
---
Maggie Meadows Cooper is a wife, mom, educator, author, and blogger with a longing for women to grow a heart for Jesus and others. She is the author of the children's book "Bumper" and blogs at The Little Moments about what the Lord is teaching her through her children and everyday life. She contributes to Blogs by Christian Women, Devotional Diva, She Disciples, and Connecting Ministries. An educator with a M.Ed. in Early Childhood Education from Auburn University (War Eagle!), she has twenty years experience working with young children. She loves all things chocolate, real Coca-Cola, and lives with her husband, three children, and two rambunctious dogs in Opelika, Alabama.
Want more Your Daily Prayer? We also have a podcast! This podcast is different than the written devotional you just read, but carries the same commitment to a closer look at Scripture each day. You can find out more by clicking the link below!
Now that you've prayed, are you in need of someone to pray for YOU? Click the button below!
Visit iBelieve.com for more inspiring prayer content.