10 Reasons to Talk More about Heaven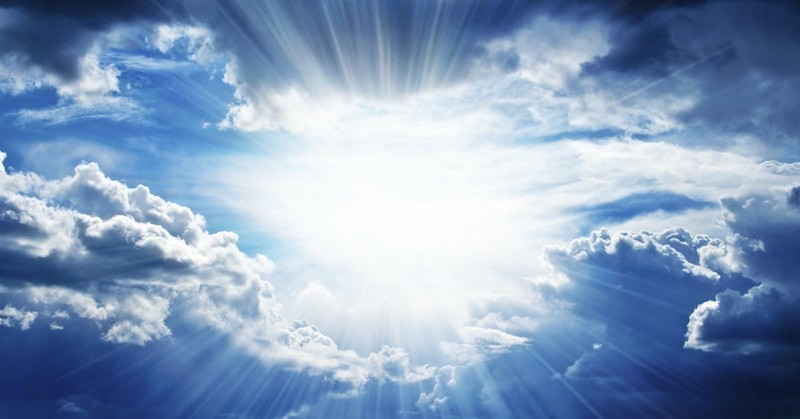 #MyParadiseIn5Words was trending on Twitter recently. Thousands offered what their paradise would be like. Many said things like "Permanently ending cancer and war" or "never getting out of bed" and pretty much every five-word sentence you can imagine. It's fascinating to ask non-Christians about heaven. They rarely think about it. To them, heaven is on earth and made up of worldly pleasures.
Recently during a conversation about whether we should talk about hell with our kids, someone in the group asked how often we talk to our kids about heaven? It made me wonder, how often do people talk about heaven in general?
Paul writing in Colossians 3:1-4 says, Therefore if you have been raised up with Christ, keep seeking the things above, where Christ is, seated at the right hand of God. Set your mind on the things above, not on the things that are on earth. For you have died and your life is hidden with Christ in God. When Christ, who is our life, is revealed, then you also will be revealed with Him in glory.
In Paul's opinion being with Christ should be the focus of our life. We should be actively training our minds to think about the day when Christ, our life, is revealed.
Sadly it is easy to be distracted, temporal concerns can easily grab our attention and overall it seems like we don't think or talk about heaven nearly enough. Here are ten reasons why heaven should often be on our minds and in our conversations.
We will spend eternity there
This is obvious but we have to start here. John in Revelation 21:3-4 says, "And I heard a loud voice from the throne, saying, "Behold, the tabernacle of God is among men, and He will dwell among them, and they shall be His people, and God Himself will be among them, 4 and He will wipe away every tear from their eyes; and there will no longer be any death; there will no longer be any mourning, or crying, or pain; the first things have passed away." This verse reminds us of the fact that heaven is eternal and that it is much more glorious than anything we can experience on earth. When we experience pain, sadness and even death our minds should jump to the joy we will experience forever with Christ.
It will make us like Jesus
Jesus trained his disciples to have heavenly thoughts. Every beatitude seems to be pointing to a day where the disciples would be recompensed in Heaven. He constantly spent time praying. He longed to be with His Father in Heaven.  He told parable after parable pointing to heaven. He constantly reminded the disciples about where he was going and that they would be with him. In John 14:2-4 he says, "In My Father's house are many dwelling places; if it were not so, I would have told you; for I go to prepare a place for you. If I go and prepare a place for you, I will come again and receive you to Myself, that where I am, there you may be also. And you know the way where I am going." This is just one of many examples of Jesus talking about Heaven and encouraging his disciples to think about it. If our goal is to be like Christ, then we must have heaven on our mind all the time.
It will be easier to say no to sin
If heaven is on our mind it will be difficult to sin. Jesus constantly praised those who would be willing to give up the temporary pleasures that the world offers and buy up stock in heaven. Hebrews 12:1-2 describes a runner who has his sight on heaven, and lays aside any encumbrance, any sin that comes his way so that he can run faster towards his prize, and that is to spend eternity in heaven with their Savior. If Heaven is on our minds sin will seem so worthless in comparison. 
It will be easier to not be jealous of the world
A big struggle for college students is wanting to be like the world while claiming Christ. They see their friends party, cheat, watch anything they want without any regrets, and they wish that they could do the same. Christians who have their minds set on heaven have a much easier time dealing with the world's temptation. In Mark 8:35-36 Jesus says, "For whoever wishes to save his life will lose it, but whoever loses his life for My sake and the gospel's will save it. For what does it profit a man to gain the whole world, and forfeit his soul?" Jesus makes it clear that nothing this world can offer, even its entirety cannot compare with an eternity with him in heaven.
It will make you more evangelistic
If heaven is on your mind you will share the gospel more often. If you think about it, you will talk about it. You won't be able to help it.  It will be flowing out of you mind and into your conversations. It will be evident in your conduct and in your speech that your desires are different and that ultimately your goals are counter-cultural. When you look at people, all you will see is souls who are going to spend eternity somewhere and you will want to explain to them how they can have eternal life.
It will increase your joy
It's very easy to be discouraged. Life is difficult, especially when we live for Christ and share the Gospel. The way towards joy is to be willing to lose this life in order to gain so much more. David had a habit of ending his psalms pointing himself and others toward eternity. He ended Psalm 16 with, "…in your presence there is fullness of joy; at your right hand are pleasures forevermore."  Some other examples are Psalm 23:6, Psalm 28:9, and Psalm 145:21. When discouraged and depressed the wise man or woman will fix their mind on heaven.
It will increase your thankfulness
The Christian has much to be thankful for, but the greatest blessing comes in the fact that we will spend eternity in heaven. David says in Psalm 30:12, "O Lord my God, I will give thanks to you forever!" He recognizes that we will live with eternal gratitude to the Lord. That thankfulness does not need to begin in heaven, but can begin now as we already have the certainty of it. It's going to be tough to complain when we know that we will enjoy heaven really soon.
It will help you store up treasure in heaven
Jesus said in Matthew 6:20-21, "But store up for yourselves treasures in heaven, where neither moth nor rust destroys, and where thieves do not break in or steal; for where your treasure is, there your heart will be also." As Christians, we find value in things that the world could care less about. On the other hand, many things that we used to value suddenly don't take our attention anymore. Our money, time, and activities are devoted to Christ and making him known.
It will make you more encouraging to others
Because of all the above reasons, if you think and talk about heaven you will be a great encouragement to your brothers and sisters in Christ. You will be able to point others towards joy when discouraged, towards holiness when tempted, and towards evangelism when scared. It is so easy to come to church with a selfish mindset. The one who thinks about heaven sees opportunities not only for evangelism but for encouraging his brothers and sisters in Christ. People need to be thinking about their soul, and you will be the one to point them to heavenly thoughts.
It will please your Savior
Jesus wants you in heaven with him. Two thousand years ago he prayed that the Father would bring us all to heaven. In John 17:24 he says, "Father, I desire that they also, whom You have given Me, be with Me where I am, so that they may see My glory which You have given Me, for You loved Me before the foundation of the world." Jesus wants us to be with Him, and He wants us to long to be with Him. We must be able to say like Paul, "For to me to live is Christ and to die is gain". Paul loved serving Christ on earth but was so looking forward to being with his Savior. Jesus will be pleased when we are constantly thinking about being with Him and when we encourage others to cherish being with Him above all else.
Although the world around us is only focused on this life, we must resist the temptation to think this way. Second Corinthians 4:18 reminds us that, "…we look not at the things which are seen, but at the things which are not seen; for the things which are seen are temporal, but the things which are not seen are eternal."
For more reading about heaven, I recommend Randy Alcorn's book, Heaven and John Macarthur's The Glory of Heaven: The truth about Heaven, Angels and Eternal Life.
This article originally appeared on TheCripplegate.com. Used with permission.
Jordan Standridge is a pastoral associate at Immanuel Bible Church in Springfield, VA, where he leads the college ministry. He is also the founder of The Foundry Bible Immersion. You can find his personal blog at surrender.us.
Publication date: August 25, 2016