7 Tips for Having Great Devotions
Sue Schlesman

Crosswalk.com Contributing Writer

Updated

Jun 20, 2018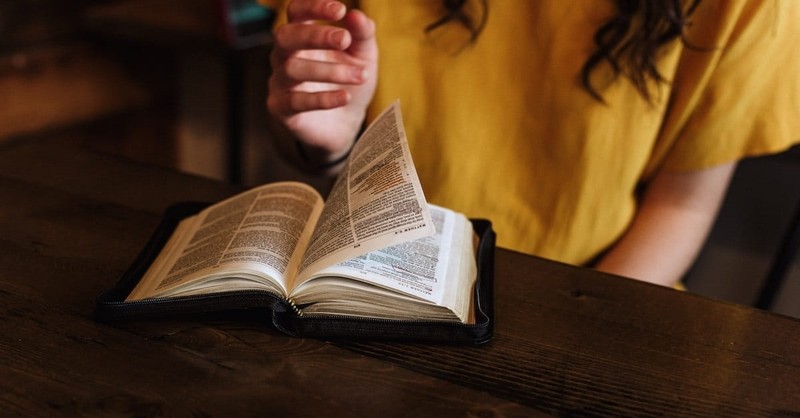 I have a confession.
Sometimes I don't have devotions (i.e. read my Bible and pray). Even for days. I'll listen to Christian radio and quote verses to myself. I'll even read inspirational memes and re-post them. I'll meditate.
But I've been at this long enough to realize that my absence from reading God's words affects me. There's a longing to return to the routine, even when I miss a day or two. I feel the absence of early morning quiet, of the waiting there that's so hard to make time for.
At 6:30 this morning, I walked down the little path to the studio in my back yard. The sprinklers are spraying the grass. Two cardinals flirt with one another in the azalea bushes. A finch ducks into potted impatiens where she has her nest. Serenity hovers. I begin remembering the impact of leaving my world to enter God's presence.
I arrange a comfortable spot on the little couch in the studio and open my Bible. The sun has risen enough to peek through the high windows over my bookshelves.
I'm here. God says. Come talk to me.
I flip pages to where I last left off. I begin to read, skeptical, because I'm in Jeremiah, and it's not always encouraging. Lots of warnings and condemnation in today's chapter, but still I find something inspiring. I see another piece of God—the one who demands holiness and yet is willing to wait and wait and wait until I allow Him to change me again, until I give Him yet another corner of my heart and mind.
I'm humbled. How can I put off reading His Word, when He's out here in the stillness waiting for me?
This simple act of setting aside my anxiety for a few minutes has profound impact on my spirit. My determination to not open my social media or my calendar, to not start making lists–to fight the panic over work not done—this alone changes me.
Bible first. Such a simple action, yet so far-reaching.
May I make a suggestion to everyone out there like me, who might be fighting quiet time priorities?
1. Find a quiet place where you can block out your anxieties.
Maybe a porch, a patio chair, a cozy sofa corner. Somewhere that doesn't identify your spirit with work and pressure. "He leads me beside quiet waters; he restores my soul." (Psalm 23:2-3)
2. Make a plan.
Although I've often opened my Bible at random to read, the better idea is to choose a book or study and work your way through it regularly. Although your plan may include small group reading or questions, try to keep your quiet time focused on meeting God, not just doing homework. "I have chosen the way of truth; I have set my heart on your laws." (Psalm 119:30)
3. Memorize a verse.
Nothing protects your heart and mind from secular culture like knowing what God says about it. When you find a verse, write it on an index card and carry it around with you until you know it. "I have hidden your word in my heart that I might not sin against you." (Psalm 119:11)
4. Expect to change.
Time with God is not an item to check off your to-do list. It's an expectation of conviction. If you're not expecting God will reveal something you need to change, you're reading the Bible with the wrong motivation. Scripture is a mirror for your soul, not a pat on the back. Expect to be uncomfortable. "Teach me knowledge and good judgment." (Psalm 119:66)
5. Find a truth to think about all day.
Keep reading until God gives you one truth or statement that will challenge your perspective. Then be humble and willing to adjust the way you've always thought about something. "Oh, how I love your law! I will meditate on it all day long." (Psalm 119:97)
6. Mark the moment.
Underline verses in your Bible, take notes, create a meme, draw a picture, write a blog. Making note of any transformational moment reinforces the truth learned and marks a transition period for personal growth. Keeping a journal is a great way to keep all your thoughts, prayers, special verses, and/or drawings in one spot, but it's not the only way. "On my bed I remember you; I think of you through the watches of the night." (Psalm 63:6)
7. Talk to God.
You can pray through a list of concerns or write in a journal, but the important thing is to pray. The actions of asking, confessing, and lamenting bring about transformation in perspective. Somehow, speaking your concerns and frustrations out loud reminds you who you are and who God is. Perspective. "I sought the Lord, and he answered me; he delivered me from all my fears." (Psalm 34:4)
Have a good day! Find some time to retreat to that quiet place with God. Maybe you need coffee first, or a bagel or a shower. That's okay. The important thing is that your time with the Lord is precious and prioritized. Don't give Him your leftovers.
Sue Schlesman is a Christian writer, teacher, blogger, and speaker. Her blogs, fiction, and non-fiction reach a wide audience. She has a BA in Creative Writing and is earning a MA in Theology and Culture. Her book Soulspeak: Praying Change into Unexpected Places comes out in 2019. You can find her philosophizing about life, education, family, and Jesus at www.susanwalleyschlesman.com.
Photo courtesy: Unsplash.com