8 Verses for When Your Patience Is Wearing Thin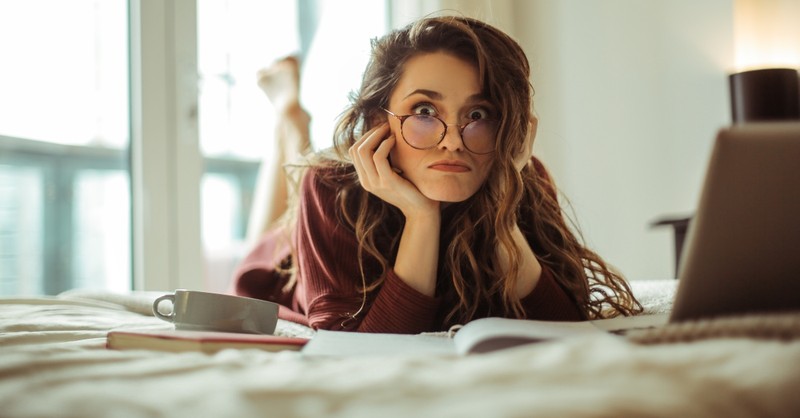 I sat on my friend's couch last week trying not to throw the video-game controller in my hands against the wall. The TV screen darkened and then brightened again with a prompt: "try again?" I slammed my thumb on the "yes" button for the 15th time, and the game started reloading… again… slowly.
In the awkward silence of the loading screen, I sat there simmering, waiting to get slammed by the boss once again, when my friend gently said, "it's okay, Bethany." And suddenly we were talking smack about the game, laughing, and swapping strategy ideas.
Sometimes, that's all you need in frustrating situations to give you a breath of fresh air and confidence! And it's one thing to have that encouragement when you're doing something simple like playing a game or going about your day. But when the problems grow larger, you need a bigger word to speak into your soul.
When problems are mounting in your life and your patience and confidence is starting to crumble, turn to God's word. May these eight verses help you to pause, take a deep breath, and remember that someone much greater than us is in control.
Verses to Remind You to Pray First
"Do not be anxious about anything, but in every situation, by prayer and petition, with thanksgiving, present your requests to God" (Philippians 4:6).
"In the same way, the Spirit helps us in our weakness. We do not know what we ought to pray for, but the Spirit himself intercedes for us through wordless groans" (Romans 8:26).
When we begin to grow impatient – with a situation, with waiting, or even with ourselves – our first instinct is often to take control and get it done. The old saying goes "if you want something done right, do it yourself." But these verses remind us that in all things, we must come to God in prayer first.
Whatever you are impatient for, be it a life-altering event or a really slow-moving barista at your morning coffee shop, take a moment to pause and pray. Ask God for patience in the situation. Ask that He would renew your confidence in Him to get it done.
I especially love the verse from Romans because it reminds me that when our problems seem insurmountable – when we don't even know where to begin with our prayers – the Holy Spirit steps in to help. I once saw a post online laughing about a little boy who asked to pray one night, and simply said "Dear God, Amen." But honestly, if that's all you've got in you, then that's all you need.
Verses to Remind You to Take a Breath
"Do not be quickly provoked in your spirit, for anger resides in the lap of fools" (Ecclesiastes 7:9).
"Be still before the LORD and wait patiently for him; do not fret when people succeed in their ways, when they carry out their wicked schemes. Refrain from anger and turn from wrath; do not fret—it leads only to evil" (Psalm 37:7-8).
Oof. These two verses cut deep, don't they? In our modern world, it seems like anger is almost a virtue. We should be angry about everything from personal wrongs to the many injustices that we see around us. The world would ask if we aren't angry, then are we even paying attention?
But God says that "anger resides in the lap of fools" and "vengeance is mine" (Deuteronomy 32:35). That doesn't mean that we shouldn't work to end injustice in the world, or let other people walk all over us. But it does mean that there is little room in the Christian life for outbursts.
Like me fighting the urge to throw my friend's video-game controller out the window, when we feel impatient, we are often tempted to lash out in anger. We snap at our kids to hurry up, we berate the cashier, we post something scathing on social media. It takes discipline, and often God's intervention, to hold our anger in check.
These verses lovingly rebuke and remind us to wait patiently on the Lord to act. Because He will.
Verses to Remind You to Act in Love
"So Jacob served seven years to get Rachel, but they seemed like only a few days to him because of his love for her" (Genesis 29:20).
"Let us not become weary in doing good, for at the proper time we will reap a harvest if we do not give up" (Galatians 6:9).
Sometimes we are impatient because we are in something for the long haul. Parenting young children or caring for an aging or ill loved one. Praying for a lost friend to come to Christ. Working in a job or ministry that is struggling to get on its feet. All of these are acts of love, but as the weeks and months turn into years, we can get caught up in the banality of it all. We can grow impatient in the day-to-day workings.
The two verses above encourage us to remember that love is at the center of all we do. We need endurance, and it helps to remember that we serve others because we love them, and because Christ first loved us. Although we can grow tired of the work we do, Galatians boosts us with the reminder that "we will reap a harvest if we do not give up."
Verses to Give You Strength and Hope
"For the revelation awaits an appointed time; it speaks of the end and will not prove false. Though it linger, wait for it; it will certainly come and will not delay" (Habakkuk 2:3).
"'For I know the plans I have for you,' declares the LORD, 'plans to prosper you and not to harm you, plans to give you hope and a future'" (Jeremiah 29:11).
Ultimately, patience, love, and self-control are not just good character traits; they are Fruits of the Spirit that help us to grow in Christ-likeness. We must pray regularly that God would grow these fruits in us, through both challenges and everyday life.
But why?
Because there are two questions that we must answer about our lives: How have we honored Christ and followed him, and how has that life pointed others to Him as well? May we have strength in the battle, not only so that we can glorify God with everything we do, but so that through us, others will see Him shining through.
It's dangerous to pray for patience – it means that God will send situations your way that will try your patience. But what an incredible thing it would be, if someone who doesn't know Christ could be encouraged and challenged by your supernatural grace and peace. And what a relief it is to know that no matter what happens, we can rest in the assurance that God has it under control.
I hope that these verses encourage you through all of life's challenges. The Bible has so much more to say about patience. This was just a sampling of verses. But as you go through life, may everything you encounter, both good things and bad, draw you further into the Word!
More from this author
5 Prayers for When Everything Is Going… Right
How Do You Explain the Easter Story to Young Kids?
Why Does Jesus Rebuke His Terrified Disciples in the Storm?

Photo credit: ©Getty Images/Merlas
Bethany Pyle is the editor for Bible Study Tools.com and the design editor for Crosscards.com. She has a background in journalism and a degree in English from Christopher Newport University. When not editing for Salem, she enjoys good fiction and better coffee.