Did Jesus Really Promise to Do "Whatever You Ask in My Name'?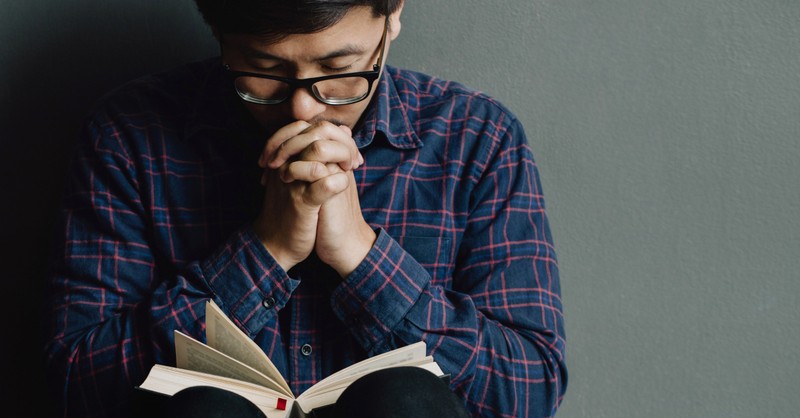 "And I will do whatever you ask in my name, so that the Father may be glorified in the Son. You may ask me for anything in my name, and I will do it." - John 14:13-14
Everyone struggles with prayer. Whether you are a life-long Christian or someone new to the faith, frustration with our prayer lives is common. We have all had experiences of praying for something or someone and finding little realization to our requests. Thomas Merton once wrote that, in prayer, we will always be nothing more than beginners (Merton, Contemplative Prayer). So, if you have ever struggled with your prayer life, take heart, you are in good company.
What can make prayer so frustrating is that our experiences with un-realized prayer do not, at first glance, seem to match Jesus' promise to answer our calls. Jesus frequently makes bold statements such as "Whatever you ask in my name…. I will do it" (John 14:13). In fact, so emphatic is this invitation that Jesus repeats himself in the next verse: "If in my name you ask for anything, I will do it!" (John 14:14). This then is repeated a third time just two chapters later: "If you ask anything of the Father in my name, he will give it to you" (John 16:23). Such bold statements sound as if Jesus is holding out a blank cheque – an open invitation to name, and receive, anything we would desire.
Is this what Jesus is getting at? Some assume so. Some put forward a "Name-it & Claim-it" theology of prayer, suggesting that we simply need to be bold in "naming" our prayerful desires. If we "name it" - whatever "it" may be - then we can "claim it." This may sound nice, but it is not biblical.
What exactly does Jesus mean when he invites us to "ask for anything"? Are there limitations to what we should pray for? How exactly do we pair Christ's bold invitation to prayer with the needed corrective of praying in his name?
What Does "Whatever You Ask in My Name" Mean?
Christ wants us to pray, of that, there is no doubt. In Christ's unbounded love for us, we are invited to pray about anything that pertains to our lives. The word whatever is gloriously ambiguous. Whether it be the struggles of life, long-awaited hopes for the future, or the joys experienced in the moment, Christ calls us to present these things in prayer. To pray about the "whatever" of our lives is to render ourselves open to his Spirit in humble honesty. It is to recognize that the entirety of our lives is lived with Jesus. Nothing is to be withheld.
We sometimes limit our experiences of prayer because we mistakenly believe that there are things that we cannot bring to God. We may believe that God has "better things to do" than listen to our prayers. Maybe we believe that our prayer requests are not sufficiently spiritual to merit God's attention. Such doubts are easy to entertain. Yet this is never the case.
A fabulous example of this is tucked within the pages of the Old Testament. In the book of 2 Kings, we read a curious account wherein the prophet Elisha, along with the company of prophets, attempts to build houses by the River Jordon. All is well until one of the prophets drops his iron ax into the water. In dismay he cries out "Alas, Master! It was borrowed" (2 Kings 6:5). In response, Elijah comes over, discerns the place where the ax-head lies beneath the water, and miraculously makes the iron ax float to the top.
It's a curious little tale, but one containing a profound lesson regarding God's presence in our lives. Ask yourself, where would you rank a fallen axhead against prayers for healing, prayers for peace, or prayers for salvation? Given all the things in the world to be concerned over, a fallen axhead in Israel is probably not high on the list. Who would ever consider that God would show up for something so trite?
Yet that is the point. There is nothing too large, or too small that we cannot come to the Lord in prayer. This is the heart of Jesus' invitation. We are invited to present in prayer whatever is on our hearts or minds. The entirety of our lives is a matter of prayer. And, when those times come where we do not know what to pray for, the Holy Spirit makes provision for us by "sighs too deep for words" (Romans 8:26). Christ's invitation to pray is expansive and inclusive. Thus, when Christ bids us to pray about "whatever" or to ask "anything" we can be confident that he means it.
Is There Anything God Won't Give Us in Lieu of 'Whatever You Ask in My Name'
Does this, then, mean that we can "claim" whatever we put forward in prayer? No! While we are invited to pray about all things, at all times, Jesus does make it clear that our prayers are to be done "in his name." While there are no limitations on what we can bring in prayer, there is a limitation on how we pray.
To pray in Jesus' name is not about ending our prayers with a specific closing. Instead, it is about aligning our will and desires to the desires and will of Jesus. When we pray in the name of Jesus, we place our lives under the authority of Christ's lordship. This is important. In prayer, we never seek to "claim" what we want. Prayer, actually, calls us to release our claim upon our lives save that which is within the will of God.
We observe this in the Gospels. Mark records that James and John come to Jesus with a bold question. "Jesus," they say, "we want you to do for us whatever we ask of you" (Mark 10:35). What is interesting here is that James and John take up the very language that Jesus uses in his invitation to prayer. What is more, the two "name" that which they would like to "claim," which is to sit on the right and left side of Jesus in his kingdom. Not a small ask by any means. Yet the size of the prayer is not the point. If the "Name-it & Claim-it" view of prayer is correct, then James and John have clearly met the requirement.
Yet Jesus does not fulfill their request! Jesus responds to the two by saying "you do not know what you are asking" (Mark 10:38), implying that their prayer is not grounded in a knowledge of God's will, nor a desire to be found in God's will. Their prayer, as bold as it was, was rooted in their own prideful desire for status and acclaim. Jesus, distinctly, does not do for James and John "whatever they ask."
So, was Jesus misrepresenting the expansive call to prayer? Again, no. Fundamentally, prayer is about uncovering, and experiencing, God's will in our lives; it is not just about getting what we want. This is why Jesus constructed the Lord's prayer as he did. In the Lord's Prayer, we pray for "our daily bread" (our wants, needs, wishes, hopes) only after we pray for the establishment of God's kingdom and will. Importantly, when we pray that God will be done "on earth as it is in heaven," the first and foremost locale of this work is in our lives. To pray is to open our lives to the ongoing work of the Holy Spirit.
Even Jesus entered this way of prayer when he prayed in the Garden of Gethsemane just before his betrayal. Jesus prayed "Father, if possible, take this cup away from me, but not by what I want, but by what you want" (Luke 22:42). This is the nuance of praying in Jesus' name. While we are invited to name whatever we may desire, wish, or want, we recognize that we are called to submit to the will of God beyond all things. Our lives are not lived merely for the maximization of our desires, but for the realization of God's kingdom. This is how we pray in Jesus' own name.
Navigating the Messiness of Prayer and 'Whatever You Ask in My Name'
The reality is, we do not always know exactly what is best for us, or what God's full will for our lives may be. These are divine things, and our finite minds will never fully comprehend all the ins and outs of God's plan. "My thoughts are not your thoughts, nor my ways your ways," says the Lord (Isaiah 55:8). Humility and faithful devotion to Jesus are of utter importance for prayer. Ultimately, this is what is wrong with the Name-it & Claim-it model. The model assumes that we will always 'name" whatever is the best for our lives. Yet the fallenness of humanity, and the story of James and John, prove otherwise.
Praying in the name of Jesus is not a shortcut to receiving all we want. It is not a divine loophole in prayer. Prayer is ultimately about our interactive relationship with the Lord. In this relationship, we are but humble servants before our Saviour. This means that there will be times where that which we have prayed for, pleaded for even, will not become realized in our lives. We should not minimize how hard this is or attempt to explain it away as a lack of faith, or a lack of prayerful 'technique.' Unfortunately, there will be times where our prayers will be unrealized.
Still, even here, we should not be discouraged. The promise of Scripture does hold true. Jesus does hear us when we call and encourages us to persevere in our prayers. How great it is to have a Savior who answers us when we call! Indeed, Christ has promised to be with us, even to the end of the age (Matthew 28:20). It is from this solid basis of Christ's unyielding presence that we can present our requests to God, confident in his love and mercy. We pray, boldly, always looking to him who leads the way. In prayer, our attitude must be one wherein we seek not the furtherance of our own will but the realization of Christ's will for us.
Further Reading
How Can Christians Misuse 'Whatever You Ask in My Name'?
Photo credit: ©GettyImages/pcess609
---

The Reverend Dr. Kyle Norman is the Rector of St. Paul's Cathedral, located in Kamloops BC, Canada. He holds a doctorate in Spiritual formation and is a sought-after writer, speaker, and retreat leader. His writing can be found at Christianity.com, crosswalk.com, ibelieve.com, Renovare Canada, and many others. He also maintains his own blog revkylenorman.ca. He has 20 years of pastoral experience, and his ministry focuses on helping people overcome times of spiritual discouragement.
---
This article is part of our larger resource library of popular Bible verse phrases and quotes. We want to provide easy to read articles that answer your questions about the meaning, origin, and history of specific verses within Scripture's context. It is our hope that these will help you better understand the meaning and purpose of God's Word in relation to your life today.
"Be Still and Know that I Am God"
"Pray Without Ceasing"
"Fearfully and Wonderfully Made"
"All Things Work Together for Good"
"Do Not Fear"