How to "Speak Up for Those Who Cannot Speak for Themselves" Today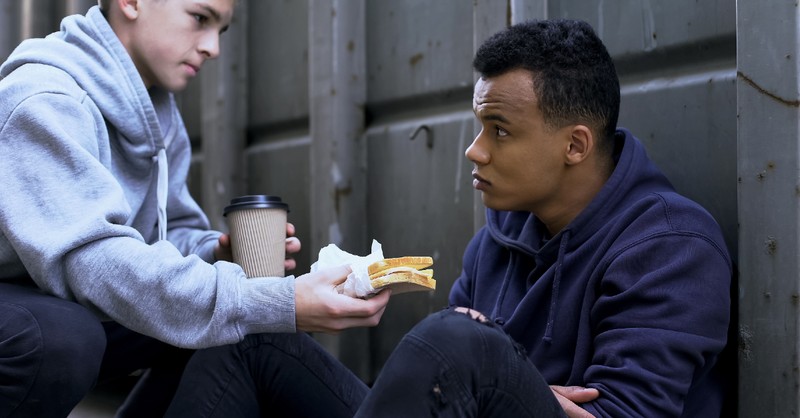 In a world filled with injustice, what is the role of Christ-followers to help those who are in need?
Is it our job to speak up and to stand up for those who cannot speak for themselves? Is our inability to speak on these issues really a sin or just a harmless choice to side-step something that feels hard?
Thankfully the Bible has a lot to say about justice, mercy, service, love, and our role in being a help to our fellow man. The Word of God can be our guide as we live through a time when our world is pushing conflicting messages at us that are filled with bias and political interest.
The Bible is our rock, our solid ground while a storm of uncertainty rages arounds us. God's word can be a lamp to our feet as we live through dark times.
One verse that stands out as a call to stand up for those who are experiencing oppression and injustice comes from Proverbs 31.
Proverbs 31:8-9 says, "Speak up for those who cannot speak for themselves, for the rights of all who are destitute. Speak up and judge fairly; defend the rights of the poor and needy."
The wisdom of God's word pushes us to move past our affiliations, comfort zones, and tells us to do what each of us can to be an advocate for those we come across that need our help being heard and who don't have access to the justice they deserve.
Where Is This Phrase Found in the Bible?
Proverbs is a part of what is called the wisdom literature from the Bible. Proverbs, Job, and Ecclesiastes comprise the wisdom literature in the Bible.
These books were written by sages of the time that drew insight from the natural world and Wisdom traditions of the day. The phrase "speak for those who cannot speak from themselves" comes from Proverbs 31.
Proverbs 31 is counted by most as a Proverb of Solomon but there is some debate as to if he was the actual author. The text of Proverbs 31 states the author's name is King Lemuel but most believe that this was another name for King Solomon and not a different writer.
Lemuel means "one devoted to God" which lines up as a possible divine name given to Solomon or potentially a name of endearment from Solomon's mother.
In 1 Kings 3 we read that Solomon was granted the gift of Wisdom directly from God. Solomon went on to write these Proverbs in order to share with others the powerful gift of wisdom God had given him.
Solomon wrote the Proverbs in an effort to offer instruction, wisdom, and understanding to others (Proverbs 1:2). Solomon goes on to say that the words of this book were recorded to help others judge rightly, gain prudence, and helped to pass knowledge to the young (Proverbs 1:3-4).
He also wants to inspire the wise to gain even more wisdom, he is writing to give some practical advice, and expanding on sayings or riddles of the wise (Proverbs 1:5-6).
Proverbs 31 is thought to be a prescriptive list of how to live. Laid out in the chapter are principles that the writer would have been taught to live by from their parents.
Verses 8 and 9 address how we can wisely approach injustice and specifically would have guided Solomon as he administered justice as a ruler.
Solomon was the third King to rule over Israel. God was pleased with Solomon. He appeared to Solomon in a dream and He told Solomon to ask for whatever he wanted God to give him.
Solomon humbly requested that God give him wisdom so he could be a good leader. God was pleased with Solomon's request and granted Solomon great wisdom along with a long life and wealth (1 Kings 3:1-15).
God's wise counsel to Solomon on how to approach injustice urges him to be one who speaks for those who cannot speak on their own. Jamieson-Fausset-Brown Bible Commentary explains that in verse 8, we are to plead for those who cannot plead for themselves such as orphans and strangers, these would be those who are appointed for destruction.
Verse 9 tells us to plead for the poor and needy. John Gill's Exposition of the Bible explains that those who are oppressed by the rich or powerful cannot plead for themselves. It is our duty to stand up on their behalf to ensure that proper justice is served and the oppression of these people ends.
How Do We Apply These Words to Racial Issues Today?
This passage urges actions on the part of those who are in a position to act. If you have a voice, access, privilege, or influence you should be using it to plead the cause of those who are experiencing oppression.
Inaction is not something the Bible makes room for.
What an uncomfortable truth, for me and for all of us who would rather live life blinded to the needs of others in our community.
For those who don't experience injustice, profiling, hate, or the pain of racism on a daily basis. It is much easier to back away from these complex and difficult issues.
Not messing with status-quo is a much easier path for those of us that have access to a world void of racism.
The second challenge this verse presents us is the how. How do we speak for those who are lacking a voice?
How do we rally beside those who are lacking equitable access to education, justice, and sometimes human decency because of the color of their skin?
Be Willing to Listen
The first thing we have to do is open our hearts and minds to listen to what those in our community are saying.
This may require being willing to hear those from those that subscribe to a different lifestyle, political affiliation, or upbringing. Listening right now in the current political climate can feel like a threatening activity.
We have somehow begun to equate a listening ear to actively condoning something different ourselves. This is not true--listening is how we find wisdom in any situation. It's how we grow empathy.
Proverbs 1:5 says, "Let the wise hear and increase in learning, and the one who understands obtain guidance." If we want to be the voice for the voiceless we first have to be willing to hear what they are saying so we can speak up with wise words.
Pray Over What Your Role Is in Bringing Race Reconciliation
Many of us desire to be agents of reconciliation and advocates for justice but it can be hard to find the right ways to advocate for these changes.
The numerous layers to this issue make it difficult to approach. Bottom line is that there are no one-size-fits all answers to this problem. Even so, we all have a unique and important role to play in ensuring justice and love abound in our world.
We each can begin by prayerfully examining our hearts and ask God to reveal ways that you have let apathy, comfort, or ignorance stop you from speaking up for those that need your voice.
We can seek God to discover how he wants to use you as an agent of God's healing power for this issue. Big issues require even bigger prayers.
It's okay if you feel lost on how to speak to racial injustice, you don't have to figure this out on your own. Just bring it to Jesus through prayer, boldly asking Him to reveal how he wants to use your voice to speak for those that need to be heard.
My husband and I prayed this daring prayer last year, asking God to use us to make a difference for those who are the most in need in our community. When we began praying this way, we were clueless as to where this big prayer may lead us.
Faithfully, God led us to become Foster Parents and gave us a heart to speak for these kids that have been forgotten by many. Even today as we see our world in turmoil over racial injustice we are praying that same prayer again; seeking God to direct us in how we can be used as ones who advocate for justice and racial reconciliation.
The way God answers this prayer will look different for us all.
It may look like reaching out to a co-worker of color to build a new bridge of relationship. It could be calling out others when their actions or words don't value people of color. It may be supporting black-owned businesses to show them solidarity as they use their resources to speak out against racial injustice.
It could be organizing prayer meetings that focus on praying for God to deliver justice and healing to your city. It could be leveraging your expertise, influence, or platform to fight for those who are most vulnerable in our society.
Just reading books that clue you into voices and stories you've never heard before could be the spark that starts a fire in your heart for someone you never considered before. It could be lobbying for change in your schools, in the courts, in policing, and the church.
What this does look like is each of us is using the gifts we have been given to reach to pull forward those who are not as fortunate as ourselves. Isn't this the picture of the body of Christ painted in the New Testament?
Every believer uses their gifts so the whole body is able to work together in unity. When we all embrace this idea then our neighbor in need is taken care of.
Micah 6:8 in the Message version says, "But he's already made it plain how to live, what to do, what God is looking for in men and women. It's quite simple: Do what is fair and just to your neighbor, be compassionate and loyal in your love, And don't take yourself too seriously— take God seriously."
Let's take God seriously and begin to do what he tells us to do in the Bible. Live with compassion, love, and seek justice for those in need.
Photo Credit: ©GettyImages/Motortion
---

Amanda Idleman is a writer whose passion is to encourage others to live joyfully. She writes devotions for My Daily Bible Verse Devotional and Podcast, Crosswalk Couples Devotional, the Daily Devotional App, she has work published with Her View from Home, on the MOPS Blog, and is a regular contributor for Crosswalk.com. She has most recently published a devotional, Comfort: A 30 Day Devotional Exploring God's Heart of Love for Mommas. You can find out more about Amanda on her Facebook Page or follow her on Instagram.