Is it Really Possible to 'Go and Sin No More'?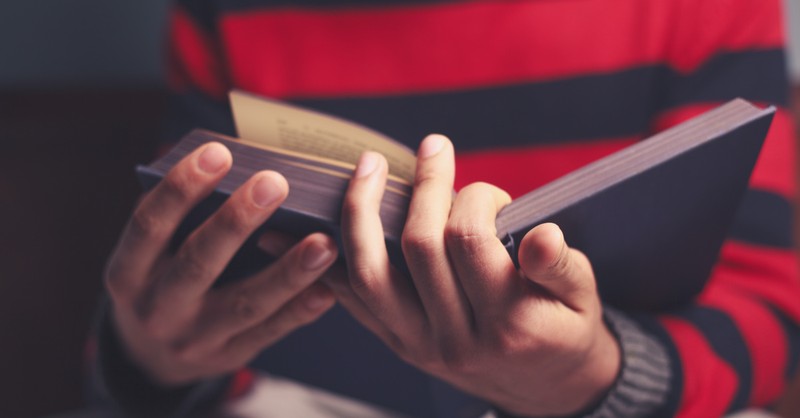 She said, No man, Lord. And Jesus said unto her, Neither do I condemn thee: go, and sin no more. John 8:11
I have spent much of my life beating myself up in shame over not being good enough. I'd drop out before failure could ever consume me. If excellence wasn't attainable, I wouldn't even want to attempt the task. But in God's grace, He's chipped away little by little at the rock of perfectionism that I have clung to. The plague of sin can be unbearable, but there is hope in the cross. Without Jesus, we will never reach perfection, rid the shame, and overcome failure. It is only God that makes us good through the application of Christ's righteousness. Only in the gospel are we able to "go and sin no more."
What Does 'Go and Sin No More' Mean?
Before we dive into how we "go and sin no more" and its meaning, it's important to understand the contexts in which this command is given. This command can be found in John 5:14, and John 8:11. The command found in John 8:11 is a part of a section of the gospel according to John, (John 7:53-8:11) that includes a footnote or is bracketed in your Bible. These are present because this section of the gospel according to John is not found in the earliest manuscripts of the New Testament. Many New Testament scholars believe this was an addition made centuries after the gospel according to John was written.
Therefore, it is best to think of John 7:53-8:11 as a beautiful story that could have happened during Jesus' ministry, but may not actually be written by the apostle John. In the story, Jesus does not condemn a woman caught in adultery but offers her mercy and grace. Out of this unwarranted kindness, Jesus calls her into repentance, and out of a life of sin.
The second place we find the phrase, "Sin no more," is found in John 5:14. On the Sabbath, Jesus visits the pool of Bethesda where a multitude of invalids lay. Seeing a man who had been there for 38 years, Jesus asks Him, '"Do you want to be healed?" The sick man answered him, "Sir, I have no one to put me into the pool when the water is stirred up, and while I am going another steps down before me." Jesus said to him, "Get up, take up your bed, and walk." And at once the man was healed, and he took up his bed and walked." (John 5:6-9). After the healing, Jesus tells the man, "See, you are well! Sin no more, that nothing worse may happen to
you"' (John 5:14).
As with the woman caught in adultery, Jesus offers a miraculous act of mercy and commands him to sin no longer. Whether this verse implies that his suffering was caused by sin, or he simply suffered so that the works of God may be glorified in Him—Jesus calls the man to stop living in continual, unrepentant sin.
Is it Possible to Never Sin Again?
Overall, a life without any sin is not possible this side of eternity. All people have been plagued by sin since the fall of Adam and Eve (Genesis 3, Romans 3:23). Sin does not miraculously vanish from our lives upon belief in the gospel, but wages war against our new desire to obey God's commands. The apostle Paul writes in Romans 7:21-25:
"So I find it to be a law that when I want to do right, evil lies close at hand. For I delight in the law of God, in my inner being, but I see in my members another law waging war against the law of my mind and making me captive to the law of sin that dwells in my members. Wretched man that I am! Who will deliver me from this body of death? Thanks be to God through Jesus Christ our Lord! So then, I myself serve the law of God with my mind, but with my flesh I serve the law of sin."
We can only experience freedom from sin if we have first been touched by the grace and mercy of God. When Jesus came and dwelt among us, He came to abolish the power of sin in our lives. Belief in the gospel offers the cancellation of our condemnation before God and gives us the power to fight sin and shame through His Word and the Spirit. Again, Paul writes in Romans 6:6-14:
"We know that our old self was crucified with him in order that the body of sin might be brought to nothing, so that we would no longer be enslaved to sin. For one who has died has been set free from sin. Now if we have died with Christ, we believe that we will also live with him...For the death he died he died to sin, once for all, but the life he lives he lives to God. So you also must consider yourselves dead to sin and alive to God in Christ Jesus. Let not sin therefore reign in your mortal body, to make you obey its passions...For sin will have no dominion over you, since you are not under law but under grace."
When Jesus tells the woman caught in adultery, and the healed man to "sin no more," He is simultaneously magnifying His power over sin, and calling them to holiness. The life of a Christian is one that continuously seeks to kill sin and walk in the newness of life that Jesus provides (1 Peter 2:24). This means that we do not make a practice of sinning or continue living in unrepentant sin (1 John 3:4-10). The gospel beckons us into repentance and offers grace as we are transformed more and more into the image of God (Lamentations 3:22-23, 2 Corinthians 3:18). Ultimately, Jesus empowers us through the sending of the Spirit to fight sin and temptation until He returns or He brings us home.
One day He promises to come back, removing all sin, shame, and death for good. In the new heaven and earth, our bodies will be fully cured. No more tears will fall, and life completely free from sin will be a reality (Revelation 21: 1-5). In the meantime, we seek to go and sin no more by killing our sin. As John Owens famously wrote, "Be killing sin, or it will be killing you."
How Do We Resist Sin?
The Bible describes sin as something that must be fought, fled from, and confessed and repented of. As the Spirit works in our lives, we experience grace and become convicted of sin. Jesus calls us to "repent and believe in the gospel" in order that we may turn away from our sin and turn to God for forgiveness (Mark 2:15). As David writes in Psalm 51:3, "I know my transgressions, and my sin is ever before me." Sin is not something we can hide from God but should be confessed regularly to other believers and to our Heavenly Father (James 5:16). As we turn from sin and put our faith in the gospel, the joy of our salvation is restored (Psalm 51:12).
We fight sin through the power of God's Word. Both applying the Scriptures to our lives daily and clinging to them as we take every thought captive (2 Corinthians 10:5, Ephesians 6:10-20). We discipline ourselves to study the Bible with diligence and fight against temptation as Jesus did in the desert (Matthew 4:1-11). Not in order to puff ourselves up with more biblical facts but for a greater experience of grace and truth, and to grow in the knowledge and love of God (John 1:1-14).
We sin no more by fleeing from temptation as Joseph did, literally running from it (Genesis 39:1-23). And we flee from sin by submitting ourselves to God and pursuing "righteousness, faith, love, and peace, along with those who call on the Lord from a pure heart" (James 4:7, 2 Timothy 2:22). When our faith wanes we can call out "Lord, I believe, help my unbelief" (Mark 9:24). We don't beat ourselves up in shame over sin but continually bring it back to the cross, reminding ourselves that the blood of Christ has covered us (Hebrews 9:14).
Then we consider those around us who do not know the great mercy and grace that God calls us to. Consider that though we may face roughly 80 years on this earth with sin and shame, we will experience ages in eternity with no tears, no sickness, and no shame. But those who do not know the Lord are in line for ages of separation from God. Where belief in Jesus reconciles us to God the father, unbelief leaves us in agony without any sense of His goodness. So as we fight sin, we tell others of the great power that Jesus has to overcome our life of sin and sickness—how he seeks after us to heal us, and how he offers more joy and peace than we can ever imagine.
"Let me hear joy and gladness; let the bones that you have broken rejoice. Hide your face from my sins, and blot out all my iniquities. Create in me a clean heart, O God, and renew a right spirit within me. Cast me not away from your presence, and take not your Holy Spirit from me. Restore to me the joy of your salvation, and uphold me with a willing spirit. Then I will teach transgressors your ways, and sinners will return to you." - Psalm 51: 8-13
*For more information regarding John 7:53-8:11 consider this resource by John Piper.
Further Reading:
Go and Sin No More - Greg Laurie Daily Devotion
How to Be Confident That Your Past Doesn't Define Who You Are
What Did Jesus REALLY Write in the Sand?
Photo credit: ©Getty Images/Lolo Stock
Stephanie Englehart is a Seattle native, church planter's wife, mama, and lover of all things coffee, the great outdoors, and fine (easy to make) food. Stephanie is passionate about allowing God to use her honest thoughts and confessions to bring gospel application to life. You can read more of what she writes on the Ever Sing blog at stephaniemenglehart.com or follow her on Instagram: @stephaniemenglehart.
---
This article is part of our larger resource library of popular Bible verse phrases and quotes. We want to provide easy to read articles that answer your questions about the meaning, origin, and history of specific verses within Scripture's context. It is our hope that these will help you better understand the meaning and purpose of God's Word in relation to your life today.
"Be Still and Know that I Am God"
"Pray Without Ceasing"
"Fearfully and Wonderfully Made"
"All Things Work Together for Good"
"Do Not Fear"
Listen to our Daily Bible Verse Podcast Now!
The views and opinions expressed in this podcast are those of the speakers and do not necessarily reflect the views or positions of Salem Web Network and Salem Media Group.