5 Powerful Lessons from the Book of Hosea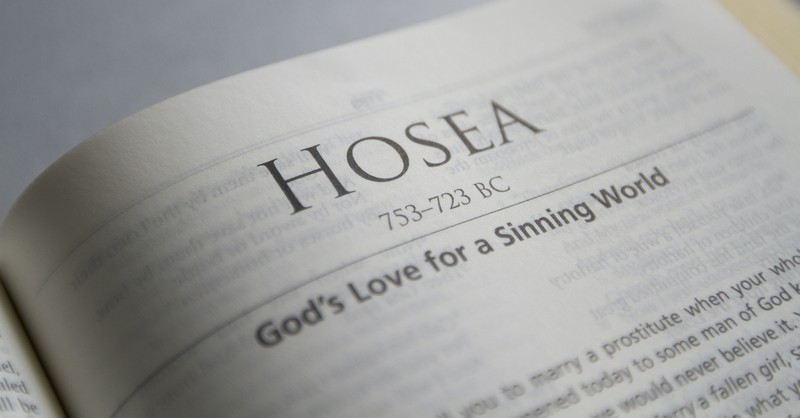 It's hard to imagine many believers jumping at the chance to live out Hosea's personal and prophetic calling. I mean, if surrendering one's life to God and fulfilling the lonely duties of an Old Testament prophet wasn't hard enough, Hosea might hold the title of having one of the most unique and difficult callings in all of Scripture. Instructed by God to minister to a confused and unfaithful people in a state of moral decline, Hosea was also told to marry a prostitute and remain faithful to her in marriage even while she continued in her line of work. However, while the life of Hosea served as an illustration of God's faithfulness and endless love for His people in the midst of their unfaithfulness, today, there are lessons to be learned from the book of Hosea that should challenge and encourage believers in their relationship with God.
Who Wrote the Book of Hosea?
The prophet Hosea was called by God to minister to the Northern Kingdom of Israel from around 755 B.C. to 710 B.C., a ministry that lasted during the reign of Israel's last seven kings leading up to the Assyrian invasion and destruction of the Northern Kingdom in 722 B.C. Historically, Hosea would have been the younger contemporary of the prophet Amos and ministered around the same time of Isaiah and Micah, who were hard at work ministering to the Southern Kingdom in Judah. As you might expect, the author of the book of Hosea is Hosea himself.
The most noteworthy thing we learn about Hosea early on is that he was called by God to marry a woman named Gomer, who Scripture says was either a prostitute before they got married or would become a prostitute at some point later on (Hosea 1:2). Unfortunately for Hosea, she would also continue in that profession and later leave Hosea altogether, becoming enslaved by one of her many lovers. Hosea would eventually, however, buy her back as his bride, reflecting the redeeming nature of God's love for Israel, His bride, who He would also work to buy back (Hosea 3).
This act, coupled with Hosea's ongoing fidelity, would have been a remarkable outpouring of grace as Levitical law stated that the penalty for adultery could be as severe as death (Leviticus 20:10). At the very least, Gomer's adultery would have been treated as a social disgrace. And as far as family goes, Gomer bore Hosea three children, each given tragically symbolic names that reflected God's temperament, even warning of coming events. Ultimately, in Hosea, we discover from his writing is the heart of a man who was compassionate, committed to his God and wife, and keenly aware of how his tragic marriage mirrored the tragedy of Israel's infidelity. Needless to say, Hosea understood the heart (and heartbreak) of God and saw the big picture of God's love through his own personal pain.
What Is the Book of Hosea About?
At the time of Hosea's ministry, Israel had experienced a period of economic prosperity and growth. On the inside, however, they had become corrupt, morally decrepit, and adulterous, one of the major themes Hosea was called to address. As a people, the Israelites had also broken their covenant with God. Not only had they given themselves over to idolatry, Hosea writes that they had also "plowed wickedness," "reaped injustice," "eaten the fruit of lies," and trusted in their own ways (Hosea 10:13). They had turned to other gods for answers (Hosea 4:12) and other nations for assistance instead of God (Hosea 7:11). Because of this, God chose to intervene, sending Hosea with a warning but also a call to repentance and an invitation to return to the relationship God has initiated and was both willing and eager to restore.
In the story of Hosea, here then are several lessons worth taking to heart:
Lesson 1: Sin Leads to Confusion, Forgetfulness, and Destruction
Among Hosea's many themes, the prophet warned for nearly forty years that the people of Israel were in a state of spiritual decline that would only lead to destruction. Sadly, the people had become blind to the reality of their own demise (Hosea 4:1).
Hosea writes, "my people are destroyed for lack of knowledge. Because you have rejected knowledge, I also will reject you from being My priest. Since you have forgotten the law of your God, I also will forget your children." (Hosea 4:6)

"Harlotry, wine, and new wine take away the understanding." (Hosea 4:11)

"So the people without understanding are ruined." (Hosea 4:14)
Not only had the people walked away from God, but they had also forgotten Him entirely. They had forgotten His faithfulness. They had forgotten His many miracles and how good He had been to them throughout their relationship (Hosea 1:8). They had forgotten His law and instructions. And once separated from God and the knowledge of their first love, they quickly turned to their own ways, other gods, and other nations (Hosea 8:4), which, they soon discovered, could not satisfy or save them (Hosea 7:16).
"They will eat but not have enough; they will play the harlot, but not increase, because they have stopped giving heed to the Lord." (Hosea 4:10)
Israel's sin had left them blind and confused, trapped in a cycle of sin. Worst of all, sin had caused them to forget their God and the knowledge of His love. As Hosea writes, "their deeds will not allow them to return to their God; for a spirit of harlotry is within them, and they do not know their God." (Hosea 5:4)
Lesson 2: Personal and Private Sin Does Not Stay Personal or Private for Very Long
While God used prophets like Hosea to minister to the people of Israel in the north, the people of the Southern Kingdom were not immune to idolatry and betrayal either. However, where Judah was known to go through seasons of revival, the Northern Kingdom's spiritual sickness had spread far quicker than their southern neighbor's. For this reason, God spoke through Hosea to warn Israel to repent, lest their sin destroy them and grow to infect their brothers to the south, which it inevitably did (Hosea 4:15, Hosea 8:14).
So what is the takeaway from Hosea's warning regarding Judah? Hosea repeats it throughout his book. Hidden sin does not stay hidden forever, and the sin we think we can cover up will eventually be exposed (Hosea 2:10). Sin that festers on the inside, smells on the outside. It's a spiritual fact. And while it's true that Israel was accountable for its sin while Judah would be accountable before God for its own disobedience, however, the things we do in secret often hurt those closest to us, including God. Hosea's marriage was the illustration of this. Gomer's adultery hurt more than just Gomer. It broke Hosea's heart as well. The same is true of God, who sees and feels the things we do in secret (Hosea 7:2).
Lesson 3: God Is Faithful Even When We Are Not
Throughout the Old Testament, God used the prophets to warn the people of their sin and infidelity, but with Hosea, He decided to take a more personal approach, conveying His anger and personal heartbreak in terms they might understand. After all, how many would jump into a marriage knowing their spouse would regularly cheat on them? How many would choose to remain in such a one-sided, adulterous relationship? But that was the point.
Who would want to be God or even have the strength or will to remain faithful to such an unfaithful bride as Israel? That is who God proved Himself to be time and time again. Gracious when it was undeserved, faithful when His bride was unfaithful, and loving when His love was not reciprocated. The illustration was both powerful and purposeful, made relatable through Hosea's personal experience. But as Israel (like Gomer) had proven themselves unfaithful, God (like Hosea) would demonstrate His love for His bride by remaining faithful even when she was not.
And when God's faithfulness and compassion seemed too good to be true, God reminded His people, "I will not execute My fierce anger; I will not destroy Ephraim again. For I am God and not man, the Holy One in your midst, and I will not come in wrath." (Hosea 11:9, bold emphasis added)
Lesson 4: Only God Can Redeem and Restore
Like Hosea, God was willing to go to extreme lengths to buy back His bride (Hosea 3). We see this throughout the Old Testament and even into the New Testament. God chases after His runaway bride and is eager to restore and even renew the relationship. In gospel terms, the good shepherd searches for his lost sheep. This was God's message to Israel, which Hosea communicated beautifully; and it is the driving theme of all of Scripture, fulfilled through Christ's redeeming work on the cross.
At times, however, many of us are too stubborn, too afraid, or too prideful to admit when we need help, but the truth is, we all need rescuing, and that is an eternally good thing when we know who is coming to our rescue. Despite Israel's spiritual adultery, God's invitation was clear.
"Therefore, return to your God. Observe kindness and justice, and wait for your God continually." (Hosea 12:6)
For not only will God receive His lost bride when she returns (Hosea 2:19-20; Hosea 14:2), Hosea writes, "I will heal her apostasy, I will love them freely, for my anger has turned away from them." (Hosea 14:4)
Lesson 5: God Is Committed to the Good of His People
Hosea's calling was not for the faint of heart, but then again, no calling in service of the King of Kings is. Jesus made the cost of discipleship quite clear, warning His disciples and would-be followers, "if anyone wants to come after Me, he must deny himself, take up his cross, and follow Me" (Matthew 16:24). And yet, as the apostle Paul later wrote, "and we know that God causes all things to work together for good to those who love God, to those who are called according to His purpose" (Romans 8:28).
Israel would learn, through years of trial, failure, and eventual captivity and exile, that there is no satisfaction separate from God and no love that can compare to the unshakeable love God has for His people (Romans 8:38-39). Hosea was loyal to his God, as he was to his wife because he understood something about the heart of God. God is faithful, God is good, God is loving, and God is just; and if God is faithful, good, loving, and just, His plans for us are the same, even when they don't make sense, aren't fun, or aren't easy.
"Whoever is wise, let him understand these things; whoever is discerning, let him know them. For the ways of the Lord are right, and the righteous will walk in them, but transgressors will stumble in them." (Hosea 14:9)
In God's love, He chased after His people, and in God's love, He disciplined His people to steer them away from the things that brought them harm, back into His loving arms. This is the same God we serve today, and His love remains the same.
Photo credit: ©Sparrowstock
---

Joel Ryan is a children's book author, writing professor, and contributing writer for Crosswalk, Christianity.com, Stand Firm Men's Magazine, and others. He is passionate about telling great stories, defending biblical truth, and helping writers of all ages develop their craft. Joel discusses, analyzes, and appreciates the great writings of the past and present on his website, Perspectives off the Page.