2 Simple Ways to Get Back in the Word Today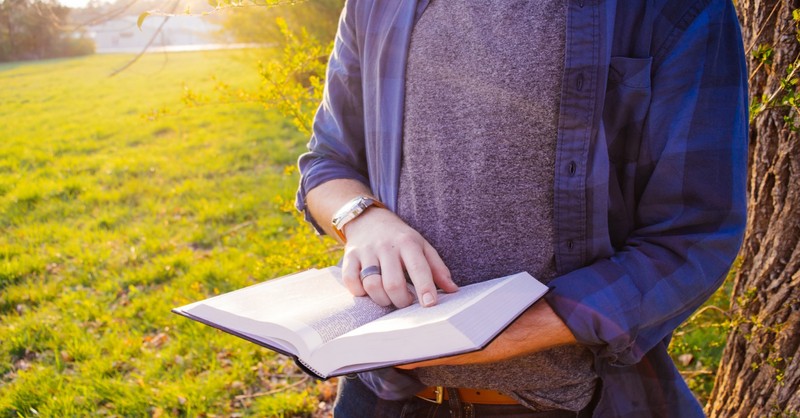 I grew up in a first-generation Christian home, went to Sunday school just about every Sunday of my childhood and knew in my heart that "Jesus loves me this I know, for the Bible tells me so." Had you of asked me to tell you where the Bible told me this however, I would have been at a complete loss.
Years later and shortly after we married, my husband was called into vocational ministry. I followed alongside him playing a support role, filling in the gaps and wearing whatever hat was needed of me in that particular season.
Need someone to organize catering for a church event or leadership meeting? You got it. No one showed up to lead Sunday school? I'll jump in. A particular ministry in need of a leader? Okay, I'll do it.
For years, I'd been jumping from role to role as needed, all the while feeling incredibly unprepared, ill-equipped, and like a massive imposter. Who was I to support my husband or lead in ministry, when I myself was so incredibly lacking in my time in the Word and overall understanding of it?
Then I was asked to help lead a Sunday school class. With hesitation I accepted, figuring that I at least had a fourth-grade knowledge level of the Bible. To my surprise, these kids schooled me, challenged me, and asked some of the most profound questions I had ever heard.
If I was going to be "leading" these little brainiacs I'd better get my stuff together. I realized I needed to identify what I knew, what was true of God's Word, and what I needed to unlearn. It was then that I discovered my true need for both a better Biblical understanding and a commitment to beginning in the Word.
If you've been grappling to understand the Word of God, to engage with your Bible in deep and meaningful ways, to simply understand the basics, or to just read the Word consistently, you are not alone. We can have a lifetime of adoring faith, but without truly understanding God's love letter to humanity or engaging with it regularly, we're going to be missing out on a vital piece of our relationship with God.
The Word of God is consistent, never changing and yet always alive and illuminating. None of us want to miss out on what God has to say to us. So, here are a few suggestions on how we can get over any walls or hurdles we may be experiencing so that we can get into the Word and grow in our faith and confidence.
1. Start with Simplicity
If you are brand-new to the faith, "just checking this Christianity thing out," or a lifelong believer who wants to engage with the Bible in fresh ways my suggestion is the same across the board. Start simple.
Not that long ago a friend asked which translation of the Bible she should be reading. Again, a simple answer to what can often be a complicated question: The best version to read is the one you'll actually read.
If all the thee's and thou's of the King James version leaves you scratching your head and needing translation perhaps try the New Living Version. If your soul is thirsty for poetic language and vernacular that mirrors today's, spend some time enjoying the Message translation.
If you're not in pursuit of a theological degree and just want to spend some time with God through his Word, then ultimately what is most important is that you are in fact in his Word. If the language of your Bible is so overwhelming to you that it keeps you from reading it, don't be afraid to try a different translation.
Additionally, when striving for simplicity, perhaps start by picking a singular book of the Bible that you're going to spend a good chunk of time in. Currently, the Women's Ministry that I serve in is going through the book of James.
This is a relatively small letter comprised of five fairly small chapters. We're spending twelve weeks studying and reading these five chapters, going line by line, verse by verse. What has come out of this time is so incredible, convicting and inspiring. Spending this much time allowing the Word of God to wash over us can create a deeper connection to the Word itself.
Understanding that we are not in a race to consume what is inside our Bibles can help us dwell in the slow and simple reading of a text. Hanging out with one or two verses in a day can absolutely be more than enough, especially for those of us who are feeling time-starved or overwhelmed.
2. Start with the Gospel
For the longest time when I would endeavor to commit to reading my Bible on the daily, I would almost always do the most logical thing by starting at the beginning. For years, January 1st would find me rereading Genesis 1:1, "In the beginning God created the heavens and the earth…"
Come February, I'd be deep in the trenches of Leviticus and I'd ultimately drop-off or give up somewhere in Numbers.
While starting at the actual beginning of the Bible often makes the most sense to our brains, it might be helpful to reconnect to the Word by beginning with the Gospels: Matthew, Mark, Luke and John. Over the past few years as I've learned to read the Bible and deconstruct what I thought I knew about it, I have fallen in love with the Old Testament just as much as I love the New Testament.
Nevertheless, I don't think I would have arrived at that destination without first really understanding who Jesus is and how he is the fulfillment of Old Testament prophecy.
By starting with the gospels and really focusing my attention on the life of Jesus, I was then able to wrap my head around the Old Testament. What did it for me was seeing God's mercy, love and extreme tenderness on full display through the life and sacrifice of Jesus. Without Jesus, to me, the Old Testament felt cold, clinical and merely historical
Want to drill down a little bit more?
Try beginning with the gospel of Mark. We like to call this the "action packed" gospel. In these accounts Jesus is on the move and fully engaged in his ministry. He is calling the disciples, driving out spirits, healing many and feeding thousands.
This book will keep you on your toes and keep disinterest or boredom at bay. If you really want a deep dive into the text perhaps pick up a study Bible or commentary to accompany your time in the Word. Trust me, the more time you spend studying and meditating on the Word the more exciting it will become.
After some really good time in the gospels you might even be able to jump back into Leviticus with fresh eyes and enthusiasm.
Don't Miss Out!
"Your word is a lamp for my feet, a light on my path." —Psalm 119:105
As we engage with our daily responsibilities it can be so easy to get pulled in so many directions. I know this is especially true for my fellow Moms who are often just trying to hold things together and keep their heads above water.
While beginning each day in the Word is not a guarantee of a "good day" or an "easy day" the very act of giving what little time we have to God is a show of our desire to grow deeper in relationship with Him. This is not a show for the whole world to see, but rather something sacred and beautiful between us and our savior.
God sees us in our exhaustion and our feelings of ineptitude. His grace is sufficient for each and every single one of us, but let's not lean so hard into that grace that we forget to actually sit and rest with and in the one from where that grace comes.
I've been beating myself up lately for not spending enough time in the Word. The more I beat myself up the less I wanted to dive back into time in my Bible.
It took the beautiful words of a fellow believer to remind me just how much I had been missing out on. In a small group setting recently, this beautiful woman shared what she was learning through her time in the Word. Her words were like water to my soul, she spoke with such tenderness and lightness that I leaned in.
I was so refreshed by what she shared that I wanted more of it. This woman probably has no idea the impact her words had on me.
I want to be the one so refreshed by my time with God that I'm pouring into those around me, just like she did. If that's you today too, let's jump those hurdles together and dive deep into that beautiful love letter.
God is waiting for us, and always ready for us.
Photo Credit: ©Unsplash
Rachel Baker is the author of Deconstructed, a Bible study guide for anyone who feels overwhelmed or ill-equipped to study the word of God. She is a pastor's wife and director of women's ministries, who believes in leading through vulnerability and authenticity. She is a cheerleader, encourager, and sometimes drill-sergeant. She serves the local church alongside her husband, Kile, in Northern Nevada. They have two amazing kiddos and three dogs. Rachel is fueled by coffee, tacos, and copious amounts of cheese. For more on her and her resources to build your marriage, see her website: www.rachelcheriebaker.com or connect with her on Instagram at @hellorachelbaker.
Related podcast:
The views and opinions expressed in this podcast are those of the speakers and do not necessarily reflect the views or positions of Salem Web Network and Salem Media Group.
Related video:
These verses serve as a source of renewal for the mind and restoration for the heart by reinforcing the notion that, while human weakness is inevitable, God's strength is always available to uplift, guide, and empower us.
Video stock video and music probided by SoundStripe