5 Ways Nighttime Bible Reading Will Help You Sleep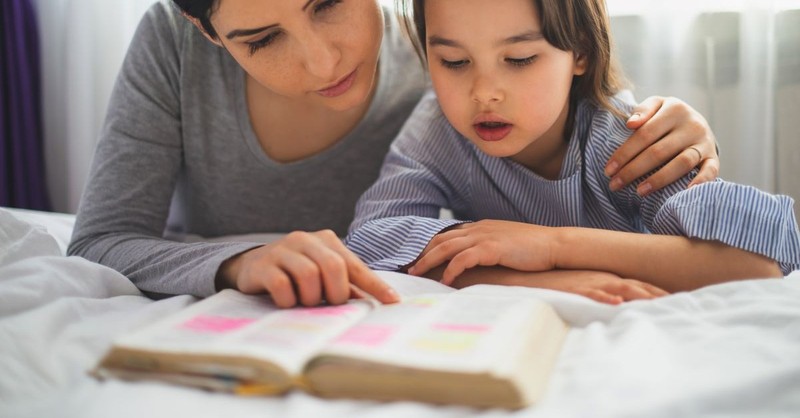 When my children were little babies, bedtime was always a routine. We did bathtime, some cereal, a bottle, then bed. From the time my firstborn was four months old we had a routine. It just worked for us. As they grew older, and we added more children (we have five now), the backbone of the routine remained the same. Thirteen years later, we still have a routine. Get ready for bed with pj's, snack, and brushing teeth. Recently we've added a special prayer time as well.
There have been times when my husband and I have been so tired we barely make it through the routine. Our eyes ache and our bodies are worn, but we stick to the routine. Why? Because our children have learned to rest this way. It is now ingrained in their little bodies and minds that we need to have a snack, then brush our teeth, and then pray. Those three things we try to keep each night religiously because, if we even deviate a little, they are restless.
Sure, each night we might have one or two children get out of bed and ask a question or express a hurt. There are trips to the bathroom and refilling of water bottles. Overall, they settle down more quickly and fall asleep faster if we make sure to do those three things. In fact, you can read three ways prayer can help your kids fall asleep here.
So, what is your bedtime routine? You might not realize you have one - but most people do. Do you eat a snack? Read a book? Watch a T.V. show? Is prayer part of your routine? Prayer is a great way to help you fall asleep. Prayer can also allow for a deeper sense of peace while you sleep. I started praying before falling asleep years ago, but there is one more thing I've added to my nighttime routine that has also helped me relax my mind and heart.
A Bedtime Routine
Getting to sleep doesn't mean we need to fill our bedtime routine with more things or with meaningless activities. We can never put aside our busy to-do lists if we are not intentional. A better nighttime routine might include removing the empty things. I'm not saying you shouldn't watch T.V. or read a book before bed. I do both - regularly. But there is something important about what you think about right before you close your eyes.
The biggest struggle is putting away my phone last. Yes, I scroll through social media right before I go to sleep, but there is a better choice out there. Jesus was intentional. He used His time alone to pray, seek God, and figure out what God wanted for His life. He relied on His times of being alone to lead Him to the next step.
Whether you are physically alone or not at night doesn't matter. Before we fall asleep, we have a choice as to what we are filling our minds with. We have the ability to set our minds on Christ (Romans 12:1-2) right before we fall asleep. Whatever your bedtime routine looks like, you might still struggle with finding peace, or resting, or even falling asleep. May I suggest reading your Bible?
Adding Bible reading to your routine doesn't add much extra time. In fact, it might only take you five extra minutes to pick up your Bible, read through a few verses, and then be ready for bed. Which would you rather go to sleep to: the news from social media, or God's holy, inspired Word? We all agree Bible reading is better, but why? How does reading our Bible help us fall asleep and give peace to our hearts? I've found these five ways Bible reading at night helps us fall asleep: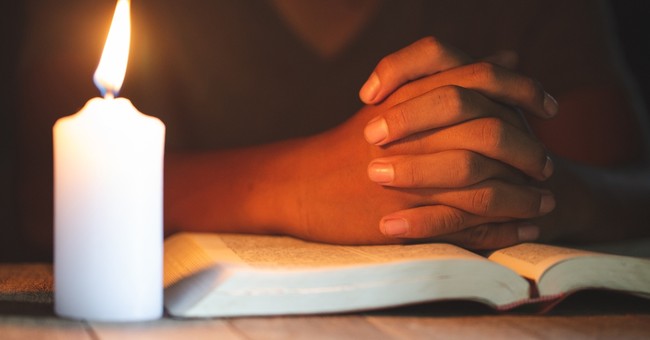 Photo Credit: © Getty Images/Tinnakorn Jorruang
5 Ways Nighttime Bible Reading Will Help You Sleep
1. It connects our hearts to God's. Most days are busy and filled with people, activities, and interruptions. We rarely have a moment alone or a few minutes to just reflect on who God is and what He is doing. Reading our Bible at night allows us this special time to realign our hearts with God right before we go to sleep.
2. It allows us to speak truth at the end of the day. The news, social media, coworkers, and even family speak into our lives each and every day. We listen to facts and fairytales and sometimes get overwhelmed by all of the information we have available to us. Going to bed with God's Word on our minds allows us to remember the truth. No matter what we've faced in our day, God's Word and His truth can be the last thing we think about before the lights go out.
3. It provides an opportunity for us to grow in our knowledge of God's Word. No, we are not going to do deep personal Bible study during this nighttime Bible reading, but we can expand our knowledge of God. If we focus on just a few comforting verses about God and what He is doing as well as who He is, we can grow in that knowledge. We are undistracted by people and events. Nighttime is a great opportunity to learn about God.
4. It helps us practice meditating. Meditating on God's Word is one of those things that is spoken about in the Bible, but Christians today have little idea of what that means. Simply put, mediating means to think about. What are you thinking about as your head hits the pillow? Do you stare up at the ceiling fan and think about all that you need to do (or didn't get done)? What if instead, you thought about God? What if you thought deeply about truth and God's Word? That's what will help us sleep better at night.
5. It gets rid of anxious thoughts. Reading passages about peace and God's comfort have a deeper impact at night. I don't know about you, but anxiety is much stronger in my mind at night than during the day. To help fight those anxious and worrisome thoughts that seep into our minds at night, we can read God's Word to help grant that peace we need!
Three Things to Keep in Mind
We can all agree that Bible reading at night is hugely beneficial, but how do we do it? Do we read random passages? How long do we read? What do we read? I want to share with you three tips for reading your Bible at night. These can be used each night or you can pick and choose to try a few of these methods. Even if you read your Bible during the day, or do a Bible study at lunchtime. Bible reading at night is different. Here are three things to keep in mind.
Tips for Reading Your Bible at Night
1. Read only small portions of Scripture. This isn't the time to do a deep Bible study. Bible study is different than reading your Bible. When studying the Bible, we are trying to understand and apply what God's Word is saying. With Bible reading, we are simply just reading the Words of God and allow the truth of those words to impact our hearts and minds.
2. Have a plan ready to go. Don't flip through your Bible like you scroll through social media. Having a plan in place allows you to know exactly what you are reading. Plans can be simple such as topical or just simply planning on reading a few verses of a smaller New Testament book. You can even just read one Psalm or one Proverb a night before bed.
3. Don't try to read confusing passages. When you do plan what you are going to read, make sure to pick familiar or comforting passages. You might not want to read through the book of Job or 2 Chronicles if you are unfamiliar with those books of the Bible. You can definitely read and study those passages, but nighttime might not be the best time to do that.
Psalms To Help You Fall Asleep
If you don't know where to start, I want to help you! You are not behind in your Bible reading. I know your heart is to read God's Word more faithfully. Why not start at night? It says in Psalm 121 God never sleeps. He is always awake and willing to meet you in the pages of His Word.
Personally, I've found the Book of Psalms to be the most comforting and best place to read when trying to fall asleep. There is so much truth about God and what He is doing there. There are prayers, songs, and mediations all throughout the book to help point us in the right direction - no matter how we feel. No matter what we face, the God of the Bible will comfort, guide, teach, and lead us.
So, open up your Bible and meet Him there. If you would like a plan, I have one that is designed to take you through several psalms, all talking about getting a good night's rest. You can download it here.
Photo Credit: ©GettyImages/Tutye
---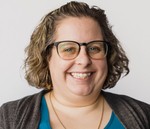 Sarah E. Frazer is a wife, mother, and writer who loves to strengthen and encourage the weary mom to connect with God so that she can replace feelings of discouragement, disillusionment, and disappointment with God's daily peace. Sarah is the author of several Bible study resources found on her website, sarahefrazer.com/shop. Follow her on Instagram here and download her Psalms of Gratitude for free here.