What Does Jeremiah 25:32 Teach Us about Pandemics?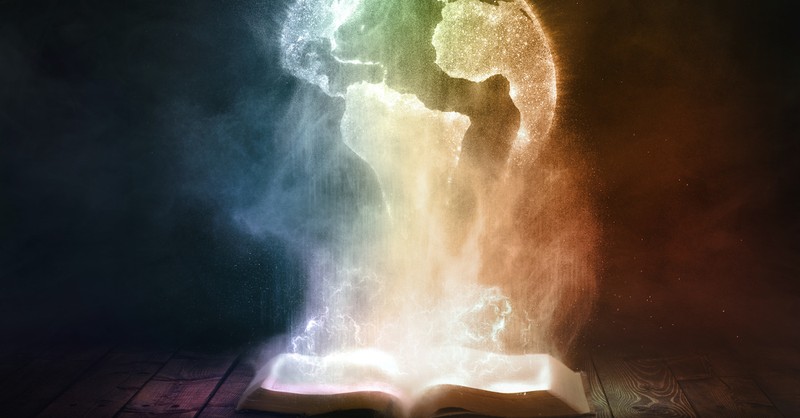 Thus says the Lord of hosts, "Behold, evil is going forth From nation to nation, And a great storm is being stirred up From the remotest parts of the earth." - Jeremiah 25:32
Words of the coronavirus starting in faraway China unnerve us and can be scary when we read prophetic words of Jeremiah when the evil of the COVid-19 virus spreads from nation to nation. Are his words a warning to us? How does it apply today? First, let's be sure we fully understand the verse in the context of the passage as well as the time period and main message of Jeremiah. This scripture is part of a longer passage and a poem. Let's look at a larger portion this passage
"Then it will be when seventy years are completed I will punish the king of Babylon and that nation,' declares the Lord, 'for their iniquity, and the land of the Chaldeans; and I will make it an everlasting desolation. I will bring upon that land all My words which I have pronounced against it, all that is written in this book which Jeremiah has prophesied against all the nations. For many nations and great kings will make slaves of them, even them; and I will recompense them according to their deeds and according to the work of their hands.)'"
For thus the Lord, the God of Israel, says to me, "Take this cup of the wine of wrath from My hand and cause all the nations to whom I send you to drink it…"You shall say to them, 'Thus says the Lord of hosts, the God of Israel, "Drink, be drunk, vomit, fall and rise no more because of the sword which I will send among you." 'And it will be, if they refuse to take the cup from your hand to drink, then you will say to them, 'Thus says the Lord of hosts: "You shall surely drink! For behold, I am beginning to work calamity in this city which is called by My name, and shall you be completely free from punishment? You will not be free from punishment; for I am summoning a sword against all the inhabitants of the earth," declares the Lord of hosts.'
"Therefore you shall prophesy against them all these words, and you shall say to them, 'The Lord will roar from on high and utter His voice from His holy habitation; He will roar mightily against His fold. He will shout like those who tread the grapes, against all the inhabitants of the earth. A clamor has come to the end of the earth, because the Lord has a controversy with the nations. He is entering into judgment with all flesh; as for the wicked, He has given them to the sword,' declares the Lord."
Thus says the Lord of hosts, "Behold, evil is going forth from nation to nation, and a great storm is being stirred up from the remotest parts of the earth. "Those slain by the Lord on that day will be from one end of the earth to the other. They will not be lamented, gathered or buried; they will be like dung on the face of the ground.
"Wail, you shepherds, and cry; and wallow in ashes, you masters of the flock; for the days of your slaughter and your dispersions have come, and you will fall like a choice vessel. Flight will perish from the shepherds, and escape from the masters of the flock."Hear the sound of the cry of the shepherds, and the wailing of the masters of the flock!; for the Lord is destroying their pasture, "And the peaceful folds are made silent because of the fierce anger of the Lord. He has left His hiding place like the lion; for their land has become a horror because of the fierceness of the oppressing sword and because of His fierce anger." - Jeremiah 25:12-15, 27-35, NASB
What Do We Know about the Book of Jeremiah?
It helps to pause and consider prophets and their role in the Bible before we look at Jeremiah. The word prophet, according to Easton's Bible Dictionary, (Heb. nabi, from a root meaning "to bubble forth, as from a fountain," hence "to utter") is the first and most general word used for a prophet. 2 Peter 1:20-21 tells us that prophets "spoke from God as they were moved by the holy spirit." God called prophets to proclaim truth, reveal His intentions, correct disobedient people, and bring hope for the future. Sometimes they also foretold the future. Their words present a universal perspective that is often mirrored in modern times.
Who Was Jeremiah?
As the son of a priest from the little town of Anathoth in Juda, starting at age twenty, Jeremiah served God for more than forty years. The people preferred to listen to false prophets who foretold good news than to Jeremiah who reminded them to turn away from sin and delivered dire warnings from God. Jeremiah is nicknamed the weeping prophet because his tears showed his compassion (Jeremiah 9:1; 13:17). His ministered from 627 BC to 582 BC. This faithful man based most of his ministry out of Jerusalem and often dictated to a secretary. He took God's messages seriously.
What Do We Know about the Literary Style and Genre of the Book?
Jeremiah used prose and poetic literary forms that includes symbolism, figures of speech, and prophetic messages. He repeats words phrases like referring to leaders as shepherds, one who cannot control the evil. He uses symbols like 'lion' and 'sword' to illustrate God's power and actions.
What's the Main Purpose of the Book of Jeremiah?
God called Jeremiah to share His plan for a new covenant and restoration where God would write His laws on their hearts. The words sent from God promised people would know God directly rather than just through the priests, with a personal relationship. His words also show God's patience and mercy.

Jeremiah lived about nine hundred years after the covenant made with the Israelites and God through Moses. This chapter focuses on the final years before the Israelite's exile to Babylon. The chapter includes judgment on both God's people and their enemies. His words remind us that there will be an end time to this earth. Jeremiah's message was closely connected with Israel's history. For twenty-three years God called people to repent of idolatry and failure to love others. The people did not listen, and their rebellion brought judgment from God that extended to nations who mistreated the Israelites. Babylon would capture the people and that happened. Jeremiah's final messages (chapters 30-33) bring hope that God would restore His people and offer a real relationship with Him

The call to follow God's law is not to become legalistic. It's a call to act with love as we find in Galatians 5:14 For the entire law is fulfilled in keeping this one command: "Love your neighbor as yourself.
What Is the Main Focus of Jeremiah 25?
The chapter focuses on prophecies to punish God's people for seventy years, restoration seventy years later and then the punishment of the Babylonians who enslaved God's people. The chapter's opening verses show how the people neglected God's message for twenty-three years. Worshipping idols, evil deeds, and neglecting to love neighbors broke God's law (Leviticus 19).
The word that came to Jeremiah concerning all the people of Judah, in the fourth year of Jehoiakim the son of Josiah, king of Judah (that was the first year of Nebuchadnezzar king of Babylon), which Jeremiah the prophet spoke to all the people of Judah and to all the inhabitants of Jerusalem, saying, "From the thirteenth year of Josiah the son of Amon, king of Judah, even to this day, these twenty-three years the word of the Lord has come to me, and I have spoken to you again and again, but you have not listened. Jeremiah 25:1-3, NASB
The last two-thirds of the chapter focus on punishing Babylon. Verse 32 is toward the end of that section. The surrounding verses share how God planned to punish Babylon for their mistreatment and enslaving the Israelites. This illustrates how God wants all people to be kind and treat one another well, for God is all about love.
What Does Verse 32 Mean in Context?
For the Israelites that prophecy meant God would destroy Babylon. That happened. For end times, it's a reminder that God will not withhold His judgment forever. The passage illustrates that God is not pleased with people who mistreat and oppress others. In the past year, we saw the riots in Hong Kong where people cried out against oppression and we know that breaks God's heart. It's interesting that's the country where the virus originated. However, flu epidemics occur every few decades, although few are as deadly as the Spanish flu of 1918 that took the lives of 25 million people in the first six months.
In contrast, we find Christ's example of kindness in healing the soldier's ear Peter cut off when the soldiers came to arrest Jesus (Matthew 26:51-52) and parables like the Good Samaritan urge us to be gracious and express love through actions (Luke 10:30-37). The verse speaks of nations. The symbol of a cup of wrath from God to godless nations to drink represents the punishment of Babylon through military conflict, not through a virus. The kings mentioned in the chapter inhabit the surrounding countries of the known world. Today, our world leaders interact. They set up trade deals, threaten one another, and also establish alliances.
We can cite parallels in our world of people turning away from God and increasing idolatry. There has also been a worldwide increase in the persecution of followers of God as well as an increase of human trafficking. We can also find revivals and growth of Christianity around the world and acts of kindness everywhere. We always hope that out of difficult times we will learn to be grateful and kinder, as we are encouraged in Colossians 3:12 So, as those who have been chosen of God, holy and beloved, put on a heart of compassion, kindness, humility, gentleness and patience.
How Can Christians Apply Jeremiah 25:32 Today?
How should Christians view this verse in relation to the coronavirus pandemic? Christians should realize that the world is connected, and pestilence, disease, and other problems can easily spread worldwide, but love and kindness can spread faster. God can use situations to inspire individuals and groups to repent and draw close to Him. We do not know the future and should use our time wisely to share the gospel as encouraged in Ephesians 5:16 "making the most of your time, because the days are evil."
Some people have labeled the virus a sin virus, but there's no correlation among the people who catch it. Indeed it reminds us more of the words of Jesus that good and bad come to all people, in Matthew 5:45 " so that you may be sons of your Father who is in heaven; for He causes His sun to rise on the evil and the good, and sends rain on the righteous and the unrighteous."
The greatest medical minds and world leaders are working to conquer the disease. Psalm 118:8-9 reminds us to trust in God, "It is better to take refuge in the Lord than to trust in man. It is better to take refuge in the Lord than to trust in princes." The real call to action when disaster strikes is to pray, trust God, and continue to be kind.
Sources:
Easton's Bible Dictionary, https://www.biblestudytools.com/dictionaries/eastons-bible-dictionary/prophet.html
Smithsonian Magazine, https://www.smithsonianmag.com/history/ten-myths-about-1918-flu-pandemic-180967810/
Photo credit: ©GettyImages/kevron2001
Karen Whiting is a mom, author, international speaker, writing coach, and former television host who loves sharing ideas to strengthen families. She has written Growing a Mother's Heart: Devotions of Faith, Hope, and Love from Mothers Past, Present, and Future and 52 Weekly Devotions for Family Prayer, which includes a different way to pray each week plus stories and activities to explore questions children ask about prayer. Her newest book, Growing a Joyful Heart co-authored with Pam Farrel, shares stories that show how to have inner joy, more joy in relationships, choose joy in all circumstances, and become a joy-giver. She loves adventure including camel riding, scuba diving, treetop courses, and white water rafting plus time at home crafting and baking.
Related podcast:
The views and opinions expressed in this podcast are those of the speakers and do not necessarily reflect the views or positions of Salem Web Network and Salem Media Group.
Related video:
These verses serve as a source of renewal for the mind and restoration for the heart by reinforcing the notion that, while human weakness is inevitable, God's strength is always available to uplift, guide, and empower us.
Video stock video and music probided by SoundStripe