What Is the Significance of 40 in the Bible?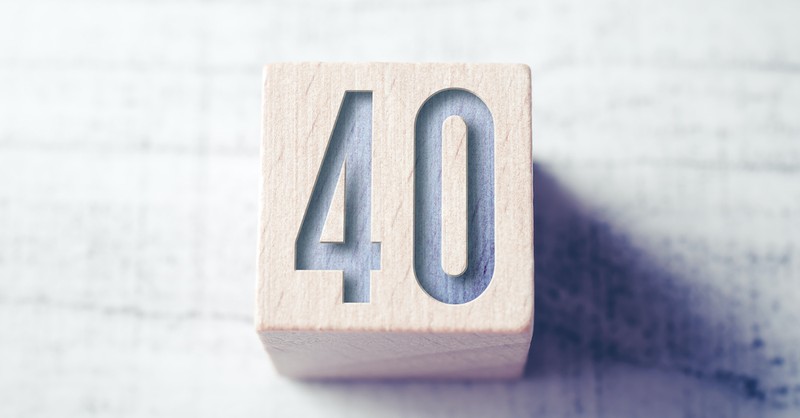 Throughout Scripture, we see different numbers used for various reasons. God is intentional with what He does. Although it is important not to overread into numbers, there are a few worth looking into their deeper meaning. The number 40 appears in many places throughout the scriptures. Today we are going to study what is the significance of 40 in the Bible.
40 Days
The Flood: The first mention of 40 days and 40 nights was when God sent the flood on the earth in the time of Noah. (Genesis 7)
Genesis 7:12 says, "And rain fell on the earth forty days and forty nights."
The Mourning Period for Jacob: When Jacob (the third patriarch) died, he was mourned for 40 days by his family and the land of Egypt.
Genesis 50:3 "taking a full forty days, for that was the time required for embalming. And the Egyptians mourned for him seventy days."
The 10 Commandments:
Moses went up Mount Sinai to get the 10 Commandments from the Lord. It took 40 days to accomplish this.
Exodus 24:18 "Then Moses entered the cloud as he went on up the mountain. And he stayed on the mountain forty days and forty nights."
Unfortunately because of the rebellion of the people and the golden calf of idolatry that they made and worshiped, Moses had to go back up the mountain to get new stone tablets from God. (Exodus 34)
The Spies: There were men under Moses' leadership who scoped out the land of Canaan for 40 days and 40 nights. This would be their promised land. (Numbers 13)
David and Goliath: Goliath and the Philistines threatened the Israelites every day for 40 days before David went and slayed Goliath.
1 Samual 17:16 says, "For forty days the Philistine came forward every morning and evening and took his stand."
Elijah's Journey: Elijah traveled to Mount Horeb for 40 days. (1 Kings 19:8)
Jonah Warned Nineveh: Jonah told Nineveh that God would give them 40 days to repent before destruction. Nineveh confessed and turned back to God and He had great mercy.
Jonah 3:4 says, "Jonah began by going a day's journey into the city, proclaiming, 'Forty more days and Nineveh will be overthrown.'"
Jesus Tested in the Wilderness: Jesus Himself was led by the Spirit to go to the wilderness. He fasted and prayed. (Matthew 4:2, Mark 1:13, Luke 4:2, & John 2:20)
Jesus Appeared After His Resurrection: Jesus appeared to people for 40 days after He rose from the dead and before His ascension into Heaven. (Acts 1:3)
40 Years
Moses was away from Egypt for 40 Years: God appeared to Moses in the burning bush after Moses had been away from Egypt for 40 years. (Acts 7:30)
The Israelites in the Desert: The Israelites wandered in the Wilderness for 40 years. (Numbers 14:34-35, Deuteronomy 2:7)
Many times in Judges we read about peace in the land for 40 years at a time. (Judges 3:11, 5:31, 8:28) On the other hand, when the Israelites did evil, they were delivered into the hands of the Philistines for 40 years. (Judges 13:1)
King David: David reigned over Israel for 40 years. (2 Samuel 5:4)
King Solomon: Solomon reigned over Jerusalem for 40 years just like his father David. (1 Kings 11:42)
King Joash: Joash reigned in Jerusalem for 40 years.
Destruction of the Temple: Interestingly enough, Bible Study shares, "Jesus, just days before his crucifixion, prophesied the total destruction of Jerusalem (Matthew 24:1-2, Mark 13:1-2). Forty years after his crucifixion in 30 AD, the mighty Roman Empire destroyed the city and burned its beloved temple to the ground."
40 Years Old
There is special mention of people when they were 40 years old. In particular, Isaac got married to Rebekah and Esau married Judith. (Genesis 25:20, 26:34). Joshua was 40 years old when Moses sent him to explore the promised land. (Joshua 14:7) This is an interesting fact to me because that means that Joshua never knew Egypt, he was born in the Wilderness.
What Does This Mean?
Testing:
With all of these mentions of the number 40, we see that God clearly had a reasoning behind this time period. I think one of the most noteworthy concepts is that 40 is often used as a time period of testing and growth. When we see the Israelites in the Wilderness or Jesus in the desert, or God giving Nineveh a 40-day warning, it reveals that 40 was often used by God to test people. Whether it was days or years, the Lord used 40 to try His people and see their true dedication.
Hope:
Maybe you feel like you are in the midst of a trial or testing? Maybe you are feeling humbled by God? This is not a wasted time. We see that the Lord provided each day for the Israelites in the wilderness and that angels ministered to Jesus during His time of fasting and testing. No one wants to go through times of trial and growth, but what I love about the number 40 is that there is an end date. The number 40 reminds us that if we are in the middle of a hard season, it is not forever. This will pass and we will hopefully be stronger and closer to our Savior afterward.
Growth:
When I think about Moses spending 40 years away before going back to Egypt, it was mercy from God. That was a period of his life for development and preparation. Or when we see that Issac and Esau both married at the age of 40, it gave them time to grow confident and understand who they were as individual men of God. Whatever growing that you are in right now, recognize that with the Lord, it always can serve a purpose. Forty is a wonderful number in the Bible. It reminds us of testing, hope, and our growth. We can take a lot of joy in knowing that the Lord works in the number 40.
Photo credit: ©GettyImages/Sebastian Leesch / EyeEm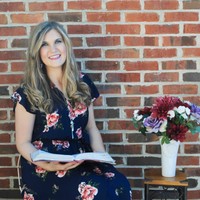 Emma Danzey's mission in life stems from Ephesians 3:20-21, inspiring young women to embrace the extraordinary. One of her greatest joys is to journey with the Lord in His Scriptures. She is wife to Drew for over two years and mom to baby Graham. Drew and Emma serve with Upstate CRU college ministry in South Carolina. Emma is an avid writer for Salem Web Network and provides articles on the Bible, life questions, and on the Christian lifestyle. Her article on Interracial Marriage was the number 1 viewed article on Crosswalk for the year 2021. All the glory to the Lord! She had the joy of hosting Her Many Hats podcast where she explored the many roles that women play while serving One God. Most recently, Emma has released her first Bible Study Book, Wildflower: Blooming Through Singleness.
Emma enjoys singing/songwriting, fitness classes, trying new recipes, home makeover shows, and drinking tea! During her ministry career, Emma recorded two worship EP albums, founded and led Polished Conference Ministries, ran the Refined Magazine, and served in music education for early childhood. Emma also had the privilege of having been a national spokesperson for Mukti Mission based out of India. Mukti has been working to restore shattered lives in India for over 120 years. You can view her articles through her blog at emmadanzey.wordpress.com and check out her Bible Study videos on Instagram @Emmadanzey.
Related podcast:
The views and opinions expressed in this podcast are those of the speakers and do not necessarily reflect the views or positions of Salem Web Network and Salem Media Group.
Related video:
These verses serve as a source of renewal for the mind and restoration for the heart by reinforcing the notion that, while human weakness is inevitable, God's strength is always available to uplift, guide, and empower us.
Video stock video and music probided by SoundStripe