Who Is the Archangel Michael and Why Is He the Most Famous of Angels?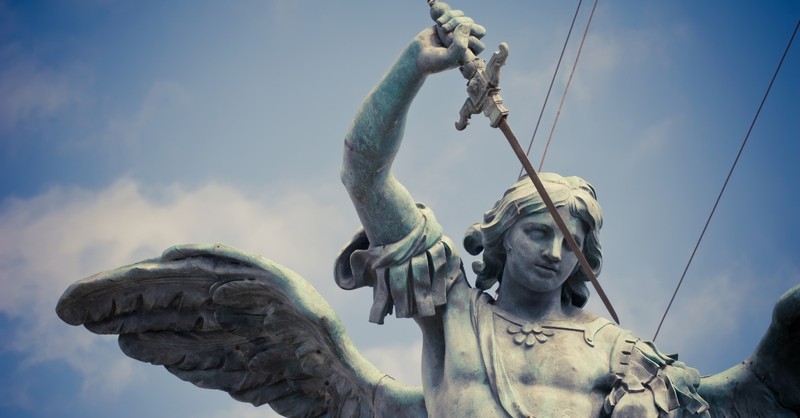 Who Is the Archangel Michael in the Bible?
Archangel Michael is one of the chief princes in the rank of angels. We first see a reference of Michael in Daniel 10:13. He came to assist another Archangel, Gabriel, who was bringing an answer to Daniel. The angel that Archangel Michael assisted had been warring with the prince of Persia for 21 days. The prince of Persia is more than likely a principality, fallen angel or evil spirit. This spirit hovered around the kingdom of Persia.
Daniel 12:1 spells out who Archangel Michael is. It reads, "And at that time shall Michael stand up, the great prince which standeth for the children of thy people; and there shall be a time of trouble, such as never was since there was a nation even to that same time: and at that time thy people shall be delivered, every one that shall be found written in the book."
Archangel Michael appears at significant times in Scripture and history. In Revelation 12:7, we find him kicking out the enemy. It reads, "And there was a war in heaven: Michael and his angels fought against the dragon: and the dragon fought against the angels and prevailed not: neither was their place found any more in heaven."
When the enemy attempts to claim something that he has no right to, we see angels in the midst. Jude 9 reads, "Yet Michael the archangel, when contending with the devil he disputed about the body of Moses, does not bring against him a railing accusation, but said, The Lord rebuke thee."
When Jesus returns, it could be the voice of Archangel Michael that the Lord will use. I Thessalonians 4:16-17 declares, "For the Lord himself shall descend from heaven with a shout, with the voice of the archangel, and with the trump of God: and the dead in Christ shall rise first.: Then we which are alive and remain shall be caught up together with them in the clouds, to meet the Lord in the air: and so shall we ever be with the Lord."
What Do We Know about Archangels?
Not every angel is of the rank archangel, but Michael certainly is among the ranks of these. Scholars say there are seven archangels. Read Revelation 8:2, "And I saw the seven angels which stood before God; and to them were given seven trumpets." From what I have been reading in the Bible, God sometimes sends angels to speak to humans.
Archangels conduct the will of God. They are fierce and powerful. They know how to manage the devil and protect the throne of God. Gabriel is mentioned throughout Scripture as well. Read Daniel 8 starting at verse fifteen. Verse sixteen gives you Gabriel's name. Gabriel is mentioned in Daniel 9:21. Gabriel announces the birth of Jesus in Luke 1:19, 26. Angel had to tell Mary to fear not. Angels are messengers of God, and their visitation is to not be taken lightly. They are visiting on purpose to deliver a message, to protect, or execute judgment.
When you see things happening know that God is working on our behalf and the sons of God are collaborating right along with Him. Job 1:6 refers to angels as the sons of God. When God created the earth, the sons of God were present and shouted with joy (Job 38:7).
What Other Angels Are Mentioned in the Bible?
From my understanding, angels are not just showing up. They show up to deliver a message or executive judgment. That is what I have been taught. I do know that we have protective or guardian angels—although this is a highly debated subject in the Christian community. You have heard testimony of people who have been in accidents and should not be here today. They were protected. We know that angels sometimes appear in the form of a man. Look to Genesis 18:1-9. Here angels appeared unto Abraham and Sarah his wife. They delivered the news that Abraham and Sarah would have a son. This is the son that God's covenant would be manifested through. Abraham already had a son with his wife's handmaiden.
Sometimes, we can try and assist God in manifesting His will. His word says our thoughts are not His thoughts. Neither are our ways His ways. Abraham and Sarah thought that they were too old to have children. God had other plans and did not think they were too old. There is a lesson here that you need to believe God and not let people talk you out of what God plans to do for you even if it takes a while.
Jump to Genesis 19:1-16. Angels were sent to destroy Sodom and Gomorrah. They were sent to executive judgment against Sodom and Gomorrah because of the cities' wickedness before the Lord. Although the angels did not need rescuing, Lot asked them to come into his house because he knew of the city's wickedness. The city was so corrupt that the men of the Sodom were trying to get into Lot's house to see the new men that had arrived not discerning that they were angels.
The Lord spared Lot and his family. Unfortunately, his wife looked back to see what was happening to the city. They had been given specific instructions not to do so. She became a pillar of salt because of this act of disobedience.
Angels are of different rank and order. You have seraphims mentioned in Isaiah 6:1-3. Seraphims are believed to be angels closest to God (The KJV Study Bible, Barbour Publishing, 2011). Angels are ministering spirits. We see this in I Kings 19: 5-7). Elijah was ready to give up, but God sent an angel to minister to him, feed him, and sustain him.
We have angels who are ready to assist us as we cry out to God. Psalm 34:7 says, "The angel of the Lord encamped round about them that fear him and delivered them." That is why the devil can not touch you unless God allows it. The enemy did all that he could to oppress and depress Job. God told the devil to spare his life. The devil knows that God means what He says. Satan only has so much time to act a fool and then it is lights out.
3 Important Facts about the Archangel Michael
He is significant in getting a message to Daniel in the Bible. If he was significant then, he is significant now. There is no telling what God is having him to do, who he is having him to protect, or what message he is delivering. Just because we do not see everything that is written in the Bible does not mean that more did not occur.
Just like other angels and even more so, he is fierce in appearance. When there is a reference to an angel in the Bible, you usually see the words fear not. Angels are no doubt huge in statue and very intimidating.
He is a messenger of God and just like the other angels he is not to be worshipped. God is a jealous God and angels know their place and more than likely want to keep it. One crew was already kicked out and that is no doubt motivation to keep it together.
Photo credit: ©Getty Images/MoosyElk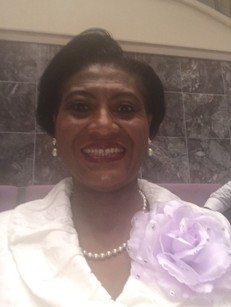 Dr. Sandra Hamer Smith is a Christian and wife to Sylvester Smith. She has one stepson, Greg. Smith lives and resides in Memphis, Tennessee. The University of Memphis alumnae has been in education for about 20 years after receiving the call to teach. Dr. Smith primarily teaches language arts. Prior to education, she worked in local and national television news for 13 years including positions as an overnight news anchor, reporter, and assignments editor at two local network affiliate stations. Smith was also a freelance correspondent for BET news. Dr. Smith has freelanced for the Tri-State Defender newspaper and Contempora magazine. She is the author of the self-published novel GLORY…THE HAIR. Smith is also a playwright and poet. The Tennessee native is a member of Temple of Deliverance COGIC, Delta Sigma Theta Sorority Inc, Omicron Delta Kappa, The Golden Key International Honour Society, and Kappa Delta Pi.
---
This article is part of our People from the Bible Series featuring the most well-known historical names and figures from Scripture. We have compiled these articles to help you study those whom God chose to set before us as examples in His Word. May their lives and walks with God strengthen your faith and encourage your soul.
4 Things You May Not Know About Abraham in the Bible
20 Facts You May Not Know About Moses from the Bible
Who Was Mary Magdalene in the Bible?
Who Were the 12 Disciples of Jesus?
Who Was Isaiah & Why Was He Important?