Your Bible as a Creative Canvas
Inside BST

Thoughts from the Editors of BibleStudyTools.com

2015

12 Nov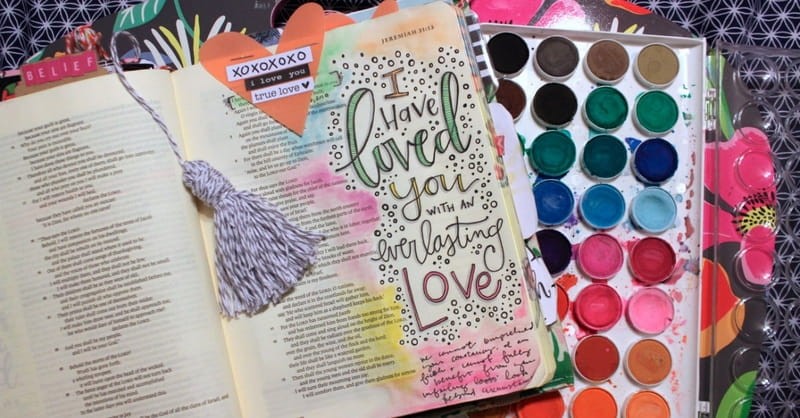 For some, the Bible is a book to be read and absorbed only. Some underline a verse or two here and there, maybe breaking out a yellow highlighter for verses of utmost importance. For others, though, the Bible is a blank canvas for a whole new kind of art. In the world of Pinterest and Instagram where all things "artsy" reign, we shouldn't really be surprised that Bible journaling and the "illustrated faith" trend has taken off.
If you've never heard of this before, let me introduce you to what is taking the Bible world by storm these days. Illustrated Faith was started by Shanna Noel almost two years ago as a way to worship through her interest in crafty scrapbooking. Journaling Bibles can now be found almost everywhere Bibles are sold-- they're the ones with extra-wide margins meant for notes and reflections.
This simple explanation comes from the Illustrated Faith site: "Someone once said "we have translated the Bible into many languages but never to a creative one" and that is exactly what Illustrated Faith is striving to do; provide a place to see the bible through a creative mind."
Combine a Bible with roomy margins and extra blank space with some paint, stickers, notes, writing, and any other fun embellishments, and you have the basics of this new trend.
I've seen the page of Luke 11 brought to life through bright paint and bold lyrics to the popular worship song "Good, Good Father" to illustrate Luke 11:9-13. (view here)
I've seen Jeremiah 31:3 illustrated with beautiful handlettering and light watercolor washes. (view here)
I myself have used simple stickers to emphasize John 10:10 in my margins. Others simply write out verses in pen in their margins, use a highlighter over passages they want to remember, or draw arrows to parts of Scripture they want to focus on. (view here)
Not an "artsy" person yourself? No problem. Your local craft store will have a wide variety of alphabet stickers, other stickers, washi tape, and other materials you can simply adhere to your pages. Feeling more inspired? Watercolors or acrylic paints are popular choices, as well as ink pens, fine-tip markers, and even common Crayola products. You don't have to spend a lot of money on high-quality scrapbooking materials to add some flair to your Bible-- even using pencil or a child's crayons to write verses or draw pictures in your margins works!
The options are endless and anyone with any amount of artistic ability can find a way to creatively illustrate or embellish their Bible.
---
What do you think of this new trend? If you have a journaling Bible, how do you creatively engage with Scripture? Anything you want to share about the experience?
*Photo courtesy of Kristin Fields