10 Lessons on Biblical Manhood I Learned from My Father
Jeff Robinson

SBTS

2019

16 Jul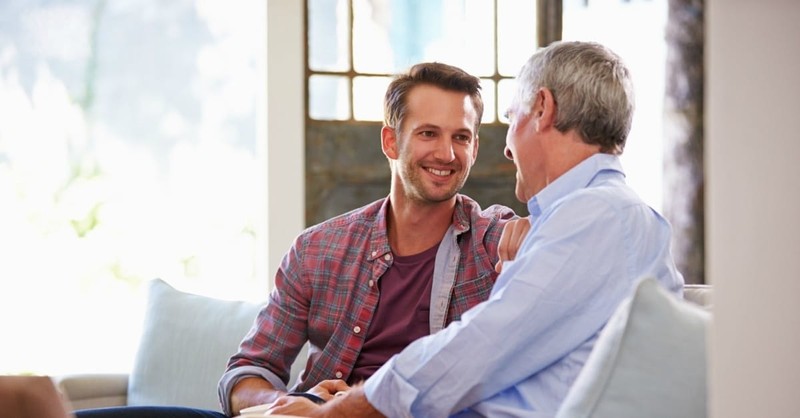 The young paratrooper stood in the open door of the C-47 transport plane. Angry wind currents battered his army fatigues with the ferocity of a category five hurricane. He paused momentarily, double-checked his static line, and leaped into the darkness below. Instantly, the darkness wasn't dark any more. As he plummeted toward the earth, shells from anti-aircraft canons whizzed near him, burning up like a thousand falling stars slithering across the nighttime sky, shells that German soldiers propelled into the atmosphere with deadly intent. Explosions illumined the approaching earth below. Drifting intentionally toward the hostilities defied common sense, and he was deeply fearful, but the young soldier was on a mission far greater than even he understood in that moment of moments.
That soldier was my father. It was approximately 2 a.m., June 6, 1944, and he was in harm's way, big-time. The hedge-infested landscape of northern France, flooded with water by Germany's paranoid Fuhrer, waited below as dad and his colleagues in the 101st Airborne descended to join the cataclysmic battle known to posterity as "D-Day."
My father, who died 25 years ago when a leaky blood vessel burst in his chest, would tell you God's mercy alone carried him through D-Day alive. Sovereign grace saw him through the Allies' Operation Market Garden (not the Allies' proudest moment). It preserved him through the Battle of the Bulge, where American troops won despite being grossly outnumbered, completely surrounded (it is the Airborne's job to be surrounded, my father once told me) and deep-frozen in one of the coldest European winters on record. Divine mercy, dad said, preserved him to V-J Day and spirited him back to Georgia to marry my mother. And it was mercy all, immense and free, that converted my dad to Christ shortly after they exchanged nuptials. Charles M. Robinson the soldier became an excellent husband and father, tirelessly raising three boys to be faithful husbands, fathers, and churchmen. Dad taught me how to throw a curve ball, how to read a box score.
Over the years as I have read God's Word and reflected back upon his quiet testimony to God's grace in our home, I have been increasingly thankful for the Godward values he instilled in us. Unfortunately, godly, committed fathers are the exception in today's culture rather than the rule, but I was blessed by God's mercy to be raised by one. Though he was far from a perfect man, my father exemplified biblical manhood in many respects and taught me many lessons by example. Here are 10 things that my father's example taught me about biblical manhood:
The right thing is not always the easy thing. Ask any of my father's friends and they will tell you that humble courage, above all other attributes, typified him. If he feared anything other than the Lord, our family never knew it. Dad was particularly adamant about doing the right thing, even, or perhaps especially, when it was a difficult thing. But courage should always display itself in a manner befitting the humility of Christ, I think he would be quick to say. My father did not believe he was courageous. When I asked him if he was scared the night he jumped into Normandy, his replay was an incredulous "Of course." So what made you do it? "Because there was something at stake that was far larger and far more important than my safety," he said. That's humility wed to courage. Read his prayers in Gethsemane beside the cross and you see those things in Christ. I want to be like that.
"Courage should always display itself in a manner befitting the humility of Christ."
The right thing is not always the popular thing. Like following Christ, making the right decisions will not always win the applause of others, even some who profess undying devotion to you and to Christ. You will often be criticized, opposed, even rejected for doing the right thing.
Greatness is found in humility, not in touting one's own greatness. I will never forget my father, in the context of teaching me how to play the great game of baseball, said, "When you make a great play, hit a home run (I was a singles hitter, so this particular play wasn't much applicable) or do something to help your team in an obvious way, act like you've been there before." My father wanted God, not me, to be glorified, even in sports. Dad was appalled at the strutting of professional athletes and was always put off by those who strutted in life, particularly in the church. "There's nothing worse than a preacher who acts like he's done something," dad told me once. Lord, guard me from ministerial strutting, especially when it takes a subtle form like social media.
Men are called to do hard things. Men are called to make difficult decisions in the home, workplace, and church. Men are called to do hard things like taking a wife and raising children. My father saw a tendency among young men toward delayed adolescence in my generation and was deeply concerned. That God made men a bit rough around the edges is suggestive, he believed. God has designed them to fly into the flak.
Husbands are called to protect their wives. Physically, emotionally and spiritually, a man must be willing to lay down his life for his wife.
Fathers are called to protect their children. Physically, emotionally and spiritually, a man must be willing to lay down his life for his children.
Be good at what you do. That 1 Corinthians 10:31 is quoted regularly in my home is probably attributable to my father. Whether you are a plumber, professor, athlete, student, doctor, pastor or custodian, you must never stop striving to grow in your craft. You should seek to do your vocation with great skill, integrity and a sense of stewardship.  My father was a master builder and approached every project as if it were his last. Every sphere of life belongs to God and all must be done to His glory. I am grateful he taught me this from a young age.
"Whether you are a plumber, student, doctor, pastor, or custodian, you must never stop striving to grow in your craft."
There is no substitute for being there." My dad never used such words as "quality time" and "quantity time." I do not recall a single baseball game (and I played in hundreds), important church or school event without my dad (and mom) in the audience. Often, dad coached or led the activities themselves. We went to church Sunday morning, Sunday evening, and Wednesday night as a family, no questions asked. That we were being raised as churchmen was an assumption. At home we spent hours talking about everything from God's Word to sports, the news, good books, and the merits/demerits of country/rock/pop/gospel music. In short, his was a huge presence on the landscape of my life, and my time with him continues to bear fruit, even as I cross the borders of middle age.
Treasuring Christ, not material things, will give you ultimate satisfaction. The Lord blessed my father with material means, but I have no doubt they were never an idol. Whatever earthly wealth he had, it never had him. One of my fondest memories growing up in our household was watching my parents, under his leadership, providing food, Christmas toys, rent/mortgage money and thousands of dollars in other provisions for the poor of our community, which were numerous. And absolutely no one but our family ever knew. "God has blessed us to be a blessing to others," he once told me. "We must lay up treasure in heaven, not here." That's the biblical prosperity gospel.
"Whatever earthly wealth my father had, it never had him."
Authentic manhood is proven in courageously serving others, not in deploying bare knuckles. In the mountains of North Georgia where I grew up, a rite of passage into manhood seemed to be participating in and winning at least one fist fight. This was a huge problem for a runty, lightweight like me, who barely tip the scales at 100 pounds in ninth grade. I always deflected this need for a well-publicized TKO by telling friends, "I'm a lover, not a fighter." My father, who was as physically strong a man as I have ever met, warned me against confusing real manhood with such boorishness. Real manhood is found in sacrificing your needs, wants and desires in service of others as Christ did on Calvary. The real man is the Christ-picturing servant, not the Rocky Balboa wanna-be. He exhibited both lion-like courage and lamb-like humility. Paul, in 1 Corinthians 16:13-14 summarizes authentic biblical manhood well: "Be watchful, stand firm in the faith, act like men, be strong. Let all that you do be done in love."
I am following in giant footsteps and I pray that the Lord will give me grace to set an example that points my children to Christ and his gospel in a compelling and fruitful way.
This article was originally published on The Southern Blog. Used with permission.
Jeff Robinson (M.Div. and Ph.D., SBTS) is editor of the Southern Seminary blog. He is pastor of New City Church in Louisville, serves as senior editor for The Gospel Coalition and is also adjunct professor of church history and senior research and teaching associate for the Andrew Fuller Center at SBTS. He is co-author with Michael A. G. Haykin of To the Ends of the Earth: Calvin's Missional Vision and Legacy (Crossway, 2014). Jeff and his wife Lisa have four children.
Publication date: July 6, 2016