Develop the Character of a Leader
Whitney Hopler

Crosswalk.com Contributing Writer

2007

11 May
Editor's Note: The following is a report on the practical applications of Jeff Iorg's new book, The Character of Leadership: Nine Qualities that Define Great Leaders, (B&H Publishing, 2007).
You're likely working your hardest to accomplish many tasks as a leader. But no matter what you achieve, you can't be truly successful unless you develop strong character along the way. That's because leadership isn't about what you do – it's about who you are.
Leadership assignments are laboratories for God to transform you to become more like Jesus. So shift your focus from doing things for God to inviting God to do things in you. When you do, you'll see nine key character traits begin to emerge. Here's how you can develop them:
* Maintain integrity. Understand that integrity means acting the same in every situation, with every group of people. Do your best to say what you mean, mean what you say, do what you say, and mean what you do. Align your attitudes, words, and actions with biblical truth, so you can operate with good moral ethics in every area of your life – home, work, school, etc. Submit every part of your life to Jesus, remembering that He is the one to whom you are ultimately accountable. Recognize that you don't own your leadership position; you simply manage it, because everything you have is a gift from God. Do your best to take care of your job while you have it, keeping in mind that your work is just temporary and you have a responsibility to accomplish the most you can in the limited time you have. Trust God to work through other people in your church or ministry's accountability structure to correct, guide, and direct you. Respect the accountability system around you, and cooperate with it. Spend time regularly in devotional Bible reading and prayer. Don't let burnout tempt you to mar your integrity; get the renewal you need by taking a weekly Sabbath rest. Stay connected to God through regular times of worship, and invite Him to infuse you with His strength as you worship Him.
* Find security. Get to know who you truly are and what God has made you to do. Don't waste time or energy looking for security in places that won't ultimately deliver, such as through accomplishments or relationships with people. Instead, look for it in the right place – your relationship with God through Jesus Christ. Remember that no one can take away the eternal security you have because of your relationship with Jesus. Know that your security will stand strong no matter what challenges or crises come your way. Celebrate the fact that, when you derive your sense of security from God, you break free of being controlled by any lesser force (like materialism) that you might otherwise turn to for security. Ask God to give you the confidence you need to lead well. Don't be afraid to say "no" to requests without feeling guilty. Be willing to take risks and learn from failure. Trust other people to make decisions rather than trying to over-manage your ministry. Keep your work in perspective, realizing that it is just one part of your life as a whole. Ask God to help you properly balance the various roles you fulfill in the different parts of your life. Renew your mind by memorizing key Scripture passages about security.
* Maintain purity. Realize that building moral purity and protecting it throughout your life is vital to your current effectiveness and future legacy as a leader. Invest plenty of time and energy into your marriage to help prevent being pulled into an affair or an addiction to pornography. Limit your exposure to immoral influences in the media. Carefully choose the types of television and movies you watch. Place Internet filters on your computer. Ask people you trust and respect to help keep you accountable to standards of purity. Check in with your spouse often and make sure your spouse knows your schedule every day. Protect yourself from the appearance of immorality through such simple steps as: avoiding hosting people of the opposite sex socially, or being alone with them in professional settings; counseling people of the opposite sex carefully; placing a window in your office door; giving unlimited access to your computer to your colleagues and operating it in the open; and avoiding touching members of the opposite sex so your actions can't be misinterpreted. If you've already compromised your moral purity and need to be restored, be honest about your mistake, confess it, and take full responsibility for it. Stop what you were doing completely and move purposefully away from the sin and toward God, praying for the healing you need, and reaching out to people you trust for support and encouragement.
* Learn humility. Know that humility isn't about debasing yourself; instead, it's seeing yourself as God sees you. Accept the identity and mission that God has given you. Be comfortable with who you are. Balance the way you view yourself, realizing that you're both a sinner who can do nothing apart from God's power and a saint who should use the spiritual gifts you've been given. Regularly remind yourself that you don't have anything that you didn't receive from God, either directly or indirectly. Own your strengths and acknowledge your weaknesses. Establish a regular habit of prayer and be aware of how often you rely on the strength God provides in answer to your prayers. When you can, kneel while you pray. Pray with other people sometimes, confessing your needs to them and asking them to pray for you. Constantly seek to learn, through such means as reading personal development books, participating in conferences or conventions even when you're not preaching or teaching, and seeking advice from colleagues you trust before you make major ministry decisions. Focus on getting your work done well, regardless of who gets the credit, rather than trying to take credit for yourself. Acknowledge what God and other people have done for you, and express your gratitude often.
* Become a servant. Check your motives for serving in a leadership position. Recognize that guilt, duty, and money are the wrong motives for serving. Instead, let your love for God and other people motivate you to serve. Create a personal mission statement (a one-sentence statement of God's unique assignment for you) to clarify your purpose as a leader. Read the Bible to understand God's mission in the world and how you contribute to that. Ask friends and family members to evaluate your strengths and weaknesses. Ask yourself questions like: "What do I really enjoy?", "What am I really good at?", "What does God bless when I do it?", "What is really special or unique about me?", and "What am I doing that is not very productive?". After thinking and praying about the insights you've received, write your mission statement. Be flexible enough to adjust your mission statement over time. Make sure that your mission makes good use of your personality, gifts, abilities, calling, training, experiences, and character. Apply your mission to your unique ministry setting so there's a good fit. If you're having trouble being motivated properly, shape your motives by choosing to do a dirty job and learning from it, undertaking a task anonymously, serving an enemy, or choosing to make someone else successful.
* Gain wisdom. Understand that wisdom isn't reserved for certain people or groups of people; it's available to anyone, and you can develop it now, regardless of your age or situation. Decide to become a lifelong learner, realizing that gaining wisdom is a gradual process rather than a one-time event. Seek God as the source of wisdom. Ask God to help you develop the discernment to clearly separate His true wisdom from the world's false wisdom. Read the Bible often to discover how God works and learn how to apply biblical principles to your life. Pray frequently for wisdom. Learn from wise people who you respect and admire for their maturity. Measure your growth in wisdom by several benchmarks: growing in your ability to see life's situations from God's perspective; able to relate biblical principles to challenging situations; choosing the best behavior over license in questionable situations; and having a growing humility about your decisions, positions, perspectives, and insights.
* Practice discipline. Develop the ability to regulate your behavior by principle rather than impulse, reason rather than emotion, and long-range results rather than immediate gratification. Work to master a difficult area in your life, such as breaking the control your appetite has over you by fasting until you can exercise more self-control when you eat. Choose just one area of your life to focus on for a yearlong project, such as saving a significant amount of money each month to break a spending habit. Join some other people to work on another project to accomplish a reasonable, shared goal, such as memorizing a certain amount of Scripture by a certain time. Notice how the discipline you develop from your projects spills over into other areas of your life. Replace bad habits with good ones over time. Learn how to control emotions like grief and anger.
* Show courage. Know that, as a leader, you won't be immune to fear, but you can learn to manage your fears so you can move forward despite them. Realize that your salvation experience with Jesus breaks the power of sin in your life. Remember that God is with you all the time – even when you preach, when you lead a difficult meeting, when you referee relational conflicts, when you make controversial decisions, or when you face competing agendas. Memorize key Scripture verses about fear and use them to confront your fear with the truth. Remember that what you imagine might happen to you is generally not as bad as what actually does happen to you. Instead of worrying about your concerns, pray about each of them. If you sense God leading you to take action on something, go ahead and do so even if you still feel afraid, trusting that He will help you. Rest securely in God's love, knowing that as you do, confidence will replace your fear. Obey God, understanding that doing so will render many fearful situations irrelevant.
* Sustain passion. Recognize that passion is much deeper than a feeling – it's a force that God ignites for ministry and propels your service. Ask God to help you see people as He views them. Accept people as they truly are instead of who you would like them to be, and work with them despite their flaws. Relate to people on their terms; rather than expecting them to come to you, go to where they are and enter their world to build genuine friendships with them. Listen more than you talk. Discover people's real needs, and help meet them. Commit yourself fully to the people you're currently ministering to instead of holding back while you look for a better assignment. Give your best effort to where you are right now, and expect God to ignite your passion in the process. Don't let burnout steal your passion. Be sure to take a Sabbath rest each week, retreat occasionally, and take a vacation every year.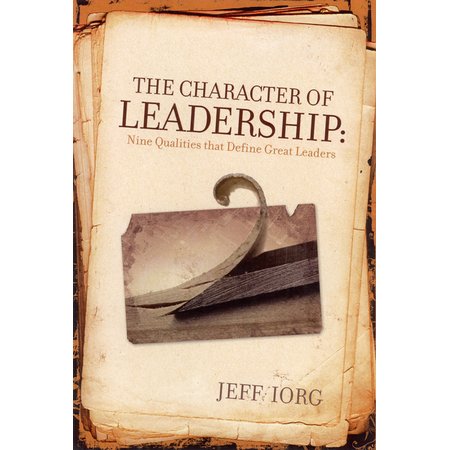 Adapted from The Character of Leadership: Nine Qualities that Define Great Leaders, copyright 2007 by Jeff Iorg. Published by B&H Publishing Group, Nashville, Tn., www.broadmanholman.com.
Dr. Jeff Iorg became the seventh president of Golden Gate Baptist Theological Seminary in August 2004. His background includes experience as a pastor, writer, church planter, and denominational leader. He came to the seminary from a position as Executive Director-Treasurer of the Northwest Baptist Convention. Before his leadership at the state convention, Dr. Iorg was pastor of two churches, Greater Gresham Baptist Church in Gresham, Oregon, and Green Valley Baptist Church in Missouri. He also served as a staff pastor at Elmcrest Baptist Church in Abilene, Texas. From 1990 to 2004, he taught preaching, evangelism and leadership courses as an adjunct professor for Golden Gate Seminary. Dr. Iorg and his wife, Ann, have three adult children - Casey, Melody, and Caleb. He is also a chaplain for the San Francisco Giants.