Out of Life's Storms Emerge Champions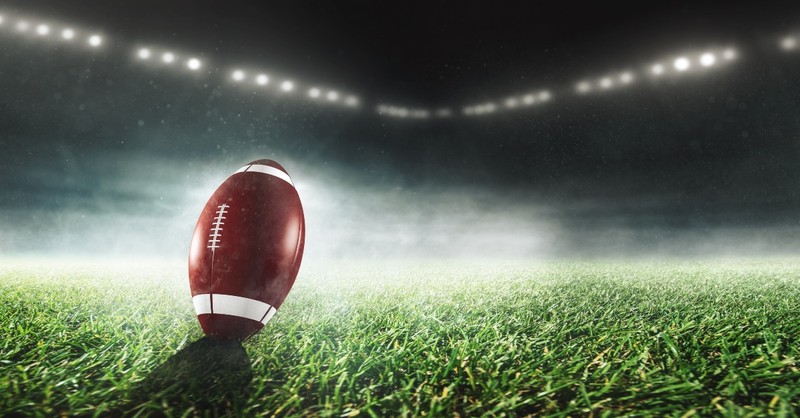 With apologies to baseball fans everywhere, football is actually America's most popular sport. And it's had some legendary games, too, including:
The "Fog Bowl" – the 1988 NFL playoff game between the Philadelphia Eagles and Chicago Bears. Sometime during the second quarter, a thick fog descended upon Soldier Field, cutting visibility to about 10-20 yards for the remainder of play.
The "Fake Spike" – a 1994 legendary comeback win for the Miami Dolphins against the NY Jets. With mere seconds remaining on the clock, everyone expected quarterback Dan Marino to spike the ball to stop the clock, but instead he ran the "clock play" for the win.
Brett Favre's game for his father – the emotionally electric 2003 Green Bay Packers vs L.A. Raiders game, played the day after the death of Packer quarterback Brett Favre's father. Farve completed an incredible 399 yards in the first half, resulting in four touchdowns and an ultimate win.
But perhaps none is so memorable as the so-called "Ice Bowl" of 1967, a Super Bowl game played in Wisconsin in a temperature of -15F, with a wind-chill of -48F. This was truly a game which tested the mettle of the men on a frozen gridiron, and it showed us what true champions look like.
The game was coached by two legendary coaches: Tom Landry for the Cowboys and Vince Lombardi for the Packers. Landry was known as the best defensive mind in the game, and he brought with him the "Doomsday Defense." Lombardi was known as the best offensive mind in the game, and he brought with him Bart Starr and the infamous "Green Bay Sweep."
It was an ultimate showdown of the best against the best, played in unimaginably torturous conditions. And the crowd went wild with excitement...until there was only one left standing.
Lessons from the Storm
"But thanks be to God, who gives us the victory through our Lord Jesus Christ" (1 Corinthians 15:57).
Everybody loves a champion, and everybody wants to become a champion. Turns out, God wants us to be champions as well!
"Yet in all these things we are more than conquerors through Him who loved us" (Romans 8:37).
What "all things" does He help us conquer? Essentially, anything that causes a storm in our lives!
"For I am persuaded that neither death nor life, nor angels nor principalities nor powers, nor things present nor things to come, nor height nor depth, nor any other created thing, shall be able to separate us from the love of God which is in Christ Jesus our Lord" (Romans 8:38-39).
At times, we all experience life through storm-like conditions. Just for fun, let's look closer at the "Ice Bowl," and learn some tremendous life lessons on how to overcome whatever storm we may face.
Champions Emerge from Adversity
The Ice Bowl was played on the coldest New Year's Eve in NFL history.
The temperature was so low that the heating system for the field malfunctioned, and they had to try to protect the field by using a tarp. When they took the tarp off, the moisture created by the warmth of the tarp quickly froze and made the field a solid sheet of ice. The keys on the woodwind instruments of the marching band froze shut, and the brass instrument mouthpieces stuck to the lips of the musicians. The referees could not use their metal whistles. Seven band members suffered hypothermia, and one fan sitting in the stands died.
Now that's cold.
The conditions were considered unplayable, and the adversity posed by such freezing temperatures was literally deadly. But from that kind of adversity emerged champions like no other before.
The Green Bay Packers went on to become one of the greatest teams in NFL history, winning 5 of the first 7 championships and the first two Super bowls. And even though the Cowboys lost the game, they still achieved "championship" status because of their efforts and became known as "America's Team."
The game produced 14 Hall of Fame participants: 6 from the Cowboys and 8 from the Packers.
Harsh and devastating storms are an inevitable part of human life. They happen to everyone, both the good and bad, the godly and the ungodly. But as we see, storms also produce champions who rise from that adversity. Just look at our Biblical champions: there would be no David without the adversity of Goliath; there would be no Daniel without the danger of the lions' den; there would be no Noah without the devastating world-wide flood; there would be no Joseph without the great famine of his day. And ultimately, there would be no Jesus Christ without the cross.
Champions always emerge from adversity.
"Consider it a sheer gift, friends, when tests and challenges come at you from all sides. You know that under pressure, your faith-life is forced into the open and shows its true colors. So don't try to get out of anything prematurely. Let it do its work so you become mature and well-developed, not deficient in any way" (James 1:2-4, The Message).
Since champions always emerge from adversity, we must be committed to having a high "A.Q." or Adversity Quotient. The A.Q. is the level of adversity that we are willing to persevere through, in order to ascend to the top and become a champion.
Some people have meager A.Q.s, and quit when the going gets tough. To them God says "And let us not grow weary while doing good, for in due season we shall reap if we do not lose heart" (Galatians 6:9).
When you quit, you abandon the champion in you.
Some will start off well and then rest on the bench and never get back in the game. To these, God would say "...forgetting those things which are behind and reaching forward to those things which are ahead, I press toward the goal for the prize of the upward call of God in Christ Jesus" (Phil. 3:13-14).
Champions aren't satisfied with marginal success; they want to hoist the trophy. They want to be Super Bowl champs!
Then you have people with high A.Q.s, who are committed to reaching their goals no matter what comes their way, like the Apostle Paul:
"From the Jews five times I received forty stripes minus one. Three times I was beaten with rods; once was stoned; three times I was shipwrecked; a night and a day I have been in the deep; in journeys often, in perils of waters, in perils of robbers, in perils of my own countrymen, in perils of the Gentiles, in perils in the city, in perils in the wilderness, in perils in the sea, in perils among false brethren; in weariness and toil, in sleeplessness often, in hunger and thirst, in fastings often, in cold and nakedness— besides the other things, what comes upon me daily: my deep concern for all the churches" (2 Corinthians 11:24-28).
The Apostle Paul was a champion of champions, a first-century Rambo who was beaten with rods and kept going, shipwrecked and kept going, stoned, thrown in prison, left for dead and yet, kept going! Nothing could keep him down in the storm.
That same high A.Q. and bounce-back is in your DNA when you are a child of Almighty God!
Champions Are Unlikely Heroes
The shivering fans were riveted as the Ice Bowl came to a close. Dallas had made a comeback, with a 17-14-point lead. Then Green Bay got control of the ball with only 4:50 left on the clock, and they drove it down to the 1 yard line. Now it was 3rd and goal, with 16 seconds left and no remaining time outs.
Everyone expected the Packers to pass the ball. If it was incomplete, there would still be enough time to kick a score-tying field goal, and send the game into overtime. Instead, they decided on a play called the quarterback sneak.
Of the eleven television cameras covering the game, camera #5 was frozen and locked into place. It also was the only one that focused on Green Bay guard Jerry Kramer, and captured a perfectly executed block that allowed Green Bay to score the touchdown and win the game.
Bart Starr may have scored the touchdown, but it was Jerry Kramer's block that stole the spotlight. That day, a normally unsung member of the trenches became the star – the team hero in a game that has gone down in history.
Champions are often unlikely heroes.
In the same way, God uses people out of the trenches of society, and causes unlikely people to become heroes. Consider our Bible heroes and how they started:
- King David was a just shepherd boy
- Mary, the mother of Jesus, was just an obscure village teenager
- Queen Esther was just an orphan in a foreign land
- Prime Minister Joseph was just a slave, falsely accused and imprisoned
- Father Abraham was just a sun-god worshipping pagan
- Moses the Deliverer was just a helpless infant, marked for death
So how do we become God's unlikely heroes and champions today? First, follow the "Golden Rule":
"So in everything, do to others what you would have them do to you, for this sums up the Law and the Prophets" (Matthew 7:12).
"You have heard that it was said, 'You shall love your neighbor and hate your enemy.' But I say to you, love your enemies, bless those who curse you, do good to those who hate you, and pray for those who spitefully use you and persecute you, that you may be sons of your Father in heaven; for He makes His sun rise on the evil and on the good, and sends rain on the just and on the unjust" (Matthew 5:43-45).
In other words – act! If you see your brother in need – feed him, cloth him, shelter him. Matter of fact, Jesus didn't say "brother," He simply said, "others." Not "good" others, not "deserving" others. Not others who share your same political views or religion. Just "others."
So take the initiative – that's the stuff that heroes are made off. Put others first, treat other people as you would want to be treated. Feed them, clothe them, shelter them when they are going through a storm. It's what causes unlikely people to become God's storm champions.
Champions Play to Win
The Green Bay Packers became a great team in large part due to coach Vince Lombardi's commitment to winning. And we know that his now famous, inspirational "Play to Win" speech, which spurred his team to victory, was actually based on the Word of God.
"Do you not know that those who run in a race all run, but one receives the prize? Run in such a way that you may obtain it" (1 Corinthians 9:24).
Don't settle for second place, don't be content with a half-hearted performance; it's not about giving it the "old college try." And playing to win (that is, becoming a storm champion), requires developing two especially important habits: pray every day, and read the Word.
"Therefore I say to you, whatever things you ask when you pray, believe that you receive them, and you will have them" (Mark 11:24).
"If you abide in Me, and My words abide in you, you will ask what you desire, and it shall be done for you" (John 15:7).
When we pray and feed on the Word daily, God Himself will cause us to prevail in life and to become champions, whatever storm we may encounter.
Indeed, our connection to God through prayer and our saturation with His Word transforms us into the image of Christ. We become empowered to live for Him in this fallen world, and naturally become bright lights which lead others to the safety of Christ in the midst of their storms.
Photo credit: ©Getty Images/Marcus Millo

Frank Santora is Lead Pastor of Faith Church, a multi-site church with locations in Connecticut and New York. Pastor Frank hosts a weekly television show, "Destined to Win," which airs weekly on the Hillsong Channel and TBN. He has authored thirteen books, including the most recent, Modern Day Psalms and Good Good Father. To learn more about Pastor Frank and this ministry, please visit www.franksantora.cc. Photo by Michele Roman.