Spotlight Gives Pujols Opportunity to Shine for Christ
Brad Locke

BPSports

2007

10 Jul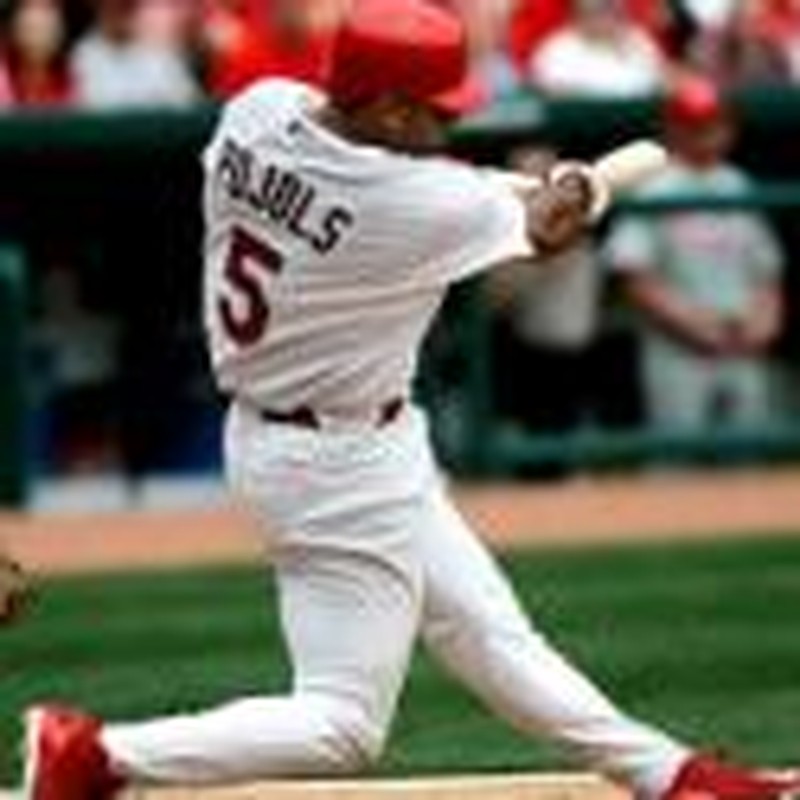 ST. LOUIS -- Bart Millard, lead singer for Mercy Me, was performing at the St. Louis Cardinals' Christian Family Day on June 23 when he noticed someone watching him closely.

It was Albert Pujols, the star slugger and 2005 National League MVP, tapping his foot and singing along.

"I had to shut my eyes. I was looking at him going, 'Oh gosh, don't forget the words,'" Millard said after the event at Busch Stadium. "I'm pretty star-struck around baseball players."

It's hard to blame him, especially when it's Pujols watching. Through July 2, the 27-year-old first baseman is hitting .330 with 266 home runs over the first six-plus seasons of his already brilliant career and has become a Gold Glove-caliber fielder.

Millard said he considers Pujols "one of the greatest ever," and he's hardly alone in that opinion.

But Millard didn't really need to be nervous. Pujols has been called Prince Albert, Phat Albert and the Great Pujols, but unlike most people, Jose Alberto Pujols doesn't buy into all that hype.

Pujols on Pujols:

"Just because I've got God in my heart and I'm a great baseball player, that doesn't mean that I'm perfect. I'm just a human person just like everybody else here, and I make mistakes. Only God was perfect. He's obviously using me by giving me this platform so I can honor Him and get to know more people and just share the gospel with those who need."

OK, so he certainly sounds humble.

Pujols spoke those words after the Christian Family Day event concluded, and after posing for several photographs and signing dozens of autographs. The Cardinals had defeated Philadelphia 8-3 earlier that day, with Pujols going 1-for-2 and scoring two runs.

It had been a long, hot day for Pujols. Yet he found the time to grant a seven-minute interview to a reporter from Tupelo, Miss. Once shy with the media because of the language barrier, the Dominican was downright loquacious.
At interview's end, he shook the reporter's hand and held on for a moment to ask a couple of questions of his own.

OK, so he acts humble, too. It's not just an act, though.

Evangelist Tony Nolan, who was the keynote speaker on this day, has gotten to know Pujols in recent months.

"One of the things I'm learning about Albert is that he is off the field what he is on the field. That's huge," Nolan said. "When he gives God the glory, that's large, man."

Pujols has never had a problem showing his gratitude to God. He points to the sky at the end of every home run trot, and he's been very generous with his time and money for Christian causes.

Speaking about his faith, though, has been another story. Even though he's been in America a long time – he went to high school in Independence, Mo. – it took him years to feel comfortable addressing crowds.

"He can play in front of 40 million people, but speaking in front of all of them, he really gets nervous," said his wife, Deidre.

Albert and Deidre have been involved in the last seven Christian Family Days in St. Louis. In the past, Pujols would simply come out and wave to the crowd.

This year, he spoke for a few minutes, giving his testimony.

"I came to a point about five years ago," Pujols said, "I'm like, you know what, it's not about Albert Pujols, it's not about being scared, it's about honoring and serving God. I'm going to go out there and give my testimony and speak because that's what the people want to hear."

In 1998, Pujols was an 18-year-old senior in high school when he met Deidre. He'd lied his way into a salsa club, and told Deidre, who was old enough to be there, that he was 21.

"I didn't care," Deidre said. "We went out to dinner the first night, and we've been in love ever since."
This was no whirlwind romance, though. Deidre was a single mother at the time but had since come to know and love Christ. One of the first things she did was invite Albert to church. She said she didn't want the relationship to go any further until she knew Albert would put God above everything else.

Two weeks later, Albert gave his life to Christ.

"I wanted to get a man who was going to be on my page. I needed an encourager, not somebody that would take me back to my (old) lifestyle," Deidre said.

The couple married Jan. 1, 2000. They now have three children, the oldest of which, Isabella, has Down Syndrome. Albert and Deidre established the Pujols Family Foundation in 2005, which "is dedicated to the love, care and development of people with Down Syndrome and their families," according to the foundation's Web site. The foundation also helps impoverished families in the Dominican Republic.

The Cardinals won the 2006 World Series with an unlikely run through the playoffs. Pujols was a big part of the championship, of course, hitting .331 with 49 home runs and 137 RBIs.

Six months later, Pujols and his teammates found themselves in the deepest of valleys. Already struggling on the field, the Cards suffered a heart-rending loss when relief pitcher Josh Hancock was killed in a car wreck on April 29.

It reminded Pujols of the preciousness of life.

"It's one of the things you look at and say, 'Hey, God's the only one that offers us eternal life.' We want to make sure that we do have eternal life, so we can see each other in heaven," Pujols said.

As one can imagine, being a superstar athlete brings with it myriad and countless temptations, such as being angry at God for what happened to Hancock. Pujols' spiritual equilibrium stays in kilter thanks to his wife, yes, but also his family away from St. Louis – his teammates.

Several Cardinals, including Braden Looper, So Taguchi and Adam Wainwright, are professing Christians. The group holds a Bible study every Tuesday.

"Every year we lose a couple of strong Christian guys. It seems like it doesn't affect us every year, because every year there's like three or four guys that come in, and they're strong believers," Pujols said.

"You know God's got your back, but you also have to have people that pray for you. And I have so many people, and my teammates, that pray for me. It's just a beautiful relationship, not just as a professional player, but spiritually."

The kind of support he gets from his teammates is one reason Pujols has been bolder in proclaiming his faith. He's come to learn that with so many people behind him, and of course with God behind him, there's no reason for him not to stand up in front of thousands of people and remind them that while others might treat him like a god, his purpose is to serve the true God.

"Every time I reach base or step on the plate," he told the Christian Family Day crowd of 9,000-plus, "I remind myself it's not about Albert Pujols, it's about Jesus Christ."

Observing her husband's newfound courage, Deidre said, "Albert's come a long way."
WWW.BPSPORTS.NET Copyright (c) 2001 - 2007 Southern Baptist Convention