5 Powerful Prayers for Employment and a New Job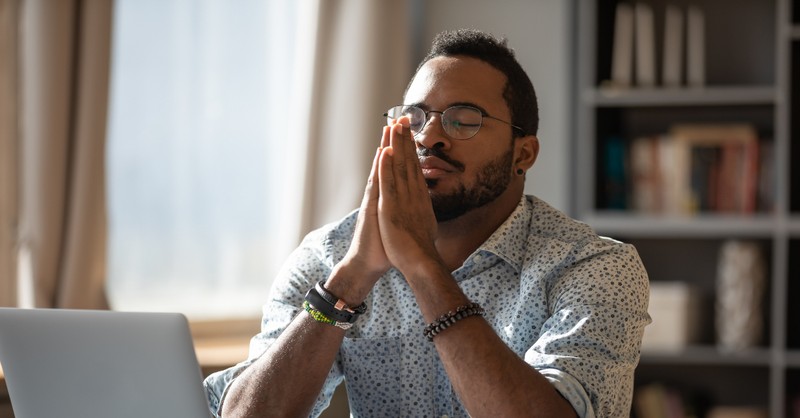 The topic of finances and work can be a constant worry to some because it makes up such a large part of our daily lives. There is stress in not making enough money, fear in losing a job, jealousy in seeing someone else's accomplishments when you've worked just as hard, and weariness in a taxing, underappreciated position. Sometimes you just want to quit and do something else. Other times you need something, anything to support yourself and your family; yet, opportunities seem scarce.
Whether you're miserable at your current job or are unemployed and searching, your first reaction may be to try and take control of the situation. When we try to control the situation ourselves, we tend to get stressed easily and may begin to feel down when we don't see the results we want. What we need to do is to take our impatience, our longing for blessing, our desire to support loved ones, and our hurt from the workplace and put it at the feet of the only One who is in control—Jesus, our sovereign Savior and King.
We have a God who can relate, and he is a God who wants to hear from us even in our most trying moments. Our heavenly Father knows everything that's going on in our lives, but he still wants us to seek him and confide in him. He wants us to trust him that he will hold us close no matter what turns our lives may take. Use these prayers for employment and a new job to speak powerful words of belief and hope over your life.
A Prayer for Employment
Dear God,
You know my needs. You know my desire for a job, for work I enjoy doing, for the next step in my career to present itself. I pray that you would guide me as I continue on this job hunting journey. May I focus first on your will for my life, putting your desires and your plan above my own wishes and wants. Open doors to new opportunities that you desire for me, and equip me with the skills, knowledge, and wisdom I need to take steps forward in this process. As I craft my resume, write cover letters, submit my applications, connect with new companies and potential employers, and go on interviews, give me the words to speak and the courage to share who I am and what I can do. Give me confidence that can only come from you, and give me humility too. I trust you, Lord-- my life is in your hands. Your will be done. Thank you for being near to me every step of the way and thank you for always providing for my every need. May this all be for your glory.
In your name, Amen.
Prayer for a New Job
Heavenly Father, I come before You with gratitude in my heart for the opportunity that lies before me—a new job, a new beginning. I thank You for the skills and abilities You have given me and for guiding me to this new endeavor.
Lord, as I embark on this journey, I ask for Your wisdom and discernment. Help me to learn quickly, to adapt to my new surroundings, and to be a valuable asset to my new team and organization.
I pray for Your guidance and favor in all that I do. Open doors of opportunity, and grant me success and fulfillment in this new role. May my work be a reflection of Your goodness and grace.
Lord, I commit this new job into Your hands. Help me to maintain a positive attitude, to persevere through challenges, and to always work with integrity and diligence.
I also pray for the relationships I will form with my colleagues and superiors. May they be filled with respect, collaboration, and mutual support.
Thank You, Lord, for this new beginning. I trust in Your provision and guidance every step of the way. In Jesus' name, I pray. Amen.
Prayer for Comfort After Job Loss
Heavenly Father, I come before You with a heavy heart, as I have experienced the loss of my job. In this moment of uncertainty and anxiety, I turn to You for comfort and solace.
Lord, I acknowledge that You are my provider, and I trust in Your plans for my life. Though this time is challenging, I know that You are with me, and I seek Your guidance and peace.
Help me, Lord, to navigate this period of transition with grace and faith. Grant me the strength to endure this season and the wisdom to discern the next steps on my journey.
I pray for Your comfort to envelop me during moments of doubt and fear. Remind me of Your promises, that You will never leave me nor forsake me.
Lord, open doors of opportunity that align with Your will for my life. Lead me to a new path that reflects Your purpose and plan. In the midst of this job loss, I also lift up my worries and anxieties to You. Replace them with a sense of peace that can only come from You.
I pray for support from family and friends during this time, and I ask for the courage to reach out when I need it. Thank You, Lord, for being my refuge and strength. I trust in Your provision and Your promise to work all things together for my good. In Jesus' name, I pray. Amen.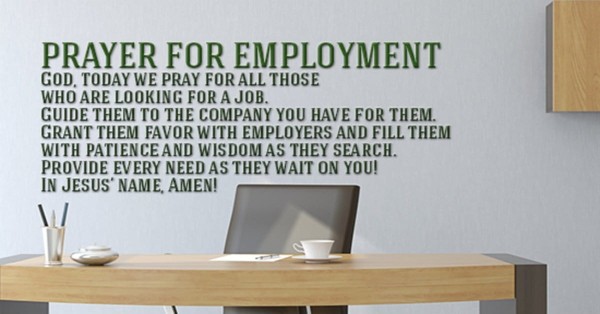 Prayer for an Interview
Father God, I come before You with gratitude for the opportunity to interview for this position. I acknowledge that You are the source of all wisdom and knowledge, and I seek Your guidance and favor as I prepare for this important meeting.
Lord, I ask for Your peace to calm my nerves and anxiety. Grant me clarity of thought and confidence in my abilities, knowing that You have equipped me for this moment.
I pray for the interviewers, that they may see my potential and suitability for this role. May our conversation be one of mutual respect and understanding.
Help me, Lord, to answer questions with honesty and integrity, and to communicate effectively. Let Your presence be felt during the interview, guiding my words and actions.
I commit this interview into Your hands, trusting in Your perfect plan for my life. Your will be done in this opportunity, whether it leads to success in this position or in another direction.
I place my trust in You, knowing that You hold my future. Thank You for Your unwavering love and support. In Jesus' name, I pray. Amen.
5 Bible Verses to Remind You God is Listening
Download this free PDF of Prayers for Faith to use in times of uncertainty. Trust in the Lord and He will provide what is best for your soul!
When you have a rough day at work and you just don't understand how your co-worker or boss could have said something so rude to you, when you feel like you put your best in but you keep getting corrected, and when you did everything that you were asked but the company let you go…remember the gospel. Remember that Jesus died so that you could have life, remember that Jesus said this life would be challenging, and remember that Jesus said he would never leave you. Thank God for his presence in your life, then pray for every person that let you down or hurt you; pray that God would open their minds and their hearts to have the same gospel hope that you do and forgive them.
"Paul wanted people to see Christ more clearly, and he knew that God's power would accomplish that. The gospel is the power to change people (see Ro 1:16), and when people see Christ more clearly, they are empowered to live and act as God intended.

We can apply Paul's teaching in three ways. First, let us pray that God's power may help us see the issues we encounter at work as opportunities for God to show his glory. Second, let us pray that God's power conforms us to the image of Christ. Third, let us pray that God's power enables us to extend his love to others. God's transformative and creative power is upon us, and can significantly inform our work and the way we live our lives.

For various reasons, it is easy to forget to pray about the ups and downs of our work. We may focus on praying for family and friends, or on our own personal growth or needs. But we neglect the issues that arise from or at work. Yet God wants to open our eyes to see how he is able to do more than we can ask or imagine (see Eph 3:20) in every sphere of life. His power changes not only the way we see, but also how we pray. He wants us to express our thanks to him for the work that we do, as well as petition him about every concern we have. And he wants us to realize that prayer can change even our circumstances at work." -From How to Pray for Your Work, in the NIV Faith & Work Bible
---
This article is part of our larger Prayers resource meant to inspire and encourage your prayer life when you face uncertain times. Visit our most popular prayers if you are wondering how to pray or what to pray. Remember, the Holy Spirit intercedes for us and God knows your heart even if you can't find the words to pray.
Prayer for Those Seeking God's Calling on Their Lives
5 Prayers for Guidance
Prayer to Follow God's Calling

Prayer for God's Presence
Prayer for Strength
Prayer for Peace
Now available is our new Daily Prayer devotional! An easy way to start your day with prayer; read today's prayer and sign up to receive it by email.
Photo credit: ©GettyImages/fizkes; Video credits for audio, video, photos: Soundstripe, Storyblocks, LightStock, ThinkStock