A Prayer for the Continued Crisis in Ukraine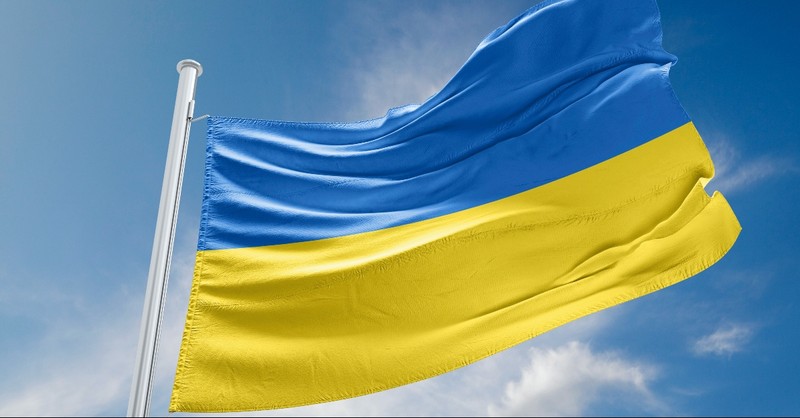 As we watch the situation in Ukraine continue to unfold, it's easy to feel anxious and question where God is in the chaos.
It's easy to ask questions like, "Does God care about what's going on in Ukraine?" "Has he left his children to fend for themselves against their attackers?" "Why doesn't God put a stop to war?" "What can I do to help?"
If you've asked yourself these questions, know you're not alone. But also know that there are answers to your questions.
Does God care about what's going on in Ukraine?
Yes. Psalm 7:11 tells us that God is a righteous judge and a God who feels indignation every day. The KJV uses the word "anger" instead of "indignation." In other words, God is angered yesterday, today, and tomorrow over the evil and injustice that is taking place in Ukraine.
Has God left his children to fend for themselves against their attackers?
No. While we can't always know when or how God will intervene, we see his character in Deuteronomy 31:6 when he says, "Be strong and courageous. Do not fear or be in dread of them, for it is the Lord your God who goes with you. He will not leave you or forsake you."
Why doesn't God put a stop to war?
He will. No one cares more about evil and injustice than our Savior, Jesus Christ, and wars will cease in God's perfect timing. We are reminded in Revelation 21:4-5 that "He will wipe away every tear from their eyes, and death shall be no more, neither shall there be mourning, nor crying, nor pain anymore, for the former things have passed away. And he who was seated on the throne said, "Behold, I am making all things new."
"What can I do to help the people in Ukraine?"
Pray. There are many ways to give and offer relief through different groups, and I recommend doing so if you feel led. But if you don't have the means to help in a tangible way, or perhaps you feel paralyzed by all the different organizations and do not know who to trust, don't forget the power of prayer! This is a gift you can give to the suffering at any time of any day.
"How can I pray for the war in Ukraine?"
Just pray. We know from Romans 8:26 that "the Spirit himself intercedes for us with groanings too deep for words." In other words, we can come before the Lord on behalf of our suffering brothers and sisters and not say a word. Romans 8:34 reminds us that Jesus intercedes for us. So don't worry if you feel your prayers are lacking; as some like to say, "Jesus fixes our prayers on their way up."
Below is a prayer I hope will help guide your thoughts and prayers as you process the heartbreaking news coverage. Our brothers and sisters in Ukraine, Russia, and the surrounding countries need our prayer support. Let's take our questions, fears, and requests to the One who can bring about change.
Father God,
As we watch the events unfolding in Ukraine, we beg for your mercy. We pray for our brothers and sisters who are now living in a war-torn country. We ask that you would encourage them with your Word, minister to their hearts through the Holy Spirit, and allow them to feel the prayers on their behalf from all over the world.
Father, as we sit in our comfortable homes, complaining of gas prices and minor grocery shortages, remind us of all those currently hiding in bomb shelters, sleeping on concrete floors, and not knowing where their next meal will come from.
As we hear stories of women preparing to give birth but who can't make it to the local hospitals, Lord, fill us with compassion and bring us to our knees in prayer. Be with these women. Provide a safe environment for these babies to come into the world. Give these women hope and comfort. Remind them of your presence in their lives.
Be with all the children who are scared and confused. Father, give the children a supernatural ability to stay calm and be obedient to their parents in this chaotic time. Please give the parents supernatural patience with their children and wisdom on how to explain the madness that has turned their lives upside down.
Father, be with the elderly. The sick. The handicapped. Be with those who can't care for themselves and are at the mercy of others to get through this war. Father, bring helpers to the afflicted. Guide your children to those who need a helping hand and comfort from your Word.
Please be with those who have lost loved ones. Some have lost their lives while fighting to preserve their homeland, and others have been caught in the crossfire. As bombs are dropping and gunfire rings out, bring peace to your children. Remind them that you are the I AM, and justice is yours.
As we see pictures of empty baby strollers representing the murder of infants and children, it's difficult to imagine the grief that is going in the hearts of so many. Break our hearts to mourn with those who mourn. Don't let us become numb to these images and scroll past them on social media without bringing these families before you in prayer.
Father, we pray for Vladimir Putin. We beg of you, Lord, to stop him in his tracks. We beg that you would thwart his plans of destruction. Ultimately, we pray that you would change his heart. That you would bring him to yourself and make him yours. Turn his heart of stone to a heart of flesh. Bring him to his knees. What an amazing testimony it would be to see him repent of his actions and to hear him say that the King of Kings woke him up, opened his eyes, and saved him. Lord, we pray for the soldiers that are under Putin's command. We pray that you would soften their hearts as well. We pray that they would see the unnecessary destruction and lay down their arms and refuse to carry out their orders. We know that you have worked in the hearts of some soldiers already, and for that, we are so grateful.
We don't claim to know your plan and purpose, Father. We acknowledge your sovereignty and place our trust in you. We trust that you will work these events for your glory and for the good of those who love you, even if we don't understand how that is possible. Give us confidence in the reality that suffering has meaning in purpose in your eternal plan. Remind us that the lives already lost have not gone unseen. Vengeance is yours, and we trust that you will right all wrongs one day. Until then, we place our trust in your unwavering hand, and we cry out, "Come, Lord, Jesus, come."
In Jesus Name
Because prayer is the most tangible expression of trust in God, let's keep the prayers going. What a glorious day it will be when on Heaven's shore, we meet our brothers and sisters who were victims of this invasion, and we can say to them, "I trusted in God, therefore I prayed for you."
Related articles:
3 Ways to Activate Your Faith in the Midst of War
Is "Wars and Rumors of Wars" Part of the End Times?
Beth Ann Baus is a wife and mother of two adult sons. She is a freelance writer and author of Sister Sunday, My So Much More, and His Power, Our Weakness: Encouragement for the Biblical Counselor. In her writing, Beth often pulls from her own experiences of abuse, anxiety, depression and OCD. Beth has a heart for homeschooling, women's ministry, and is an ACBC-certified Biblical Counselor. She loves serving alongside her husband and pointing couples to the Word for strengthening their marriages and home life. You can find more from her at www.bethannbaus.com.
Related podcast:
The views and opinions expressed in this podcast are those of the speakers and do not necessarily reflect the views or positions of Salem Web Network and Salem Media Group.
Related video:
Stock Footage & Music Courtesy of Soundstripe.com Thumbnail by Getty Images
---
Now available is our new Daily Prayer devotional! An easy way to start your day with prayer: read today's prayer and sign up to receive it by email.
This article is part of our Prayer resource meant to inspire and encourage your prayer life when you face uncertain times. Visit our most popular prayers if you are wondering how to pray or what to pray. Remember, the Holy Spirit intercedes for us and God knows your heart even if you can't find the words to pray.
Serenity Prayer
The Lord's Prayer
Prayer for Peace
Morning Prayers
Good Night Prayers
Prayer for Healing
Prayer for Protection
Prayer for God's Help
Prayer for Anxiety
Prayer for Strength