3 New Year's Eve Prayers for Hope-Filled Blessing in the Upcoming Year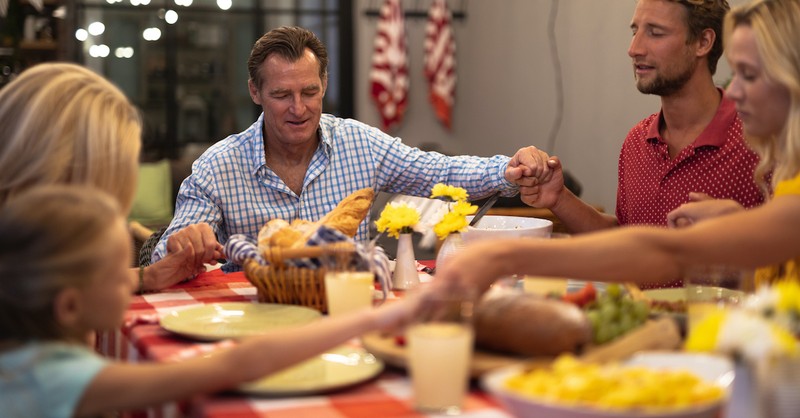 It's New Year's Eve, or at least, close to it. You've experienced some hardships this past year and the idea of yet another year may fill you with dread. We have so many prayers to lift up after the clock strikes midnight, but what about New Year's Eve prayers? Do we have any of those we can specifically lift up when we feel especially nervous about the year to come? In this article, we'll explore what the Bible has to say about prayers for the New Year and give you some specific prayers you can say on New Year's Eve as you pray blessings over the year to come.
Don't worry if you want to deviate from these prayers or come up with some of your own. These serve as a way to spark ideas or offer words if you cannot think of the words to say when you ask for God's protection and grace as you enter a new season of life.
Why Pray on New Year's Eve
There is technically no "right" way to pray. Many of us may have learned how to pray using an acronym like ACTS (adore, confess, thank, supplicate), or something similar. Let's do an outline based on the Lord's prayer found in Matthew 6.
Greeting and Proclaiming God's Name to Be Holy
"Father … Hallowed by thy name." We acknowledge God's dominion and authority. We have a holy and powerful God and knowledge of such things strengthens us as we pray over the new year.
Asking God's Will to be Done
We may have plans as to how we think this next year should go. But God often has a way of surprising us. Before the year even starts, we need to surrender it over to him.
Asking for Provision of Needs
Many of us experienced scares this past year. We lost jobs, couldn't afford groceries for the week, and often couldn't tell when our next meal was coming. Ask for the Lord to provide for the needs. As he has his eye on the sparrow, he cares for even the hairs on your head.
Confess Your Sins and Repent
We go into the New Year with the resolution to become more like Christ. In doing so, we need to put to death any temptation we have allowed to grab a foothold in our lives. We also need to find ways to forgive those who have wronged us in the past year.
Pray to Be Delivered from Temptation
Even though Satan uses the same bag of tricks, he often disguises it in new ways. Even in this past year, we've witnessed evil in different ways than ever before. Ask God to protect you from evil going into this new year.
3 New Year's Eve Prayers for Entering the New Year
Dear Heavenly Father, I pray as we are moments away from the new year. No matter what your plans are for me in the next 365 days, I ask that you deliver me from any temptation or sin that may still be lurking in my life. Search me and show me in which areas I lack, so that I may become more like you this year. Help me to forgive others who have wronged me in this past year. Let me forgive them as you have forgiven me. So they may know they too can have second chances, like the one you have given me. Amen.
Jesus, remind me of your strength and power as I enter the new year. This past year I found myself in want of food or at times worried about finances and how I would pay the bills for the week or month. Please help me to recall all the ways you have come through in my past and give me comfort in the fact that we experience many seasons. Not every season ends in a harvest, but you provide for us during times of drought, famine, and need. I ask that you give me and my family our daily bread. And help to open my eyes to others who are in need of help. Allow me to be the hands and feet of Jesus this year and to aid the least of these. So that they may see you and glory you, our Father in heaven. Amen.
Lord, I want to dedicate this next year to you. I know it hasn't begun yet, but I want it to have a wonderful start. Let your will be done, not mine. I would be lying if I said I haven't already paved some plans for myself this next year. But if they do not align with your will, I ask that you do not allow them to happen. You know what is best for me. You know me far better than I know even myself. I ask that this be your year. I surrender myself as an empty vessel. Fill me with your joy and love, so that I may outpour it onto others. Amen.
Start the year off right before it even begins. Cover it with prayer and ask that God move in the next year. He will do so, often in a way that you don't expect.
What Does the Bible Say about the New Year?
Those in the Bible would not have celebrated the New Year on January 1, but they did have a concept of years and time passing. They often categorized such periods of transition as seasons (see Ecclesiastes 4). Let's explore some passages of Scripture and what it has to say about the changing of seasons.
2 Corinthians 5:17: "Therefore, if anyone is in Christ, the new creation has come: The old has gone, the new is here!"
No matter what the new year will bring, we know that God has transformed us. Our old way of living has gone away and we lead new lives now. Even if we fail at our New Year's resolution or if the year doesn't go according to plan, we know that God has charted the course of our lives and holds us in his hand.
Romans 8:18: "I consider that our present sufferings are not worth comparing with the glory that will be revealed in us."
Many of us went through a number of trials this past year. We may have lost someone dear to us, fallen prey to sickness, or felt the strain of relationships that we wish we could mend. No matter what the case, and no matter what the suffering, we know that each year we get closer to Christ's return. When he comes to set the world right, we will no longer shed tears or experience suffering.
Isaiah 43:19: "See, I am doing a new thing! Now it springs up; do you not perceive it? I am making a way in the wilderness and streams in the wasteland."
God continues to work behind the scenes. In the wasteland, he makes a way for us in the wilderness. Even if we can't see clearly this next year, we know that God will present us with opportunities to share his love and to help a hurting world.
For other great verses for the New Year, check out New Year's Bible Verses.
For more prayer ideas, read New Year's Prayers.
Photo credit: ©GettyImages/Wavebreakmedia
---
Hope Bolinger is an acquisitions editor at End Game Press, and the author 21+ books. More than 1400 of her works have been featured in various publications. Check out her books at hopebolinger.com for clean books in most genres, great for adults and kids.
---
This article is part of our Prayer resource meant to inspire and encourage your prayer life when you face uncertain times. Visit our most popular prayers if you are wondering how to pray or what to pray. Remember, the Holy Spirit intercedes for us and God knows your heart even if you can't find the words to pray.
Serenity Prayer
The Lord's Prayer
Prayer for Peace
Morning Prayers
Good Night Prayers
Prayer for Healing
Prayer for Protection
Prayer for God's Help
Prayer for Anxiety
Prayer for Strength