How to Have Peace Outside of Comfort Zones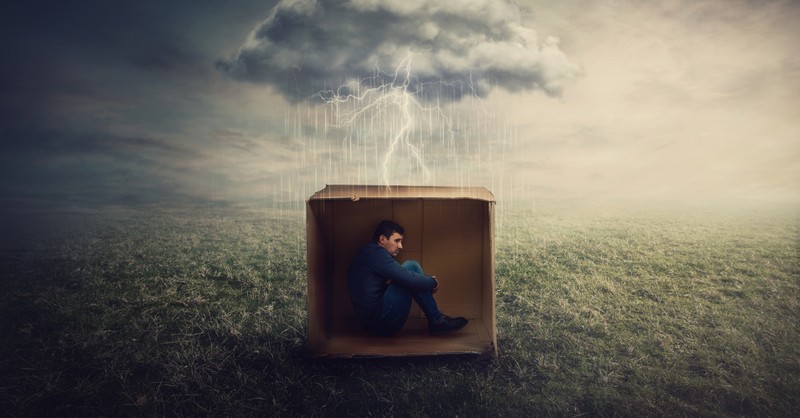 There is a security within our comfort zones that our fleshly hearts fight for, but we often find that life has other plans. Our comfort zones are familiar, known, and they often reside where anxiety is seldom present. When life changes and we are thrown outside these established boundaries, we can still find peace; a peace only to be given by God.
An Oxymoron?
At first consideration, the idea of having peace when thrown in the middle of something new, uncomfortable, or unknown seems like an oxymoron. What we should take into account is that God Himself is with us in any new territory we step foot into. He has proven this time and time again in the Bible, and those promises hold the same truth for us today. Hebrews 13:8 reminds us that He is the same yesterday, today, and tomorrow, meaning that whatever change comes about in our own lives, we can be assured that God is never changing.
Examples of His Faithfulness
The Word of God provides example after example of God's faithfulness, even in the darkest of places. In the book of Daniel, we are told the story of a righteous man and his devotion to God. The ruler during Daniel's time issued a decree which forbade prayer and worship to the one true God, but Daniel's allegiance was to God, not to man. Therefore, he continued to pray three times a day to God. When news of this was discovered, Daniel was punished by being thrown into a den of lions. Clearly, this would be outside of anyone's comfort zone, yet Daniel knew that whatever was to occur, he would not walk such a journey alone. We are told in 6:22, "My God sent his angel, and he shut the mouths of the lions. They have not hurt me, because I was found innocent in his sight. Nor have I ever done any wrong before you, Your Majesty." Daniel was granted divine peace from God, even in the darkest of places. If God can give a mortal man peace even when he is surrounded by ferocious carnivores, consider what He can do in our own situations.
Eyes on Christ
Many times, God Himself will call us to uncharted waters. At first, it can feel daunting, scary, and we may even find ourselves questioning if it really can produce a single drop of goodness, but don't give up. Recall how Jesus asked Peter to step out of the boat and walk to Him when he was out on the water. Logically, everything in him must have determined that the act of stepping out onto water would not produce a firm footing to stand on, but he kept his eyes on Christ. It was only when he took his eyes off of Jesus and doubted that he sunk down into the water. Yet even in that wavering, Jesus was right there to offer a hand to pull him up. In the same way, Jesus may call us to step out of the boat in our own lives and do something that, to everyone else, and even our own reasoning, seems impossible. When our eyes and hearts and minds are focused on Him, that is where the miracles occur, and that is where we grow in our journey. Believe that if He has called you to it, there is a plan to grow you through it.
Promises to Hold Firm To
In the Gospel of John 14:27, Jesus empathizes with our human condition, but He offers a beacon of hope, saying, "Peace I leave with you; my peace I give you. I do not give to you as the world gives. Do not let your hearts be troubled and do not be afraid." The words of Jesus are not by mistake, and they are more intentional than we can even comprehend. It is not just a coaxing offer to quiet us, but a direct assurance He seeks to give us in offering His peace despite our circumstances. 1 Peter 5:7 urges us to "Cast all your anxiety on him because he cares for you." The act of casting something was one that Peter knew well from his days as a fisherman before stopping everything to follow Christ. When fishermen cast a net, it is not something they just do once before calling it a day. Rather, it is a repetitive action. In the same way, when we cast our anxieties and cares upon Jesus, we can do so again and again. We are not a bother or burden to Him; in fact, He delights in us coming to Him with our true feelings in communication with Him. So, let us be encouraged to cast our anxieties on Him but also invite Him in to grant us the peace we desperately need.
A Prayer for Peace
Lord God,
We thank You for this day. Father, we know that in this lifetime, it is impossible to always remain in our comfortable and safe bubbles. We know that, be it through circumstances of life or a call from You, there will be times in which we are far from those borders of security, yet we also know that even in those times, we can have true peace. This true peace comes from You and You alone. Vulnerably we come before You for this peace today in whatever circumstance we are facing. We cast these cares upon you and truthfully admit that it is frightening. Lord, we know You love us so much and that You will never leave us. Pour over us with Your peace in these moments, and help us to see that we are not alone. Allow us to not only find peace in You but to hear Your voice clearly and soundly today. It is in You that our peace abides.
In Jesus' Name,
Amen
Peace in chaos is possible when we decide to make God our source of peace. He can grant us peace that goes beyond all understanding (Philippians 4:7), and we can fully trust Him. No matter what you are facing today, remember peace is your portion from God's abundance for you. Go before Him and ask sincerely for His peace, inviting Him into whatever is before you today.
Photo credit: ©Getty Images/Bulat Silvia
Cally Logan is an author and US History teacher from Richmond, Virginia. In her free time, she enjoys mentoring youth and spending time in nature. She is the author of Hang on in There, Girl! and Dear Future Husband: A Love Letter Journey While Waiting for God's Best. Check her out on Instagram and Twitter, @CallyLogan and TikTok Cally_Logan.
This article is part of our Prayer resource meant to inspire and encourage your prayer life when you face uncertain times. Visit our most popular prayers if you are wondering how to pray or what to pray. Remember, the Holy Spirit intercedes for us, and God knows your heart even if you can't find the words to pray.
Serenity Prayer
The Lord's Prayer
Prayer for Peace
Morning Prayers
Good Night Prayers
Prayer for Healing
Prayer for Protection
Prayer for God's Help
Prayer for Anxiety
Prayer for Strength
Related podcast:
The views and opinions expressed in this podcast are those of the speakers and do not necessarily reflect the views or positions of Salem Web Network and Salem Media Group.
Related video:
Stock Footage & Music Courtesy of Soundstripe.com Thumbnail by Getty Images
---
Now available is our new Daily Prayer devotional! An easy way to start your day with prayer: read today's prayer and sign up to receive it by email.