A Firefighter's Prayer- Hope-filled Words for Protection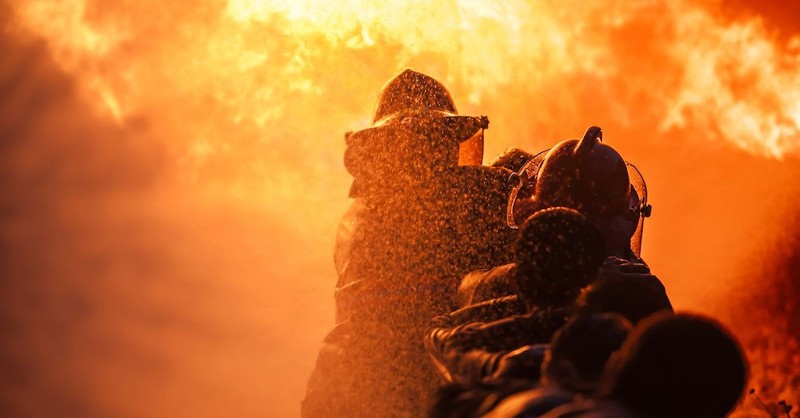 "God is our refuge and strength, an ever-present help in trouble." Psalm 46:1
Though we are all called in a unique and specific way to put our lives on the line for God's heavenly purposes, there are some who choose to answer the call of firefighter. I cannot pretend to know what it's like to walk into an inferno. Though I have friends and family that answer this call every day, what they actually experience is beyond my understanding. Some know brave men and women that came to the rescue, others feel the loss of those that have given their lives to save others.
Still, I offer this prayer today, as a token of gratitude for your service, and as a note of encouragement to bring you hope as you face the power of the flames. This firefighters prayer is a reminder that you are never alone, God is with you, and many are praying for you. Thank you for risking your life for others. It's never in vain and always appreciated. "Be strong in the Lord and in his mighty power" - Ephesians 6:10.
A Prayer for Firefighters to Pray
Father,
Praise You for the call to be a firefighter. For trusting us to do a job that requires an inhuman amount of bravery, selflessness, and dedication. We know that motivation comes from You. And so, we pray as Mark, wrote …"Don't be afraid; just believe" - Mark 5:36. There were many things about Jesus that scared His disciples. Walking on water, feeding thousands with a simple basket of food, and raising the dead for another chance on earth. Christ still does the impossible. When we walk into a fire, the odds are against us. As time slips by so do the chances of emerging from the smoke. Yet, with the courage You have gifted us, we continue to face it, daily. We get to save lives. Thank You, Father, for that privilege. 
Thank You for all the times we have put out the fire and saved the day. For all those that have been rescued from death, and property spared. When we doubt we can do it again, let us trust that You can and You will. "But the Lord is faithful, and he will strengthen you and protect you from the evil one" - 2 Thessalonians 3:3. Thank You for all those that have trained us to be firefighters, guided us as mentors, and gone before us in service. We honor their memory and thank You for their mark on our lives. May our lives pass that legacy to those coming up behind us, looking to us for an example. Thank You for the bravery and dedication of those that fight fires alongside us. Thank You for the families and friends that pray and support us as we daily lay down our lives for our neighbors. "The Lord is my light and my salvation-whom shall I fear? The LORD is the stronghold of my life- of who shall I be afraid?" - Psalm 27:1
Help us to live out the words of Psalm 27:1 as the calls for help come in every day. Remind us, though we witness terrible scenes of destruction and soul-wrenching sadness, that You are in control. Father, You are good, and You have good plans for us. You are love, and You love us. Comfort our hearts when what we see and experience in the field do not make any sense to us. "Keep me safe, LORD …" - Psalm 140:4. Keep us physically safe, and guard our hearts as we do our jobs, today and every day.
Not all fires we fight get doused in time. When the flames rage out of our control and beyond our ability to put them out … when "we are hard pressed on every side," remind us that we are "not crushed; perplexed, but not in despair; persecuted, but not abandoned; struck down, but not destroyed" - 2 Corinthians 4:8-9. Let us not lose hope in these dire situations. Help us wield the truth of 2 Timothy 1:7 in hard situations that seemingly have no justifiable restitution: "For the Spirit God gave us does not make us timid, but gives us power, love, and self-discipline" - 2 Timothy 1:7. When loss doesn't make sense, and pain abounds, help us hold on to Your word and Your promise to protect us. Bless us to be strong and courageous, not afraid or terrified …"for the Lord your God goes with you; he will never leave you nor forsake you" - Deuteronomy 3:16. So often, Father, You tell us not to be afraid. "Do not be afraid…" - Isaiah 54:4. Let that be our battle cry.
Bless us and keep us safe. Protect our bodies from the heat of the fire. We pray Your blessing over the equipment wear and use to fight fires, the trucks, and helicopters that transport us to the scene, and gear we use to extinguish the fire. Whether house-fires, wildfires, explosions or other matter of alarms, be in every situation guiding us and protecting us. May the decisions we have to make be quick, correct, and lifesaving. Protect us and our colleagues from the unpredictable nature of fire. Fight our fear as we fight the fire.
Bless our families and friends, who let us go knowing what is at risk. Protect them and remind them of our constant and unfailing love for them. Strengthen their hearts, and comfort their worries and anxieties. Care for them while we are away. Father, bless us as we answer the call again today. May we rescue all those who call us in peril and return home safely. For we know the plans You have for us are good, and we trust You. In Your hands, Father, we place our lives.
In Jesus' Name,
Amen.
For more verses about courage, click here.
For more verses about protection, click here.
Meg writes about everyday life within the love of Christ on her blog, https://sunnyand80.org.She is a stay-at-home mom, freelance writer, blogger, and author of, "Friends with Everyone …Friendship Within the Love of Christ." She resides in Northern Ohio with her husband of eleven years, two daughters, and their Golden-doodle.
 
---
This article is part of our Prayers resource meant to inspire and encourage your prayer life when you face uncertain times. Visit our most popular prayers if you are wondering how to pray or what to pray. Remember, the Holy Spirit intercedes for us and God knows your heart even if you can't find the words to pray.
Serenity Prayer
The Lord's Prayer
Irish Blessings & Prayers
Morning Prayers
Good Night Prayers
Prayer for Healing
Prayer for Protection
Prayer for God's Help
Prayer to the Holy Spirit
Prayer for Strength
Now available is our new Daily Prayer devotional! An easy way to start your day with prayer; read today's prayer and sign up to receive it by email.
Photo credit: ©Thinkstock/Thanarak