7 Prayers for When You Are Feeling Defeated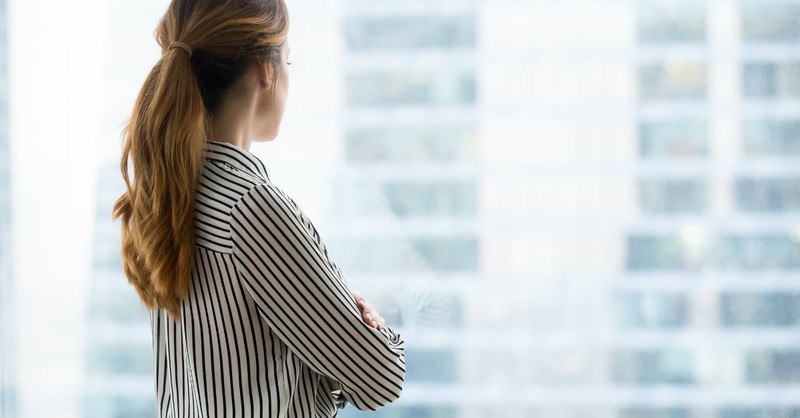 There are days when the feeling of defeat overwhelms me. There are days when life gets hard, and situations feel completely impossible. There are days when I feel like life is so challenging that I'll never find my way out. That I'll never again be able to lift my head, feel joy, and get my life back on track. There are days when it feels like I have been fully defeated.
Feeling Forgotten or Left Behind
And that feeling of defeat? It is an awful one, isn't it? It's gut-wrenching. It is disappointment: in my performance, my lack of faith, and my abilities. It is disillusionment: in people and a fear that everyone has, or will, let me down. It is doubt: that God has my best in mind, or that He sees me at all. It is a nagging feeling that He has forgotten me, or worse yet, that He doesn't care.
Defeat can zap my energy and steal my hope. It weighs on my heart and clouds my mind. It drags my thinking off from a healthy track. Thoughts of defeat can swirl so powerfully through my mind that all else is pushed aside. Defeat looms low, infecting everything.
Time and time again, I feel so defeated. I have plans, hopes, and dreams, and they just don't seem to be working out.
Can you relate?
There Will Be Dark Days and Disappointment
I know the answer already. We all have felt defeat in big and small ways. We've all had our plans not work out, our hopes dashed, our prayers go unanswered, our dreams unrealized, our work fall short, and people disappoint us. Oh, how we wish we could, but we can't escape it.
For so many reasons we won't understand on this side of heaven, life often doesn't work out the way we hope. Yes, we have days of laughter, victory, blinding light and gratitude, but we also have our dark days.
But we know God is somehow still good. So all we can do is lay our defeat down and ask Him to help us. What else would He want us to do?
I know He has our best and His glory in mind. But He does allow disappointment to happen in our lives. All we can do is look to Him. I don't think He wants us to hide it from Him or keep quiet about it. I think He wants us to talk to Him about it. To wrestle even.
The next time you feel defeated, tell your Father about it. Ask Him questions, pray, and then listen. I suspect He has answers.
Praying Proverbs 3:5-6 over yourself and the situation that you face is a great place to start.
7 Prayers for When You Are Feeling Defeated
Trust in the Lord with all your heart, and do not lean on your own understanding. In all your ways acknowledge him, and he will make straight your paths. (Proverbs 3:5-6 ESV)
1. Lord, help me trust you.
I confess that I don't always believe that I can. I think I know better than you how my life should go. It feels like you make mistakes. It's too easy to doubt that you have my best in mind. Sometimes I even feel like you've abandoned me. Despite these doubts, somehow still, I always, ultimately trust you.
Help me to see this situation I face in light of the truth that You can be trusted. That what I have been feeling is untrue. Remind me that I can count on you all the time, in every way. Help me to know I can trust you, even when I have a hard time believing it.
2. Lord, I want to give you my heart.
I am afraid to though. I admit I'm afraid You'll let me down and I'll be disappointed.
Help me give my heart more fully over to you. Forgive me for holding parts back from You, or for giving it too easily to other things. I believe that giving you my heart is the very best thing I can do.
You made our hearts, and You don't hold them lightly.
3. Lord, forgive me for leaning on my own understanding
I hold on so hard to the comfortable feeling of control. My grip on my plans, my work, and my family is far too tight. I'm white-knuckling life and leaving no space for Your guidance. I assume my ways are better than yours.
Forgive me for keeping my eyes on myself. You see the wider picture, the connectedness of events, and the purpose in all aspects of my life.
4. Lord, show me how to lean on You and Your ways.
Help me release my grip and defer to You. Teach me to pause and pray. Though I feel fully defeated in this situation, I am going to lean into You. I'm going to stop trying to understand and start trying to follow you. I want to lean toward you rather than away from you.
5. Lord, with all my ways, I acknowledge who you are.
I know you to be good. You are my assurance that this impossible situation is not hopeless, and I am not forgotten. You are my dependable, loving, all-knowing Lord. I confess that I tend to make myself big and You small. In this situation, I acknowledge that You have full authority over my life and all things that happen in it. I can have confidence that You are the waymaker.
How blessed am I to always have hope because I am yours and You are mine.
6. Lord, make my path straight.
I trust that you do and You will. Help me to be expectant, and grateful in advance, trusting that your ways are so much higher than my own. Help my will align with yours. Help my thoughts be your thoughts.
Please unravel the situation before me.
7. Please help me to see which way I should go.
You'll make the path before me clear. I can count on that because You are dependable. What I need is for you to help me not to miss it. Help me to see where you'd have me go. Let me hear Your voice, so I'll handle this as you want me to. Please refocus my mind, heart, eyes, and ears. Show me the next step because I can't see it right now.
Amen. Lord help me to say a final goodbye to these defeated thoughts and feelings. Teach me to lay them down before you, and then not pick them back up again.
Defeat is a very real feeling, a very formidable spiritual battle. Fighting it is not easy but fight it we must. And the best way we can fight, the most effective way we can fight, is through talking to God.
Go to Him in prayer. Praying Scripture over your challenges will help align your heart and mind with the Lord's, right from the start. The time that you spend on your knees will never be lost, and will never be wasted. You can rely on the truth that your prayers are always heard.
Image courtesy: ©Getty Images / fizkes
Rebecca Radicchi, her husband and crew of kids, live outside Atlanta, where the summers are hot and the tea is sweet. She's ridden the waves of adoption, breast cancer, and being the mom of kids with complex medical needs. And, through it all, she's seen that abundance can be found in the uncomfortable hard and in the easy beautiful. She's also discovered that whether she's passing bread at the kitchen table, clock-watching in a hospital waiting room, or listening to a neighbor on a porch swing, God always has something to say. It's a wonder really. She encourages others to listen for it too on her website and Instagram, and also connects with adoptive families at No Hands But Ours.
This article is part of our prayer resource meant to inspire and encourage your prayer life when you face uncertain times. Remember, the Holy Spirit intercedes for us, and God knows your heart even if you can't find the words to pray.
Prayers for Healing That Bring Daily Strength and Comfort
Prayers for Strength to Use in Difficult Times
Can We Really Pray Without Ceasing?
Powerful Morning Prayers to Begin Your Day
Types of Prayers We See in the Bible
What Is the Prayer of Jabez in the Bible?
How to Pray for Your Daily Bread
Prayers for Anxiousness
Related podcast:
The views and opinions expressed in this podcast are those of the speakers and do not necessarily reflect the views or positions of Salem Web Network and Salem Media Group.
Related video:
Read the full devotional here.
Video created by Kayla Koslosky.
Stock footage courtesy: ©Soundstripe Library
Thumbnail courtesy: ©SWN Design/Soundstripe Library
---
Now available is our new Daily Prayer devotional! An easy way to start your day with prayer: read today's prayer and sign up to receive it by email.