5 Powerful Prayers for Teenagers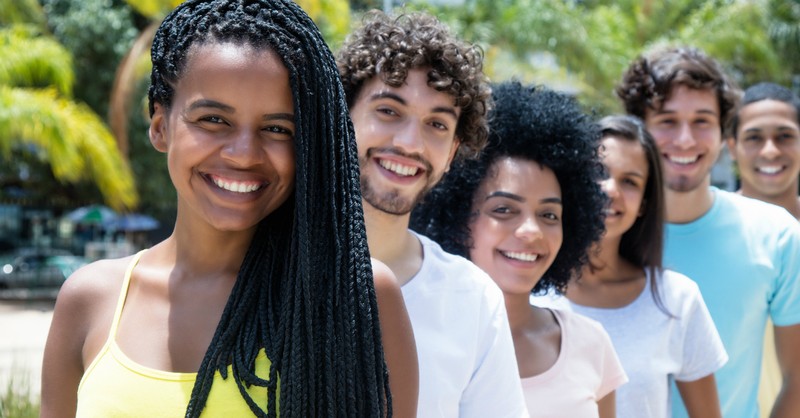 The teenage years of a child can be full of growth, change, and potential, but they can also face an uphill climb along the way. It is pertinent to keep the teens in our lives in constant prayer. For it is during these pivotal years that their personalities, choices, and ideals can impact much of their early adult years. Whether your own child or one that you care about deeply is rising through these years, praying for God's Spirit to reach their hearts is the greatest gift you can give them.
Download your FREE Prayer Guide E-book: 30 Days of Praying for Your Teen. This 30-day prayer guide is a tool designed to help you focus on a number of the specific challenges and needs that teens are facing. I'd invite you to spend some time each day in prayer for your teen(s) and to turn your hopes, dreams, worries, and anxieties over to God as you do!
A Prayer for Teens Making College Choices
Father,

We lift up today teens making the choice of college. If a child chooses to attend a college or to enter into the workforce, they will be faced with many challenges and new-found forks in the road. We know that although we carry our own opinions in the matter, ultimately You know where each path could potentially lead. Father, we pray on behalf of the teen we have in mind that You would steer them towards the choice that will lead them closer to You and the one that will bring fruit to the Kingdom, and true joy to them. The kind of joy that can only be born of the Spirit of God, and the kind of joy that comes from walking in obedience to You. Father, just as the Israelites followed You through the desert so we pray that our teens would follow You into the Promised Land You have for them.

In Jesus' name, amen.
A Prayer for Teens with Family Problems
Father,

We lift up teens dealing with family problems today. Those teen years are filled with many voices in the ears of these young people, but we pray that Your voice of wisdom is the most pronounced. We pray in Your Holy Name that they will be given hearts of wisdom and discernment, so that they may see how to treat those in their families with respect and love. In the Commandments You gave to Moses; you call for us to respect our earthly parents. We pray for these children not only to respect their parents but to come into understanding as to why. More than anything, we pray that they would come into a deeper understanding of the love their families have for them, that the attacks of the enemy would be stifled, and Your love would flow throughout. We pray for healing and we pray for beautiful memories to be made from the restoration You have ushered forth.

In Jesus' name, amen.
A Prayer for Teens Who Are Bullied
Father,

We lift up teens who are bullied. Bullying creates wounds that scar on the inside, but we believe in the healing You can bring. We pray those wounds would not fester and create lifelong issues, rather we pray that Your truth would shine on them. That You would pour over them Your truth of how You see them, bringing forth Light where darkness sought to reign. We pray barriers of Holy protection around them so that the arrows of hurtful words and actions would not be allowed to penetrate the hearts and minds of these children. Instead, that words of godly truth would flow like a fountain over them. Teens can often have insecurities and fears that cause them to be mocking, and often cruel to others. Father, we pray for those children to be healed by You so that they would live a life of kindness and tenderness to others. We pray for the bullies to be brought forward in healing so that they would no longer desire to hurt others, but in their own healing they would instead extend compassion to those around them.

In Jesus' name, amen.
A Prayer for Teens to Make Good Friends
Father,

We pray for good and godly friendships for the teens in our lives. Godly friendships are important in these formative years, so we pray that You would lead good friends together for these young people. Just as David and Jonathan formed a friendship like a brotherhood rooted in You, so we pray that for our teens. Friendships and community circles will impact a person, the people they hang around will influence their own choices, ideals, and personalities. We pray for friendships that are destined of You, in order that together they could come to see more of You and more of the beauty they can pour out to others.

In Jesus' name, amen.
A Prayer for Teens to Grow Spiritually Amid School, Family, and Social Pressures
Father,

We lift up teens to grow spiritually in You amid school, family, and social pressures. You often called great men and women in their teens to follow You into their destinies. From David being crowned King as a teen, to Esther saving her people as a young adult, to Mary being bestowed the honor of carrying Your Son, Jesus, as a teen You often have a tender spot in calling youth to their journeys. We pray that during this time between childhood and adulthood that they would come to know You more Spiritually. That it would not merely be religion in the sense of rules to be followed, but a deeply rooted relationship where they come to know the character and heart of God. We pray in these years they embrace You in their heats, and that seedling of faith will grow into gardens of splendor in Your Kingdom, full of fruit and life. We pray against attacks of the enemy or influences that are seeking to corrupt them. We speak against such spirits in Jesus name, for as You said in Matthew 18 that those who seek to lead a child into sin come in offense against You. We pray for Your Spirit protecting and leading them into true communion with You, growing in truth and Spirit.

In Jesus' name, amen.
Bonus: A Prayer for Teens and Social Distancing
Father,

We lift up teens during this COVID-19 Crisis. Many have been called away from their schools, social lives, and normal activates. That can be shifting to say the least, but we lift them up during this time. We pray for those who feel lonely to feel Your companionship and presence with them. We pray for them to come closer to You, to take this time distanced from the world to ponder the universe outside of their usual lives, and in the course of it to unlock more truth found in You. As they miss the social aspects of life, we pray they can connect with those they care for in new and creative ways. From snail mail to video chats we pray there will still be ability for them to connect with others. We pray they respect and understand the need for social distancing, and that they would become compassionate and have tender hearts towards those who are sick or vulnerable of catching the virus. May this be a time of great growth in their lives.

In Jesus' name, amen.
5 Bible Verses to Encourage Teens
Growing up is rarely a course marked with smooth seas, but God desires to be an anchor of truth and hope during such a time. Lifting up your own child or a teen close to you does not go unnoticed by God. In doing so we are inviting His Holy Spirit to reach them in ways beyond what we could possibly imagine. He is able to do far beyond all we could ask or imagine, and through His Spirit and work within a teen, beautiful things can come. Do not give up on your teen, pray for them, and invite God to work within their lives so that they may one day look back and see that He had ever storm and every sunny day.
Photo credit: ©GettyImages/DMEphotography
Cally Logan is an author and US History teacher from Richmond, Virginia. In her free time, she enjoys mentoring youth and spending time in nature. Her book, Hang on in There, Girl! Will be available everywhere on April 1, 2022. Check her out on Instagram and Twitter, @CallyLogan and TikTok Cally_Logan.
---
This article is part of our prayer resource meant to inspire and encourage your prayer life when you face uncertain times. Remember, the Holy Spirit intercedes for us and God knows your heart even if you can't find the words to pray.
Prayers from the Bible to Guide Your Prayer Time
Types of Prayers We See in the Bible
What Is the Prayer of Jabez in the Bible?
How to Pray for Your Daily Bread
Prayers for Anxiousness
Related: Listen to our podcast, Teach Us to Pray with Christina Patterson. You can find all the episodes at LifeAudio.com. Here's Episode 1: