What Should We Know about Luther's Evening Prayer?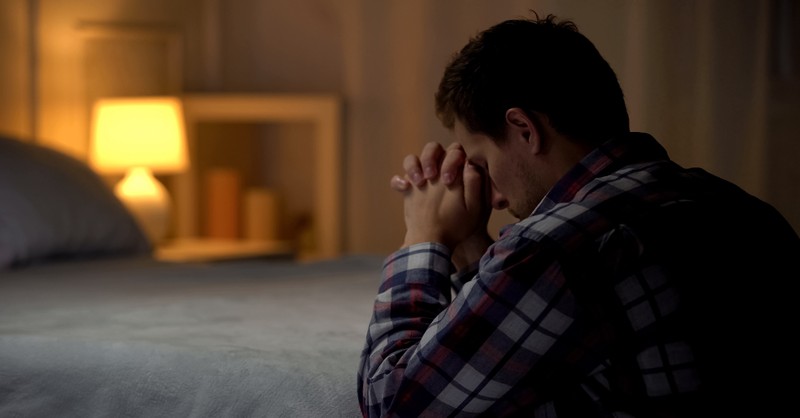 Growing up I knew of one evening prayer. "Now I lay me down to sleep, I pray the Lord my soul to keep, if I should die before I wake, I pray the Lord my soul to take." And truth be told I probably learned that from listening to Metallica instead of quietly bowing a knee before I went to bed.
But there is another evening prayer that has been around since the Protestant Reformation. This prayer is known as Luther's Evening Prayer.
What Is Luther's Evening Prayer?
Most people know Martin Luther as the fiery reformer who stood before a council and declared that his conscience was bound by the Word of God. "Here I stand, I can do no other, so help me God." But Luther wasn't a guy who wrote systematic theology textbooks. He was a pastor who worked out his own reformational views in the context of ministering to flesh and blood people. As such, it isn't surprising to learn that Luther was a man of prayer. He not only was a person dedicated to personal prayer, but he also wrote frequently on prayer.
Luther saw himself in the midst of a cosmic battle. But he not only saw himself in this battle he also saw it as his duty to equip fathers and mothers to pray for their families. This is why he included sections on prayer in his catechisms. He also wrote extensively on the Lord's Prayer. On one occasion Luther encouraged falling asleep with prayer on your lips:
Cultivate the habit of falling asleep with the Lord's Prayer on your lips every evening when you go to bed and again every morning when you get up. And if occasion, place, and time permit, pray before you do anything else. In this way, you get ahead of the devil by surprise and without warning, whether you are ready or not, before he catches up with you and makes you wait. For it is better to pray now, when you are half-ready, than later, when you are not ready at all.
This habit is what inspired Luther to write his morning and evening prayers. Thankfully we still have these resources available to us. This is his evening prayer:
In the name of the Father and of the Son and of the Holy Spirit. Amen. I thank you, my heavenly Father, through Jesus Christ, Your dear Son, that You have graciously kept me this day; and I pray that You would forgive me all my sins where I have done wrong, and graciously keep me this night. For into Your hands, I commend myself, my body and soul, and all things. Let Your holy angel be with me, that the evil foe may have no power over me. Amen.
Should We Know This Prayer? Is it Biblical?
When I first became a believer in Jesus, I thought written prayers were silly and lacked spontaneity. They felt cold and calculating and not the reflection of a vital relationship with Jesus. But as I've grown in the faith, I've come to view this as anything but cold and formal. Written out prayers can be incredibly helpful for putting words to the rumblings of your heart. They also have a teaching function and the memorization can be helpful in trying moments. I came to realize that God gave us in the Psalms many of these written prayers and so I now find much value in them. I've benefited much from resources like Valley of Vision and Every Moment Holy.
But what about Luther's evening prayer? Is this one that we should know? I think you could get along quite well without ever having heard of Luther's prayer. But it's certainly a simple and helpful prayer. It's one that would be of benefit. And it's most definitely biblical because it is essentially a paraphrase of the Lord's Prayer.
Consider all of the theology jam-packed into this little prayer. There is Trinitarian theology. There is an acknowledgment of Jesus being the Mediator between us and the Father. There is a dependence on the Lord's keeping power to get us through the day and the evening. There is a call for forgiveness. There is a commending of self unto the Lord. There is an acknowledgment of evil and the Lord's protection. There is a spirit of thanksgiving throughout the prayer as well.
If all we had was this prayer, we would know that the person praying is engaged in a battle with the world, the flesh, and the devil but is sustained by the keeping power of the Godhead. To pray something like this nightly would, I believe, help one go to sleep with the basic threads of the gospel on your heart and mind.
I'll confess that I'm a little uncomfortable with the phrase "let your holy angel be with me" but that's maybe more my own hang-up. Scripture speaks of angels ministering to Jesus in the wilderness upon his temptation. What Luther says there, then, is not against Scripture.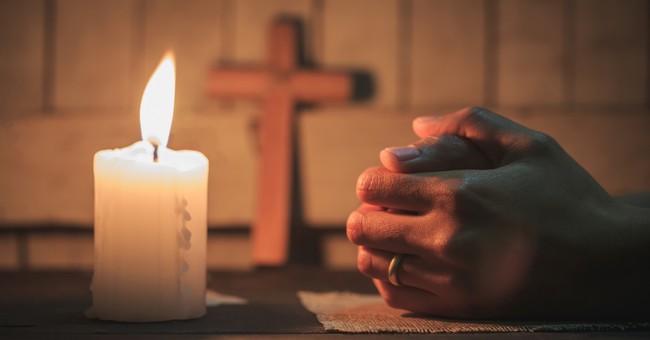 Photo Credit: ©GettyImages/Tinnakorn Jorruang
3 Prayers We Can Say Based on Luther's Evening Prayer
I'm not sure why I wouldn't just pray the prayer that Luther wrote or pray the Lord's Prayer itself. But if I were tasked with writing my own evening prayers using Luther's as a guide, I think there are three areas where I'd focus: the Lord's past protection, my need for forgiveness, and my need for future protection.
A Prayer of Thanksgiving for Past Protection
Father, there has not been one moment, even from before the foundation of the earth, that you have not protected me. There have been times in which it has felt as if I were left alone, but you have never abandoned me. You have led me through "many dangers toils and snares" and have used even these unhappy circumstances to create in me even more joy in Jesus Christ. Just as David prayed, "The Lord who rescued me from the paw of the lion and the paw of the bear will rescue me from the hand of this Philistine" so also you have rescued me from my own lions and bears and will not rescue me from the hand of todays' "Philistine". But as was proclaimed in Daniel, I proclaim now, "even if you don't" I will trust in your ultimate rescue.
A Prayer for My Need of Mercy
For this prayer, I share with you this prayer from Valley of Vision:
Be merciful to me a sinner;
this I am by nature and practice,
this thy Word proclaims me to be,
this I hope I feel myself to be;
Yet thou hast not left me to despair,
for there is no 'peradventure' in thy grace;
I have all the assurance I need
that with thee is plenteous redemption.
In spite of the number and heinousness of my sins
thou hast given me a token for good;
The golden sceptre is held out,
and thou hast said 'Touch it and live'.
May I encourage myself by a sense of thy
all-sufficiency,
by faith in thy promises,
by views of the experience of others.
To that dear refuge in which so many have sheltered
from every storm
may I repair,
In that fountain always freely open for sin
may I be cleansed from every defilement.
Sin is that abominable thing which thy soul hates,
and this alone separates thee and me.
Thou canst not contradict the essential perfections
of thy nature;
Thou canst not make me happy with thyself,
till thou hast made me holy like thyself.
O holy God, make me such a creature as thou canst
take pleasure in,
and such a being that I can take pleasure in thee.
May I consent to and delight in thy law
after the inner man,
never complain over the strictness of thy demands,
but mourn over my want of conformity to them;
never question thy commandments,
but esteem them to be right.
By thy Spirit within me
may my practice spring from principle, and
my dispositions be conformable with duty.
A Prayer for Future Protection
Lord, there is much in a world today which could cause me anxiety. Things feel as if they are unraveling and our foundations are shaken. Your Word tells us to cast all of our anxiety upon you. We know that because of Jesus we are going to be ultimately protected by you. Our souls are secure—and as such, we know that there is nothing which man can do to us. Yet, we ache and hunger and thirst. And we entrust ourselves to you. We want redemption but we only want redemption from your hand. Help us to continue to have integrity and to not find protection in false places of refuge. You, O Lord, are our only refuge and so in you do we trust. Amen.
Photo Credit: ©GettyImages/Motortion
Mike Leake
is husband to Nikki and father to Isaiah and Hannah. He is also the lead pastor at Calvary of Neosho, MO. Mike is the author of
Torn to Heal
and
Jesus Is All You Need
. His writing home is
http://mikeleake.net
and you can connect with him on Twitter @mikeleake. Mike has a new writing project at
Proverbs4Today
.
This article is part of our Prayer resource meant to inspire and encourage your prayer life when you face uncertain times. Visit our most popular prayers if you are wondering how to pray or what to pray. Remember, the Holy Spirit intercedes for us, and God knows your heart even if you can't find the words to pray.
Serenity Prayer
The Lord's Prayer
Prayer for Peace
Morning Prayers
Good Night Prayers
Prayer for Healing
Prayer for Protection
Prayer for God's Help
Prayer for Anxiety
Prayer for Strength
Related podcast:
The views and opinions expressed in this podcast are those of the speakers and do not necessarily reflect the views or positions of Salem Web Network and Salem Media Group.
Related video:
Stock Footage & Music Courtesy of Soundstripe.com Thumbnail by Getty Images
---
Now available is our new Daily Prayer devotional! An easy way to start your day with prayer: read today's prayer and sign up to receive it by email.