6 Christian Podcasts You May Not Know About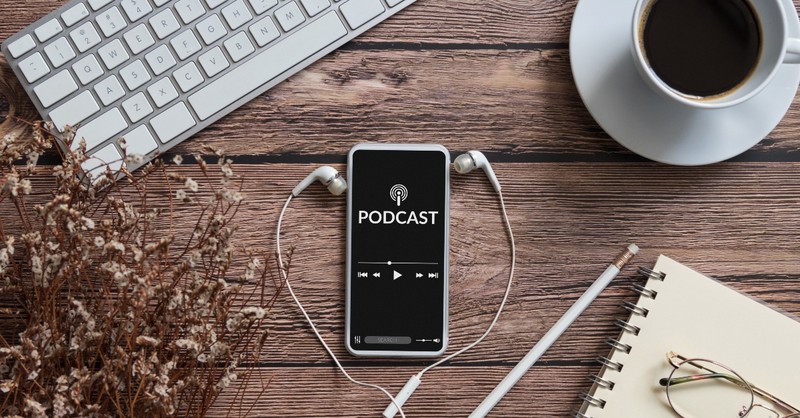 The podcast world is riddled with options these days! In fact, it's almost hard to keep up with all the ones I want to listen to, and yet, I love it when I find new ones that just have to be added to my must-listen-to playlist!
It's not tricky to find podcasts for Christian living, and if you look up some of your favorite Christian leaders, preachers, and ministries, odds are they have a podcast available too. But there are also more obscure Christian podcasts just waiting to be discovered.
Here are a few to tempt you to click, like, and subscribe:
Featuring podcast hosts Jennifer Slattery, Jodie Bailey, Ava Pennington, and Kimi Miller. This podcast does take you into the trenches of warfare against worry, fear, and anxiety.
They describe their podcast as "Life is too short and God has too much for us to do for any of us to live enslaved. Jesus promised His followers would experience filled to overflowing life, a life characterized by joy, peace, and spiritual and emotional vitality. And yet, we daily make decisions based on fear, not faith. In Faith Over Fear, author and speaker Jennifer Slattery helps us see different areas of life where fear has a foothold, and how our identity as children of God can help us move from fear to faithful, bold living."
With topics like beauty from pain, resilience, and how to break free from people pleasing, you know you will receive challenging and thought-provoking messages during these half-hour episodes. We all know fear has crippled most of us at one time or another. Let's be prepared and take encouragement through this encouraging podcast.
2. The Crosswalk Devotional – Lifeaudio.com
Did you know Crosswalk has its own daily podcast? We do! They're short and sweet too, and a great way to start your morning. With 5 minutes worth of devo, you'll be able to focus in as you get ready for the day.
Podcast episodes span topics such as teaching your children to know God, truth over lies, God's sufficiency, willing hearts, and more.
I'm the queen of "I don't have enough time" to listen to podcasts. That excuse simply won't work here. You can finish a podcast before you finish your shower and step out refreshed in more ways than one!
3. MadLit Musings – Spotify/Apple/Google Play
This podcast was created by Christy-Award-winning and best-selling Christian fiction author Jaime Jo Wright and is partially sponsored by Baker Book Publishing Group.
What MadLit Musings has to say about themselves: Come and chat with Christian fiction authors such as Tracie Peterson, Susan May Warren, Kimberley Woodhouse, Lynette Eason, and more! You will find out far more than the story they wrote. Instead, you will get a behind-the-story deep dive into the author's heart and the message of faith they hope to communicate. Get to know the authors more personally, their stories more endearingly, and go deep into the heart of God and His love of story.
Covering topics such as eating disorders, grace, anxiety, meshing faith with suspense, and more. If you're a Christian fiction lover, you won't want to miss this podcast!
4. Out of the Darkness with Mandisa and Laura Williams -accessmore.com
This podcast can bring hope and encouragement through the turbulent waters of mental health. With anxiety and depression on the rise, it's critical that we are open about these topics, and Mandisa and Laura Williams do not shy away from them.
They describe their podcast as: Out of the Dark is a podcast about mental health in the body of Christ. As followers of Jesus, people are sometimes led to believe that if we struggle with anxiety, depression, addiction, identity, or the many other areas of our mental health that we are less of a Christian or are just not praying enough. As members of the body of Christ, Mandisa and Laura will tackle the idea that, while Jesus IS enough, a relationship with a counselor can help heal wounds that will enhance your relationship with Jesus. They will cover specific mental health topics and offer listeners resources to enhance your journey of personal growth. We can't do it alone; we need to step out of the dark of shame and guilt and into the light of recovery and redemption.
With weekly episodes that air every Wednesday and average between 20-30 minutes, this podcast covers discipline, triggers, self-care, mindfulness, and so much more. Give it a listen, and then come out of the darkness.
5. The Elisabeth Elliot Podcast – Spotify/Apple/Google Play
This podcast revives messages from the 1980s and brings the wisdom and theology of Elisabeth Elliot right into your iPods. A mixture of personal testimony, remembrances of her husband Jim and his fellow missionaries, and how to muddle through this mess of life, Elisabeth's words are poignant and heartfelt.
You can never go wrong pursuing the words of this woman whose personal experiences give feet to her faith. And if you haven't already become familiar with her, you'll want to also check out her website, that is rich with resources at: https://elisabethelliot.org/
6. The Journey of Ruth – with Courtney Lowman - Spotify/Apple/Google Play
Looking for discipleship and a meatier podcast that will fill an hour's worth of your time and challenge you while also encouraging you? Try The Journey of Ruth!
The podcast is described as: The Journey of Ruth, a discipleship podcast that encourages listeners to Love Jesus, Study His Word, and Reach Others. Host Courtney Lowman interviews bold, passionate, and faithful Christian mentors who have a story to tell and wisdom to share. Need encouragement, advice, and discipleship but don't know who to ask?
Join our fun conversations and be inspired to find a community and mentors who will enrich your journey as a disciple of Christ.
With topics that include disorganization, God's vision, setting Sabbath rhythms, how to stay calm, and more, the diverse subject matter is bound to have something that will take you deeper!
Podcasts are such a joy, and finding ones that aren't as readily promoted are equally as fun! It's like finding a treasure you didn't know was hidden! Budgeting time to read or sit and watch a message can be tough. But turning on a podcast while you're doing household chores, driving to and from work, watching your kids play practice, etc., is a far more feasible possibility.
Don't be afraid to take some time out to try new podcasts! You can also run searches online for Christian podcasts or check out sites like Lifeaudio.com to find a selection to choose from. Another fabulous way to discover new podcasts is by word of mouth from people you know and trust. Throw out a post on social media asking for podcast recs, and you'll be amazed at how many people respond with titles you've never even heard of! It's a podcast world out there, and the great thing is, it's free! So don't hesitate to download a podcast player and start listening. You may find that podcasts do more than just entertain you. They might touch and change your life!
Photo Credit: ©iStock/Getty Images Plus/asiandelight
Jaime Jo Wright is an ECPA and Publisher's Weekly bestselling author. Her novel "The House on Foster Hill" won the prestigious Christy Award and she continues to publish Gothic thrillers for the inspirational market. Jaime Jo resides in the woods of Wisconsin, lives in dreamland, exists in reality, and invites you to join her adventures at jaimewrightbooks.com and at her podcast madlitmusings.com where she discusses the deeper issues of story and faith with fellow authors.
LISTEN: Being Complete in Jesus (Understanding Matthew 5:21-48)
Hearing Jesus is a devotional journey through the gospels, where we explore the teachings of Jesus chapter by chapter. If you're seeking to live a life that reflects God's, this podcast is for you.
The views and opinions expressed in this podcast are those of the speakers and do not necessarily reflect the views or positions of Salem Web Network and Salem Media Group.
WATCH: 10 Sins Christians Downplay (and Why They're So Destructive)
Stock Footage & Music Courtesy of Soundstripe.com Thumbnail by Getty Images