3 Reasons Christians Have Hope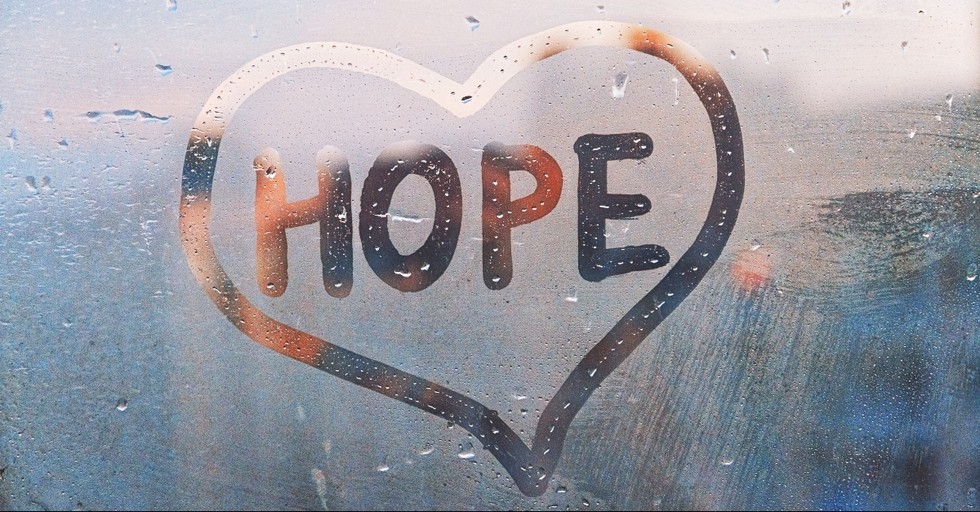 The Merriam-Webster Dictionary defines hope as "desire accompanied by expectation of or belief in fulfillment." There are several big words in that definition: desire, expectation, belief, and fulfillment.
I am big on hope! In fact, I choose to be hopeful even when I don't feel hopeful. That is not because I am a positive thinker. It is because I believe our God is a hope dealer. You heard me right - our God is a hope dealer. There are 180 references to hope in the Bible. My favorite one is this:
"For I know the plans I have for you," declares the Lord, "plans to prosper you and not to harm you, plans to give you hope and a future." Jeremiah 29:11
That verse gives me three reasons to have hope.
Photo Credit: ©iStock/Getty Images Plus/ksenija18kz
1. I have hope because God has a plan.

Slide 1 of 3

God tells Jeremiah, "I know the plans I have for you." God has a plan. All is not lost. Even in our darkest and most chaotic moments, God has a plan. That should bring us hope!

There is a direct correlation between hope and planning. We all need a vision of a better future. Scripture tells us that we begin to perish where there is no vision. So, our very souls need the hope and expectation of a plan for a better future. God has that plan. We are not abandoned to the chaos of being left alone to figure it out. We see God's plan for us throughout Scripture - and that plan should bring us hope. One verse stands out for me regarding hope and God's plan for my life. I call it "the good, the bad, and the ugly" verse:

"And we know that God causes everything to work together for the good of those who love God and are called according to his purpose." Romans 8:28

Check out the great truths of this verse:

God uses everything that happens to us. Everything. All of it. The good stuff, the bad stuff, the ugly stuff - God uses it.
God uses every experience in our life for our good. It does not mean that only good stuff happens to us. We all know better than that. It means God is good enough and big enough to bring good out of evil, strength out of weakness, and healing out of hurt.
God calls us to his purpose. But unfortunately, we spend too much time focused on our plans for our lives and not nearly enough time focused on God's plan for us.

God has always had a plan for us:

"You saw me before I was born. Every day of my life was recorded in your book. Every moment was laid out before a single day had passed." Psalm 139:16

Photo Credit: ©iStock/Getty Images Plus/Vinco Computer / EyeEm

2. I have hope because God has a plan for me - and it is good.

Slide 2 of 3

"For I know the plans I have for you," declares the Lord, "plans to prosper you and not to harm you." Jeremiah 29:11

God's plan is not to harm us. On the contrary, God plans to prosper us. So now I can get excited about that blueprint for life.

My husband Dan loves to help people figure out their life plans. More accurately, he loves to spend time with people helping them discover the plan God has for their lives. He often tells them, "God loves you and has a better plan than your plan for your life." Boom! That is the point. God's plan for my life is better than the life plan I came up with.

When Dan and I got married, we planned to have two kids that were ours biologically and then adopt two kids. We sought the help of a fertility specialist and endured months of testing. The doctor finally looked us in the eye and said, "I'm sorry, but I am afraid that having children biologically is not part of the plan for your lives." Interesting! This doctor was not a believer, but he had just spoken God's truth to us. And those two kids have given us six beautiful and brilliant grandkids! (Really, if I had known how amazing grandkids are, we would have wanted to have them first.)

What I am about to say matters. Adopting kids was not God's plan B for us after plan A did not work out. Adopting kids was God's plan A for us all along. It just took us a while to find that plan.

I have lived long enough to be grateful that God did not answer all my prayers. For example, I was dating a young man whose life dream was to become a pastor. He knew the Word and could teach it with power. I prayed that we would marry and spend our lives sharing God's truths with those who did not know him. I also prayed that God would shut that door if that were not the right plan for my life. He not only shut it, but he slammed it shut. The young man and I had been dating for several months when he showed up at my front door to tell me that he had gone home over the weekend and gotten back together with an old girlfriend. He didn't even want to come in and talk.

Wow! Just wow! But God had something so much better for me – a young man who could sing, play the guitar and the piano, teach the Word with authority and power – a young man of integrity. Dan Southerland was much better than my plan.

I love Acts 16. Two young church pastors named Paul and Silas were eager to go to a new town and start a new church. Their first plan was to go to Phrygia. God said no. Then they head to Galatia. God said no. Then Mysia and God said no again. They tried Bithynia and Troas, and still, God shuts the door. As I read all of the places Paul and Silas tried to go, I wanted to ask them, "Really, guys? Here's a thought. Have you asked God where you should go?" Finally, they did ask God for wisdom. He spoke to them in a dream and said, "Go to Macedonia." They go, and they succeed.

God's plan for us is good, but we must give up our plan before finding His plan. I have hope because God has a plan for me. I have hope because God has a plan for me - and it is good.

Photo credit: ©Getty Images/megaflopp

3. I have hope because God has a plan for me - and it is for a better future.

Slide 3 of 3

Back to the verse in Jeremiah one more time:

"For I know the plans I have for you," declares the Lord, "plans to prosper you and not to harm you, plans to give you hope and a future." Jeremiah 29:11

God plans to give you a hopeful and better future. Check out this promise:

"The Lord will stay with you as long as you stay with him! Whenever you seek him, you will find him." 2 Chronicles 15:2

This verse is simple but offers a life-changing, hope-giving truth. Jesus does not just have a better future for me; Jesus is my better future. If I seek Him with my whole heart, I will find Him. If I delight myself in Him, He gives me the desires of my heart. If I live for Him, I will find Him. My future is better because my future is Jesus. He is my hope. Period. The apostle Paul said it this way:

"To live is Christ, and to die is gain." Philippians 1:21

Don't miss this reality. As a Christ-follower, my future on earth is bright because every day is a new opportunity to live for Christ. Every day is another chance to experience more of Jesus. And to die is gain because then I get to see Jesus face to face.

Remember, it's all about his plan, not our plan. As we continue to discover and live out that plan, hope will grow in our lives. I have hope because God has a plan for me - and it is good. I have hope because God has a plan for me - and it is for a better future.

Hope is not one kind of strategy; hope is the only strategy. If I live in my strength, chasing my plan is hopeless. But if I am living life with the power of Christ, pursuing His plan for me – then that will produce a life full of purpose and hope. Hope is not one of my strategies for life. Hope is my only strategy for life. What about you? Do you have hope in your life? If not, choose right now to forsake your plan and seek God's. Hope is on the way.

Photo credit: © Getty Images/Bychykhin_Olexandr