5 Critical Findings from Open Doors' 2022 World Watch List
Open Doors

opendoorsusa.org

2022

19 Jan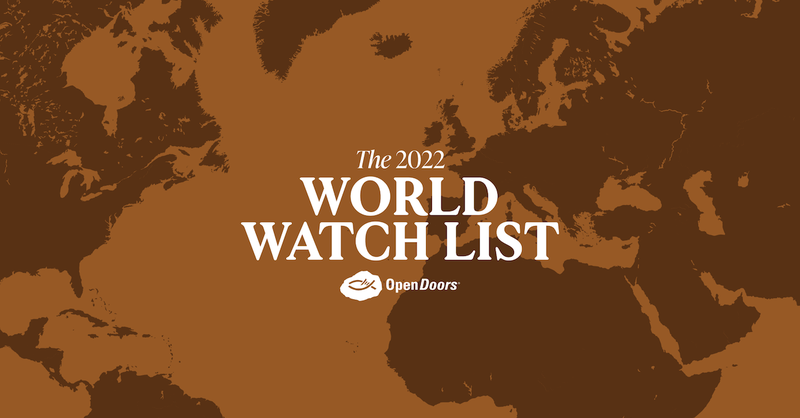 A woman in India watches as her sister is dragged off by Hindu nationalists. She doesn't know if her sister is alive or dead.
A man in a North Korean prison camp is shaken awake after being beaten unconscious; the beatings begin again.
A woman in Nigeria runs for her life. She has escaped from Boko Haram, which kidnapped her. She is pregnant, and when she returns home, her community will reject her and her baby.
A pastor in Afghanistan gets a text message, letting him know the Taliban knows he is a Christian—and they're coming for him.
These people don't live in the same country or continent. But they share an important characteristic: They are all Christians, and they suffer because of their faith.
This week, Open Doors released the new 2022 World Watch List that ranks the top 50 countries where Christians face persecution because they follow Jesus. The list is part of an in-depth research report that looks at how Christians around the world are suffering for their faith.
Below are five critical findings from this year's list that should drive us to our knees in prayer for those who share our faith but not our freedom:
1. Modern-day Christian persecution is at an all-time high.
Today, more Christians are facing extreme persecution than at any other time in modern history. In 2021 (the reporting period for the 2022 list), more than 360 million believers suffer for their faith. To get an idea of the magnitude we're talking about, imagine 3,600 crowded NFL stadiums, brimming with people. While Christian persecution takes many forms, it is defined as any hostility experienced because of identification with Jesus Christ. From Sudan to Afghanistan, from Nigeria to North Korea, from Colombia to India, followers of Christianity are targeted for their faith. They are attacked. They are discriminated against at work and at school. They risk sexual violence, torture, arrest and much more.
2. Afghanistan is the most dangerous place in the world for Christians.
For the first time in 20 years, Afghanistan replaces North Korea as the No. 1 most dangerous country for anyone who follows Jesus. As the Taliban captured the capital, Kabul, in August 2021, the situation in Afghanistan made headlines around the world, Before the Taliban takeover, it was almost impossible to live openly as a Christian in Afghanistan. Leaving Islam is considered shameful, and Christian converts face dire consequences if their new faith is discovered. They must either flee the country or be killed. The risk of discovery has only increased, since the Taliban controls every aspect of government—including paperwork from international troops that may help identify Christians.
After the Taliban takeover, Afghan believers told Open Doors that they know their names are on lists and that they're waiting for the knock on the door. Saad, one of the few secret believers who has stayed in the country, shared: "The list has been circulated with our names on it. Some [of us] have been killed. Some have been kidnapped, some have disappeared. It feels like the morning after a massive cataclysmic explosion."
3. On average, 17 Christians die for their faith every day.
That's nearly 500 Christians dying every month just because they follow Jesus. This year, the total number of Christian martyrs increased from 4,761 in 2021 to 5,898. Keep in mind that this number is likely to be much lower than the actual reality because, especially in closed countries like North Korea and Afghanistan or conflict-ridden places like Somalia and Libya, killings are often done in secrecy and/or go unreported. No one in a North Korean prison camp or a Muslim tribe in Somalia is reporting the murder of a Christian. Yet Open Doors has talked to thousands of believers and refugees to know that Christians are dying for their faith—every day.
4. Nigeria is the most violent country for Christians.
This year, the West African country of Nigeria rose two places on the World Watch List from No. 9 to No. 7—Nigeria's highest-ever ranking on the list. Of the 5,898 Christians killed for their faith in 2021, 4,650 (79%) killings were in Nigeria alone in the northern part of the country where Christians live under constant threat of attack from Islamic extremist groups like Boko Haram, the Islamic State West Africa Province (ISWAP) and Muslim Fulani militants. These groups follow the strictest interpretation of Islam and see anyone who doesn't adhere to their beliefs as "infidels." They want to eliminate the Christian presence in Nigeria.
When Open Doors teams traveled to some of these areas to bring relief, they met Pastor Jeremiah* whose village in northern Nigeria was attacked by Fulani militants. He shares: "When we go to sleep at night, we are never sure whether we will make it alive to the next."
And yet … God is working through His people amid this violence. Faith,* a woman who experienced sexual assault when she was kidnapped by militants, found healing through a trauma care center supported by Open Doors. The trauma counseling she received does not remove the pain—but it revealed to Faith how God is with her even in the darkest times. Christians in Nigeria are showing the reality of God's faithfulness, no matter what.
5. Now, more than ever, our persecuted family needs our prayers (and they're asking for them).
The list and these facts are sobering to read, actually heartbreaking. The problem is so big. But it's not new; Satan has targeted God's people since the beginning. It's just gotten worse, and more sophisticated.
The list is also an invitation to join God and His people. In Psalm 24, the lyricist talks his assurance that God will keep him "safe in His dwelling." God always keeps His people in His care. Sometimes, that's literal—safe shelter from invaders in a cave home. But sometimes, His shelter is harder to see; yet that's where He invites us to help. When we pray for our family living in the 50 countries on the World Watch List, we help God provide a place of safety—a family that will never forsake or forget them.
Our prayers strengthen Christians, even in the hardest places. That's why persecuted believers' No. 1 prayer request is that they will stand strong in their faith whatever trials they may encounter. Amina*, a Christian in Nigeria who lost her husband when Boko Haram attacked, is like so many believers who ask for prayers: "I want other believers out there to help us in prayer: Pray for wisdom in my family, pray for protection and for God to continue to give us strong hearts. One may not forget what has happened, but at least you can stand strong."
Pray through the World Watch List
As God's people, we are called to pray and care for His Church—wherever they are, whatever they're facing. Because you know what's happening to believers right now—that an average of 17 people die for their faith each day—you have a responsibility to pray with your family. When you pray, you remind them they're not alone—providing a safe shelter and joining God in His mission to rescue, redeem and restore.
To help you pray with persecuted believers in all 50 countries, Open Doors created a new 52-week devotional prayer guide that includes a prayer for each day of the year. Each week, you'll learn about a country on the list, what it's like to be a Christian there and where God is at work in each one. And you'll see seven prayers for that country–one for each day of the week. Plus, short devotionals will help you connect you with your persecuted family.
Fatima, an Afghan believer still in the country, shares a beautiful picture of prayer and how it brings us together as one Church and one Family: "Please pray with us," she says. "When you pray, you meet us in the room of God's throne where we can have communion."
Download the FREE 2022 World Watch List Prayer Guide.
Photo credit: ©Opendoorsusa.org
For more than 60 years, Open Doors has served persecuted Christians. Now in more than 60 countries, Open Doors supports God's people with what they need: Bibles, emergency relief aid, trauma counseling, advocacy, training and much more. We're committed to those who suffer for following Jesus, and we believe the persecuted church is part of the DNA of every Christian. No matter where they live, we believe God's people are one Church, one Family. Download the 2022 World Watch List
Related podcast:
The views and opinions expressed in this podcast are those of the speakers and do not necessarily reflect the views or positions of Salem Web Network and Salem Media Group.
So when sin is not being confronted, or even viewed as sin at all, it's time to address it with the hope of gently helping to restore believers caught in its web. Here are 10 sins that often go overlooked in Christian community.
Stock Footage & Music Courtesy of Soundstripe.com Thumbnail by Getty Images