5 Realistic New Year's Resolutions for Christians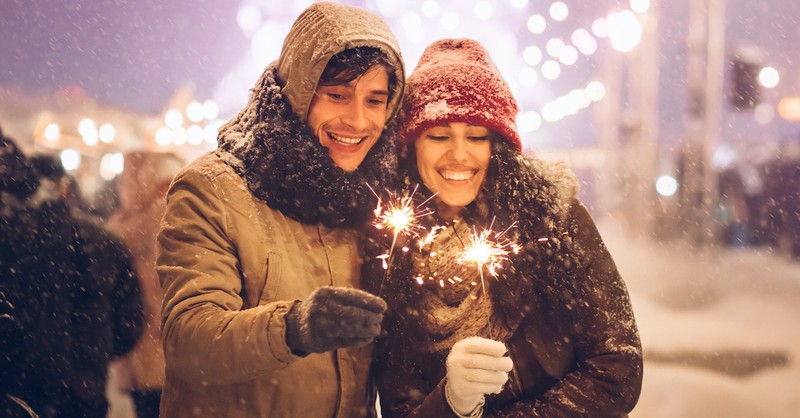 There's an enlightening difference between "resolve" and "resolution." Resolve reflects a decision or determination, while a resolution formally encompasses a decision made via conference with others. Wikipedia describes four different types of resolution, "New Year's resolution" being the only one that doesn't incorporate other opinions into its final draft. Could this be why resolutions often fall out of reach?
What Is a New Years' Resolution?
Resolution is a feeling of debate, dispute, and deliberation that takes contributing thoughts and opinions into consideration. Perhaps our vocabulary has been modified to cater to individual resolve, regardless of practicality or conference about our life's direction. Particularly, the One who laid the very purpose of our lives into the fabric of who we are. Resolve to prayerfully consult God to reveal what He is asking from us. Entertain trusted family and friends to encourage and guide our steps. Then, compile New Year's Resolutions that we can stand firmly in striving towards.
5 Realistic Christian New Year's Resolutions
Although these don't cover all the resolutions a Christian can make in the New Year, these are a few worth considering.
1. Time Turnover
Are we on God's timeline, or have we drafted our own vision of what we want to see Him do in our lives? Following Jesus requires that we lift it all up to Him—the parts of the plan that are OK, and the parts that we desperately want to avoid. The learning curve of life can be painful and long in some seasons, and our human nature will avoid them at all costs. When we are aligned in His will for our lives, seasons of preparation build the confidence and perseverance we need to walk through the tear-filled moments needed to establish the validity of our calling.
Each morning, we should follow the example Jesus set to pray to our Father in heaven. The importance of that time on our lives is akin to walking blindly through the woods without a compass or supplies to sustain us. Just moments in the morning can make a miracle of difference in our lives. The sunrise itself illustrates the way behind the wonder of morning devotion with our Creator. It's beautiful, remarkable, and never the same twice … much like our days, especially noticeable when they are walked out beside our Savior.
This New Year, make the first resolution to spend more time with Him. If devotional time is already established, there is always a new story to study or heart's edge to chisel. What is He inspiring us to learn about this year? What is He seeking to grow and encourage us in? We'll never know if we don't talk to Him about it, seek Him in His word, and cooperate with His answers.
2. Reach Out to Re-Invest
In this amazing and unsurpassed revolution in evangelism, there are podcasts, blogs, YouTubers and online churches that are connecting people to Christ for the first time. Consider consistent financial support to the ministries that are filling us with encouragement, and equipping us to share the gospel on a local level. Hebrews 10:24-25 clearly tells us not to give up meeting together. Though online ministries are breaking through barriers to reach hearts for Christ, it's import to find a body of believers to physically embrace and become a part of.
"And let us consider how we may spur one another on toward love and good deeds, not giving up meeting together, as some are in the habit of doing, but encouraging one another—and all the more as you see the Day approaching" (Hebrews 10:24-25).
Being a part of online ministries and a local church family simultaneously keeps us sharp and extends the reach of the gospel, the very reason we are here. The second resolution on this list this is to provide consistent support to the ministries that God speaks to us through, and to reach out and invest in people right around us with the knowledge and encouragement He has filled our hearts with.
3. Forge New Pathways
A tiny gap is bridged when we learn something new, but it takes our brains an enormous amount of effort to create that pathway. Our journey through life is riddled with these experiences. Bridging gaps in life's learning curve allows us to learn more about who we are, and who God is. When we seek His counsel for resolutions, there will most certainly be new paths to forge.
There are hundreds of articles, forums and videos I could watch, but without the patience of tech support, the complete new set of vocabulary required to maintain my website would most definitely allude me. We need a lot more than a comforting human voice keep our frustrated tears at bay. Our relationship with Jesus is the glue to our gaps. He goes ahead of us, extending His hand to us. What are we scared of this year? What have we avoided over and over because the mere though of attempting it makes our skin want to crawl? That should be the third resolution we make this year. Find it, pray for direction, and surge forward step by step.
4. Teach a Lesson
We often don't know how much we know until we find ourselves answering someone else's questions in a way that fascinates them. What comes easy to us is often overlooked or assumed to be common knowledge. But to someone else, it's gold to be mined from our brains and our hearts. Each one of us has gifts and talents purposely given to us by God for specific reasons. We will never know what that entails if we aren't aware of our gifts! There are obvious physical strengths and sports that we may excel in, or subjects in school or hobbies we are complimented on. Find an outlet to educate someone else in what comes naturally to us.
Beyond the obvious talents we can see with our eyes are spiritual gifs that we have all been blessed with. There are online quizzes and Bible studies to determine what those gifts could be. We can talk to pastors, family members and friends for insight as to what we might be good at. Resolution number four this year is to dig into the treasure trove of our talents, and discover how God has made us on a new and deeper level.
5. Healthy Habits
The New Year inevitably brings to mind images of the way we want to look and dreams of the way we want to feel. Programs that promise we'll look and feel years younger than we actually are take over our screens, beckoning us with "easy" solutions to life-long ailments. Comparison creeps in easily as we are inundated by images of societal standards.
Happiness will elude us if we focus too much on our physical appearance. "For physical exercise has some value, but godliness is valuable in every way. It holds promise for the present life and for the life to come" (1 Timothy 4:8).
This year, resolve to change one habit. Drink more water, get more sleep, schedule down time or eat at least one balanced meal a day. When we try to take on everything all at once, our human nature tends to implode. Set reasonable goals, and pick up a Bible Study on comparison. Are we aiming to be healthy and happy, or to be someone that God never intended us to be? The fifth resolution on this list is to add one physically and one mentally healthy habit to our lives.
Photo credit: ©GettyImages/Prostock Studio
Meg encourages others to seek Him first through her life as a stay-at-home mom, career as a freelance writer, teaching Emoti-moms Weekly Bible Study, and leading the kids worship teams at her local church. She resides in a small, Northern lake town with her husband of ten years, two daughters, and their Golden-doodle. Meg writes about everyday life within the love of Christ on her blog, http:// sunnyand80.org.