5 Things to Remember about Soli Deo Gloria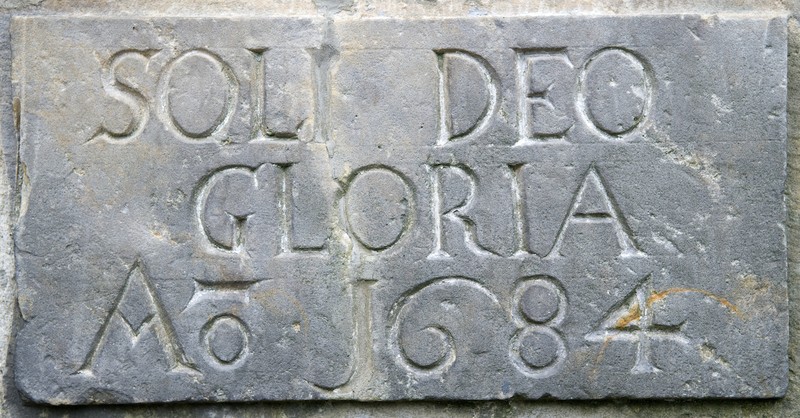 Lying in bed, I glanced at the clock; 4 am was too early to start the day and yet seemed too late to fall into a deep sleep. My wandering mind kept landing on my upcoming trip to Uganda, Africa, where I'd be traveling overseas to support the placement of a new well in a small rural village. Suddenly, fear struck me—How could I leave my girls and their daddy for 10 days? They're so little. I started thinking about how I could get out of going. My deposit was already placed. Why did I turn in that application? I know I should have said I wasn't sure I really wanted to go. I don't actually want to miss out, but I also can't imagine leaving for so long, so far away. Arghhh. I rolled over and began to pray for peace over the decision, safety for my family, and Soli Deo Gloria for whatever happens while I'm in Africa and my family is back home.
'Soli Deo gloria' Origin
The phrase Soli Deo Gloria originated out of the 16th and 17th century Protestant Reformation that took place in Europe. The movement sought to bring reform to the Roman Catholic Church due to perceived doctrinal corruption against the Christian gospel. Soli Deo Gloria originally came from a series of beliefs that the Reformers clung too, called the Five Solas. These five statements became the slogans of the Reformation, and are now phrases for the core tenets of the faith. The Five Solas are Sola Scriptura ("Scripture alone"), Sola Fide ("faith alone"), Sola Gratia ("grace alone"), Solus Christus ("Christ alone"), and Soli Deo Gloria ("to the glory of God alone"). Together, they state that we are saved by grace alone, through faith alone, in Christ alone, for the glory of God alone, with God's Word alone as the highest authority.
What does 'soli Deo gloria' mean?
Soli Deo gloria translates clearly as 'to the glory of God alone.' When taken into context of its origination, soli Deo gloria reveals that everything within the Five Solas was designed to humble man and elevate God. Dr. Mathison, Professor of Systematic Theology at Reformation Bible College, says it like this:
"[Soli Deo Gloria] is both the beginning and the end of the other four [Solas]. The Holy Spirit inspired the Scriptures to the glory of God alone. Christ humbled Himself to the point of death and was raised and exalted to the right hand of the Father to the glory of God alone. Grace and mercy are offered to rebellious sinners to the glory of God alone. Justification is by faith alone to the glory of God alone. Soli Deo Gloria, therefore, is central."
Soli Deo gloria is not only central to the Five Solas, but Scripture reveals that the entirety of the Bible points to God's glory alone, just as creation does, and our lives are intended too. 2 Corinthians 4:15 tells us that our salvation through grace produces glory to God. Ephesians 2:8-9 explains that the grace of God strips us of our ability to boast in our own doing or works. 1 Corinthians 1:26-31 tells us that no human shall boast in pride before the Lord, but we are to boast only in God. Ephesians 1:4-6 explains that the great purpose of our life is to bring glory, honor, and praise unto the grace of God. Romans 11:33-36 states that to Him alone belongs all glory. Isaiah 2:12-17 speaks of man being brought low, and God alone being exalted. Simply put, soli Deo gloria means that everything is done for God's glory, and not for mankind's self- glorification and pride. The glory of God is, at its core, the holiness of God put on display and the ultimate goal of all things (Isaiah 6:3, Isaiah 43:6-7).
5 Reasons Christians Remember the Phrase Today:
1. If the chief end of man is to glorify God alone (Soli Deo Gloria) and enjoy Him forever, then knowing God and glorifying God go hand in hand (Psalm 144:15, Psalm 86:9).
We must remember that the glory of God is first and foremost an attribute of God. It simply is who He is—beautiful, majestic, splendid, amazing, glorious. Therefore, we must devote ourselves to the knowledge of God in all of His attributes. Knowing who He is—merciful, just, righteous, gracious, long-suffering, patient, holy, and loving— allows us to love the Lord our God with all our heart, soul, strength, and mind (Matthew 22:36-40). As we come to truly know and love the God of the Bible, praise and glorification of Him alone is the result. The more we love God for God, the more natural our soli Deo gloria or praise and exaltation of Him will become.
2. We cannot neglect the fact that Soli Deo Gloria is a command in the Bible for us, just as it was for the reformers, and every other human being that has ever walked the planet.
1 Corinthians 10:31 says, "So, whether you eat or drink, or whatever you do, do all to the glory of God." and 1 Corinthians 6:19-20 (AMP) says,
"Do you not know that your body is a temple of the Holy Spirit who is within you, whom you have [received as a gift] from God, and that you are not your own [property]? You were bought with a price [you were actually purchased with the precious blood of Jesus and made His own]. So then, honor and glorify God with your body."
As Christians, we simply are not our own (Romans 14:8). Once we become alive in Christ, we put the old self to death (Galatians 5:24). This means that as believers, we can no longer categorize our life into boxes. We cannot have a 'church' box, 'friend' box, 'family' box, 'free time' box, and 'work' box. Rather, all our boxes get dumped into one large container labeled 'Soli Deo Gloria'. New life in Christ results in our entire life being fully devoted to God and His glory alone— in everything we do, think, feel, and believe. Even the great musician and composer, Johanne Sebastian Bach, believed in and lived out the phrase soli Deo gloria. He was known to write SDG at the bottom of each finished piece of composition, making the statement of soli Deo gloria widespread within the music industry. Bach believed soli Deo gloria to be central to his music, and even stated:
"The aim and final end of all music should be none other than the glory of God and the refreshment of the soul."
3. As we remember Soli Deo Gloria, let us also remember to speak of Soli Deo Gloria.
The Bible commands us to glorify God alone in what we say—both spoken and written—just as it does in what we do. Whether we are talking to a friend over lunch, chatting with our boss, or typing on social media, our words should not be devoid of the glory of God. 1 Peter 2:9 says that we are to proclaim His excellencies. Psalm 96 tells us to sing of His great deeds and proclaim His glories. Romans 10:9 explains that we must confess with our mouth and believe with our heart to be saved. The books of James and Proverbs speak greatly about the need for us to "tame our tongue", even going so far as to say that our religion can be seen as worthless if our words are not gentle and patient (James 1:19-20). Whatever way you look at it, we must keep in mind that the words of our mouth were designed to glorify God alone.
Through him then let us continually offer up a sacrifice of praise to God, that is, the fruit of lips that acknowledge his name. - Hebrews 13:15
4. When we remember soli Deo gloria, we remind ourselves of the great joy that is ours in Christ.
Because we were created from God's glory, for His glory, there is no greater joy on earth than giving God glory (1 Peter 1:8). The Old Testament and New Testament speak of this, but the book of Psalms shouts of our joy being found in the glorification of God (Psalm 16:11). Just as parents often experience joy from cheering on their child at a sports game, we too experience joy when we glorify God. As parents, we revel in the excitement and glory of our child's win. In the same way, disciples of Jesus have unceasing access to joy through the blood of Christ as we partake in the glory of Christ's resurrection (Psalm 33:21, Hebrews 12:1-2).
5. Soli Deo gloria provides great leaps and bounds of freedom in this life.
When God is for His glory, then we are free to take great risk for His glory. God does not call us to a spirit of fear, but one of power, love, and self-control (2 Timothy 1:7). He expects great action rooted in faith from His disciples (James 2:14-17). We do not have to live in anxiety about what others may think of us, fretting over trivial decisions, because the whole world is in His hands (Psalm 95:4). If we are praying for wisdom and discernment, seeking godly counsel, and striving to align our plans with the commands God gives in Scripture, then we can trust that whatever happens in this life is also for our good 1 Peter 4:12-13). There is no room for fear in the glory of God, except for the fear of the Lord (Proverbs 9:10). My trip to Africa is still four months out, but today, I can tell you that I have peace of mind. When we cling to the promises of God, believing that God works all things together for our good, and His glory, our anxieties can be put to rest and we can roll over and go back to bed.
And we know that in all things God works for the good of those who love him, who have been called according to his purpose. For those God foreknew he also predestined to be conformed to the image of his Son, that he might be the firstborn among many brothers and sisters. And those he predestined, he also called; those he called, he also justified; those he justified, he also glorified. - Romans 8:28-30
Sources:
Photo credit: ©GettyImages/marcelmooij
Stephanie Englehart is a Seattle native, church planter's wife, mama, and lover of all things coffee, the great outdoors, and fine (easy to make) food. Stephanie is passionate about allowing God to use her honest thoughts and confessions to bring gospel application to life. You can read more of what she writes on the Ever Sing blog at stephaniemenglehart.com or follow her on Instagram: @stephaniemenglehart.
LISTEN: Being Complete in Jesus (Understanding Matthew 5:21-48)
Hearing Jesus is a devotional journey through the gospels, where we explore the teachings of Jesus chapter by chapter. If you're seeking to live a life that reflects God's, this podcast is for you.
The views and opinions expressed in this podcast are those of the speakers and do not necessarily reflect the views or positions of Salem Web Network and Salem Media Group.
WATCH: 10 Sins Christians Downplay (and Why They're So Destructive)
Stock Footage & Music Courtesy of Soundstripe.com Thumbnail by Getty Images