7 Ways to Stop COVID-19 from Overshadowing Easter
The fear is real. We've never been through anything like this before, and the unknown can be terrifying. But it doesn't have to be this way for Christians.
I've spent more time than usual on social media the last few days, and what I've seen encourages me. Many are posting Scripture and positive words. We all hope those who don't know Jesus will turn to Him now.
While we can—and are—keeping our focus on what matters, there is still the matter of logistics and quarantines. How can we celebrate Easter both personally and corporately?
Our church has opted, as have many others, to go online to deliver sermons and offer assistance to those in need. This is wonderful, and probably will be a permanent feature of ministry for us even after life returns to normal. It's an aspect we needed to add anyway, and had talked about doing, just never in a serious way.
In the long-term, elderly and sick folks will have better access to our local fellowship and feel more included because we were forced to slow down and search out creative means to meet this need. If we are still not advised to gather in groups greater than ten by April 12, our pastor will preach his Easter message online.
If you are mandated or choosing because of business or work closures to stay home over the next couple of weeks at least, how can you maintain, or even intensify your celebration of Easter? We are used to public celebrations. But this year, a personal, possibly private remembrance can be one you never forget—and not because of a virus. That's not to say corporate celebrations can't happen. We'll merely need to become creative in our use of technology.
Here are 7 ways to ensure that COVID-19 doesn't rob Easter from its rightful place in our lives.
1. Continue Observing Lent
If you are observing Lent in any way, don't stop just because your schedule has changed. I know it's difficult to stay focused when fresh information hits the news cycle every few minutes—with ever more dire predictions.
Just yesterday I received news that I might be quarantined by law, so two more trips to the grocery store (to find the four items I needed) took up what remained of my afternoon. But having decided to make one sacrifice for Lent back in February is now helping steady my soul.
It has become a routine I can rest on as an anchor in wildly turbulent times. Each time I come up against that choice, I am reminded of Christ and His sacrifice for me. Jesus chose to die for my sin.
His daily life wasn't merely changed. He didn't lose his job or suddenly drop into a lower socioeconomic group. His life ended—by a horrible method. Because of His choosing, I am set free and given eternal life.
Yes, things might get a lot worse before they get better. But my hope rests in eternity, not this earthly life. This one little action on my part has become a powerful grounding tool.
2. Use the Extra Hour
If your mornings are usually rushed trying to get everyone out the door to work and school, now that those activities are curtailed, you've got extra time built into your mornings.
Even if you're working from home and the kids are "home-schooling," the normal transit time has become yours to spend as you wish. You can sleep in, or you can decide to put it to use.
Pour yourself a second cup of coffee and take your Bible to a quiet corner. Remind family members that this is your time. Wear noise-cancelling headphones, if you own them, to keep out distractions.
I read somewhere that John Wesley's mother, Joanna, put her apron over her head while she sat at the kitchen table to signal her family that she was getting alone with God. You might not need an apron, but you may need to be firm about not allowing interruptions.
Pray for the people you normally don't have time to mention by name. Choose an issue in your life to bring before the Lord in a more in-depth manner. Search out Scripture that speaks to the situation.
Find a verse to meditate on. Lay out all your fears concerning the present pandemic to Jesus. Breathe in and focus on the Holy Spirit's ministry of peace. Breathe out and exhale all your anxiety.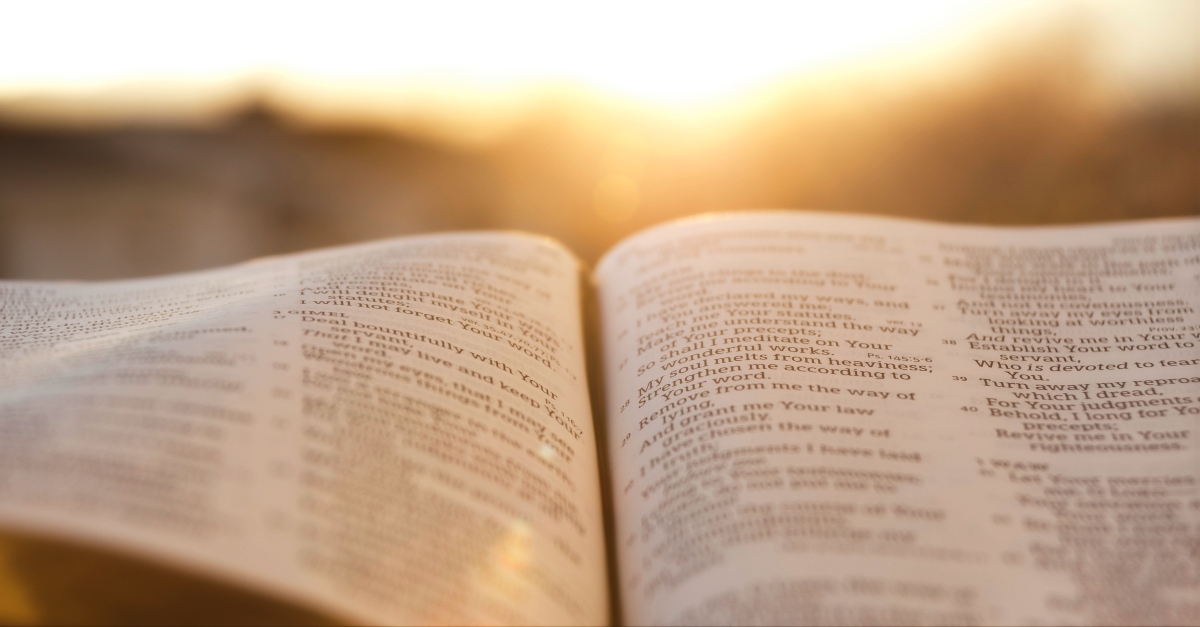 Photo Credit: ©Getty Images/Sergio Yoneda
3. Study the Passover and Other Old Testament Prophecies about Easter
I didn't realize when I began my current Bible study curriculum that it would include an in-depth look at Old Testament prophecies about Jesus. Last week we read in Genesis 22 about Abraham and how God asked him to sacrifice his "only" son, Isaac.
The thing was, Abraham had another son, Ishmael. However, Isaac was the "only" son of the Promise. In the episode of the sacrifice, Abraham and Isaac lived out a prophecy of Jesus, the substitutionary sacrificial Lamb.
This week, our study focuses on Moses leading the people of Israel out of Egypt. Exodus 12 details the last plague on Pharaoh and the Egyptians. It was the Angel of Death. The firstborn son of every household and every animal would die. But God's people were spared because they sacrificed a lamb and brushed its blood on their doorposts.
Every detail of the stories of Abraham and Isaac, and the release of the Israelites from Egyptian captivity, has a parallel in the death and resurrection of Jesus Christ.
Make a list of each item in Genesis 22 that reminds you of something about Jesus's experience. Then do the same for Exodus 12. This exercise might seem like it will take a long time—and it may. But you've got the time now, right?
You can even turn this into a challenge with your family members who are old enough to participate. Discuss what you discover over dinner, or on a video call if you're separated.
Your family's faith will deepen as you realize exactly how much God planned ahead for Easter Sunday morning.
4. Journal
Begin a new section in your journal and title it, "What the Resurrection Means to Me."
Include at least one bullet point thought each day. Begin a list of Bible verses teaching about the resurrection. Note the reference for each.
If one seems particularly meaningful to you, write the verse on a sticky note and post it where you can see it often—maybe on your bathroom mirror.
Read and try to memorize it while you wash your hands. If you don't normally write in a journal, this is a good time to begin the practice.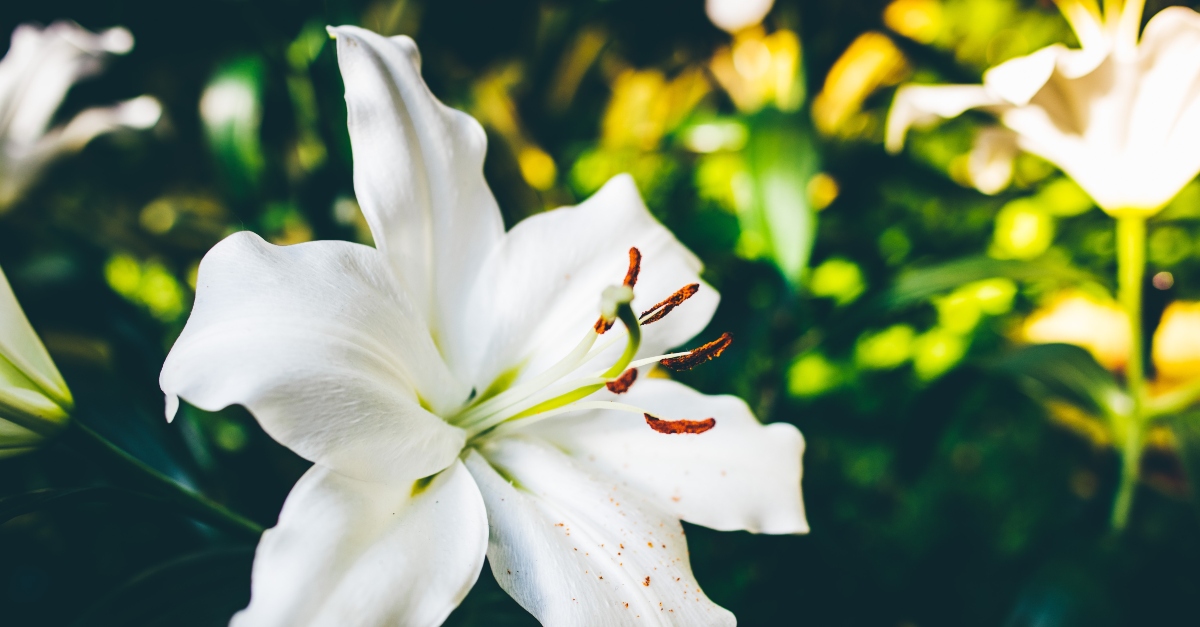 Photo Credit: ©Unsplash/Matt
5. Listen and Watch
The internet can be a key for celebrating collaboratively—in a global way, not just for local church families.
Search for music and podcasts of course. But also expand your search to include church services in far-flung locations that record limited services, Messianic Jewish celebrations, Orthodox worship in Eastern Europe or Asia, and any number of other worship opportunities you can think of that may still linger on the internet from last year.
Just because a service didn't happen this year does not negate its meaningfulness. It might be possible to arrange a FaceTime or Zoom call with missionaries whose ministry you support.
Because of time zone differences, this can broaden the scope of your observance to include not just Easter morning, but the rest of the day and week as well. On the local level, your pastor might upload a "fireside sermon" from his living room for your congregation.
6. Create
You and your kids can contribute to the online experience. Let the children dress the parts and produce a play depicting a Bible story about Jesus.
Considering the size of your family, this might require adult participation, and each person might need to perform as more than one character. Brainstorm the possibilities over dinner one evening. Once you've completed a couple of run-throughs, you're ready for Prime Time.
Either video the production and upload it, or perform it live on your social media platform. If you're a musical family, practice a few songs together and share them on social media. Video call grandparents and sing to them
7. Rest
The way we celebrate Easter may be different this year, but the occasion won't be blotted out
The key is our attitudes.
When we maintain our perspective that Jesus is in control, and trust Him for our daily needs, it's much easier to think in a glass-half-full kind of way.
Our stress will fall away, and we can rest our minds while we trust in the One who conquered death and rose again.
If Jesus conquered the grave, surely he can conquer an earthly sickness. Not only will Easter be a celebration to ground us in what is most important, but it deserves our attention, no matter what is going on around us. As long as we are intentional, this season can still be one of deep transformation and praise. Let's heed Colossians 3:2, "Set your minds on things above, not on earthly things," and not let COVID-19 take our eyes off our amazing savior Jesus Christ.
Photo Credit: ©Pexels/Pixabay
Kathryn Graves, author of Woven: Discovering Your Beautiful Tapestry of Confidence, Rest, and Focus, and Fashioned by God, holds a BA in Psychology, is a pastor's wife and Bible teacher, and spent 15 years in the fashion industry. Kathryn is Mimi to five grandsons, and loves to play with color—including interior design, clothing, and painting with pastels. In addition to her website, find her on Facebook, Instagram, and Twitter.