4 Advent Traditions to Carry on with Your Family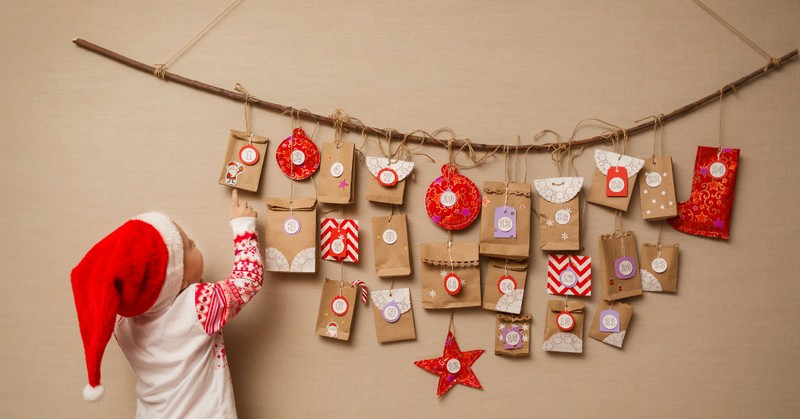 Like Christmas, the liturgical season of Advent has a range of rich traditions. Here are some of the most common.
Advent Wreath
Perhaps the most popular Advent institution, the Advent wreath is a tradition shared by Catholics and Protestants. Made of evergreens to symbolize eternal life in Christ, the wreath has four candles that count down the four Sundays until Christmas. An additional candle is lit each week -- traditionally three purple candles and one pink candle, lit on the third Sunday of Advent (known as "Gaudete Sunday"). A fifth white candle may be used in the center to represent Jesus. In churches, the Advent wreath is generally placed in the sanctuary, on or near the altar. Families who use the wreath at home most often place it on the dining table and light the candles during meals.
Liturgical Colors
The sanctuary color of the Advent season has traditionally been purple. Associated with royalty, it signals a longing for Jesus, the "king of kings." Since purple is also the liturgical color for Lent, its use during Advent provides Christians with a visual link between Jesus' birth and death. Blue is an increasingly popular Advent color in Protestant churches, according to Dennis Bratcher of the Christian Resource Institute. While some congregations use royal blue to signify royalty, others use bright blue to symbolize the night sky or the waters of creation in Genesis 1.
Hanging of the Greens
In the first week of Advent, many churches hold a service of the hanging of the greens to prepare the sanctuary for Christmas, said Rev. Daniel Benedict, worship resources director for the General Board of Discipleship of the United Methodist Church. The service is usually offered on a Sunday or weekday evening and involves Scripture readings and music. Volunteers hang wreaths on the church doors and place the Advent wreath and other evergreens in the sanctuary while congregants hear the religious symbols explained. Chrismons, symbols of Christ, are hung on fir trees as decorations in many churches, Benedict said.
Advent Calendars and the Jesse Tree
Originally a German tradition, Advent calendars are a popular way for children to count down the days until Christmas. Most calendars are small posters or cards with windows that can be opened for each day, usually beginning with Dec. 1. While secular Advent calendars might proffer a chocolate a day, religious versions often give a picture or verse from the Old Testament. The Jesse Tree is a specialized Advent calendar to introduce stories and ideas from the Old Testament that Christians believe foreshadowed the birth of Jesus as the Messiah. Either a real evergreen tree or a symbolic tree on a banner or poster, the Jesse Tree is bedecked with ornaments related to Bible stories.
c. 2003 Religion News Service, used with permission.
Photo credit: ©Getty/Natalia Bodrova