Alcohol Addiction Recovery: 8 Critical Commitments to Minimize Relapse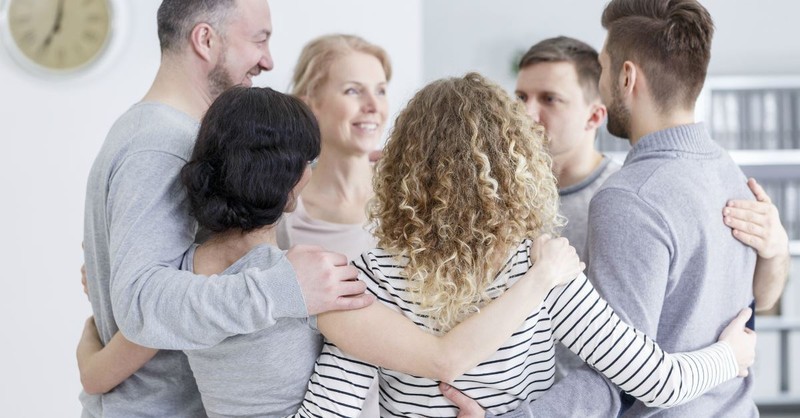 One of the toughest challenges anyone in recovery from alcohol addiction will face is relapse. While no one wants to consider relapse as a likelihood for themselves or their loved ones, relapse is common.
According to a 2014 study in the JAMA, between 40-60 percent of people who have been treated for alcoholism relapse within a year. Even those with years of sobriety can resume self-destructive drinking they never thought would be possible.
To understand why relapse occurs as well as what individuals can do to minimize relapse, it is vital to look at several key contributors to addiction that can prove challenging to anyone's recovery.
Brain chemistry can be a challenge.
One important component in the overall struggle for sobriety is brain chemistry. Alcohol usage releases dopamine in the reward pathway of the brain. Dopamine is a neurotransmitter that helps regulate the brain's reward and pleasure centers as well as its emotional responses.
Dr. Marvin Seppala, Chief Medical Officer at the Hazelden Betty Ford Foundation in Center City, MN describes, [Brain chemistry] can affect alcoholics and addicts to the point their brains re-prioritize what's most important, such as eating and survival. The drug use becomes recognized by the brain as more important than survival itself. It is almost unfathomable that the survival instinct could be superseded by something else. Trying to understand what it looks like is hard. People will risk their lives to keep using drugs [and alcohol.]
Triggers to addictive behavior are everywhere.
Relapse also occurs because triggers to addictive behaviors are everywhere around the alcoholic, making the cravings difficult to push away. Those in recovery often find themselves in the same environments surrounded by the same people who either supported or enabled their addiction. Likewise, many in recovery lack healthy emotional coping strategies to deal with the stresses of life or overcome the cycle of shame that entraps them.
All of these factors create a complex and challenging path towards recovery for anyone trying to find freedom from alcohol addiction. While they may seem overwhelming, these factors are not insurmountable.  
Here are eight critical commitments for individuals in recovery to avoid relapse and discover the life of sobriety and wholeness God has for them:
1. Join a support group.
Participating in a support program such as Celebrate Recovery or Alcoholics Anonymous provides a foundation that helps people maintain sobriety. Support groups provide a safe place where members can be honest about their struggle, and can find both accountability and support through the cravings, crises, and challenges of building a new life without alcohol. Working through the 12 steps gives a pathway to insight, understanding, healing, and change in an alcoholic's life and relationships. 
Two are better than one, because they have a good reward for their toil. For if they fall, one will lift up his fellow. But woe to him who is alone when he falls and has not another to lift him up! Ecclesiastes 4:9-10 (ESV)
2. Surround yourself with healthy people.
If those in recovery continue to hang out with other drinkers, relapse is likely. Sobriety works best when a person can surround themselves with other sober people who are working toward a better life, says Lisa Boucher, RN and author of Raising the Bottom: Making Mindful Choices in a Drinking Culture.
The sense of euphoria we experience during the initial stages of recovery can create a sense of overconfidence, leading us to believe that we are impervious to the negative influences of others.
For the greatest chance at long-term sobriety, surround yourself with sober friends from your support group meetings, Bible study or church, at work, in your neighborhood, or within your circle of friends and family. They will nurture and strengthen a lifestyle without alcohol.
Iron sharpens iron, and one man sharpens another. Proverbs 27:17 (ESV)
Where there is no guidance, a people falls, but in an abundance of counselors there is safety. Proverbs 11:14 (ESV)
But now I am writing to you not to associate with anyone who bears the name of brother if he is guilty of sexual immorality or greed, or is an idolater, reviler, drunkard, or swindler—not even to eat with such a one. 1 Corinthians 5:11 (ESV)
3. Mind your HALT.
This acronym, well-known in the recovery community, means people should not get too hungry, angry, lonely, or tired, any of which can lead to relapse. Learning how to be in tune with and care for our physical, emotional, and spiritual needs can prevent instances of distress that can lead to triggers as well as cravings.
As we develop a healthy relationship with ourselves, we can make sure our most basic needs are met. This will help us achieve long-term stability and success in recovery.
For no one ever hated his own flesh, but nourishes and cherishes it, just as Christ does the church. Ephesians 5:29 (NIV)
4. Make a long-term commitment to therapy.
Most often, an individual's addiction to alcohol didn't develop overnight, nor did it become destructive to their lives and relationships over a short period of time. Addiction typically results from unhealthy, toxic thought patterns and behavioral patterns that sustained their alcohol dependency and made their lives increasingly unmanageable over time.
This is why long-term individual therapy is an important component for anyone struggling to achieve and/or maintain sobriety. Healing old wounds, developing healthy coping strategies, creating new thought patterns and/or beliefs about ourselves, as well as repairing damaged relationships to forge a new way forward—none of this is achieved quickly or accidentally.
Making the commitment to therapy will give you a greater chance for both short and long-term sobriety.
5. Remain vigilant.
Time [in sobriety] doesn't exempt you from relapse, says Anita Gadhia-Smith, a psychotherapist in MD, adding, anyone can relapse at any point in time.
Therefore it is important to remain vigilant even when everything seems to be going smoothly, even when you want to believe you've got this addiction licked. This is the very time when relapse often occurs.
Stagnation and complacency are hallmarks of relapse, and those who settle for little change or improvement after rehab put themselves at risk for relapse. Addiction recovery is a matter of constant awareness and pursuit of a healthier lifestyle. By fully embracing your recovery, you can make a complete change in your life for the better.
6. Deepen your faith.
Numerous studies show that people have lower rates of relapse when faith is involved in their recovery. A 2006 study published in Alcoholism Treatment Quarterly found that spirituality, life meaning and faith helped to combat stress and enhanced quality of life among people in recovery from addiction.
Results from a 2011 study in Alcoholism: Clinical and Experimental Research supported the idea that Alcoholics Anonymous reduced alcohol use by enhancing participants' spiritual practices.
The reason is that faith connects us to our Creator. A deep, intimate relationship with God through Christ fills the void inside that most addicts have been trying to fill with alcohol and/or substances.
Most of all, faith awakens hope. Hope for eternity. Hope for today. Hope that there is a future and a purpose beyond alcohol. Hope that there is grace, even in relapse, in failure, in the worst moments life brings. Isn't it this kind of hope that helps any Christian get through the hardest of times?
Not only so, but we also glory in our sufferings, because we know that suffering produces perseverance; perseverance, character; and character, hope. And hope does not put us to shame, because God's love has been poured out into our hearts through the Holy Spirit, who has been given to us. Romans 5:3-5
"For I know the plans I have for you," declares the Lord, "plans to prosper you and not to harm you, plans to give you hope and a future." Jeremiah 29:11 
7. Step out (and keep stepping out) of the shame cycle.
Shame is a destructive habit that keeps many trapped in addiction once they have relapsed. The negative thoughts that swirl in our minds— We're no good, We will never be anything but an addict, We are a failure, God couldn't love us— these can be damaging to the strongest individuals.
To step outside of shame, we can begin to claim and believe that failing doesn't make us a failure. We can get up again, we can move forward. Brené Brown, author and expert on vulnerability and shame, notes, As a shame researcher, I know that the very best thing to do in the midst of a shame attack is totally counterintuitive: Practice courage and reach out!
Be vulnerable about your failings, admit them, and seek out ways to constructively overcome them—without beating yourself up when you fall short of anyone's expectations—even your own.
Therefore, there is now no condemnation for those who are in Christ Jesus. Romans 8:1 (NIV)
8. Develop new life patterns.
Begin a new hobby. Take a class at your local community college. Try something you may never have tried before. Beginning to engage different experiences can awaken a life of curiosity, passion, and purpose we may never before have thought possible.
Alcoholism chains victims to their vice, preventing them from cognitively or physically exploring anything outside of their next drink. When we fail to replace those broken patterns with anything better, old thought patterns will fill the vacuum, leading to a greater chance for relapse.
God has a life for us outside of our addiction.  He has a plan and a purpose. He came to give us life and life abundantly. Grab hold of His promise. Embrace a lifestyle of healing, of learning, of growing.
Remember not the former things, nor consider the things of old. Behold, I am doing a new thing; now it springs forth, do you not perceive it? I will make a way in the wilderness and rivers in the desert. Isaiah 43:18-19 (ESV)
The thief comes only to steal and kill and destroy. I came that they may have life and have it abundantly. John 10:10 (ESV)
Relapse is the toughest part of recovery but there are critical commitments we can make to avoid relapse and experience the life God has for us. Recovery can be a time when we engage our healing and allow His light to shine into every part of our hearts. When this happens nothing is impossible.
We can see Him heal, redeem, and restore our lives in ways we could have never imagined.
---

Lisa Murray is a Licensed Marriage and Family Therapist, a Jesus girl, and a recovering perfectionist. Her passion is to encourage and empower individuals —whether in their hearts, their marriages, or their faith —to cultivate healing and wholeness that will awaken a heart of peace. Her book, Peace For A Lifetime, is available on Amazon. She writes weekly at LisaMurrayOnline.com. You can follow her on Facebook, Twitter, Instagram, and Pinterest.
Photo Credit: ©GettyImages/KatarzynaBialasiewicz